Middle East
3 Severe earthquake hits Turkey within 24 hours, killing nearly 1,800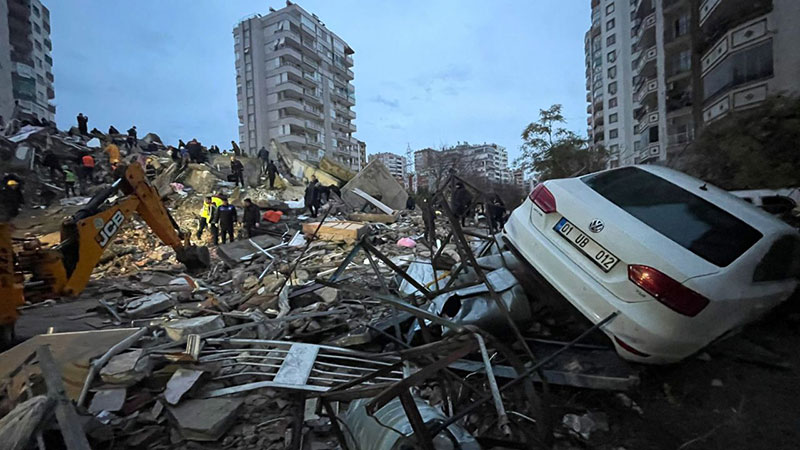 Istanbul: The most powerful earthquake in nearly 100 years hit Turkey and Syria early Monday morning, killing more than 1,800 people in their sleep, causing buildings to collapse and tremors to be felt as far away as Greenland.
An overnight tremor of magnitude 7.8 was followed hours later by two more large earthquakes that devastated entire sections of Turkey's major cities in a region home to millions of people fleeing the Syrian civil war and other conflicts. wiped out.
Reid Ahmed, director of the Syrian National Earthquake Center, called it "the largest earthquake recorded in the center's history."
At least 783 people have died in Syrian rebel- and government-held areas, according to state media and medical sources.
Another 1,014 people died in Turkey, according to President Recep Tayyip Erdogan. Erdogan's handling of one of the biggest disasters in his 20 years in power could affect his chances of re-election in polls due in May.
The initial quake was followed by more than 50 aftershocks, including tremors of magnitudes 7.5 and 6, which shook the area during search and rescue operations Monday afternoon.
AFP reporters and witnesses felt a second shock as far away as the Turkish capital Ankara and the Iraqi Kurdistan city of Arbil.
A shocked Turkish survivor ran into the snow-covered streets in his pajamas to watch rescue workers manually dig up the rubble of damaged homes.
"Seven members of my family are under the rubble," Muhittin Orakci, a stunned survivor of the mostly Kurdish city of Diyarbakir in Turkey, told AFP.
"My sister and her three children are there. And so is her husband, father-in-law, and mother-in-law."
Rescue was hampered by a winter blizzard that covered the main road with ice and snow. Officials say the quake disabled his three major airports in the region, making the delivery of critical relief supplies even more difficult.
"We want to overcome this disaster together as soon as possible and with as little damage as possible," Erdogan said, expressing sympathy and urging people to unite.
– Collapsed house in Syria –
The first quake occurred at 04:17 (0117 GMT) at a depth of about 17.9 kilometers (11 miles) near the city of Gaziantep, Turkey, according to the US Geological Survey.
The Danish Geological Institute said the quake's tremors were felt as far away as Greenland.
Syrian quake survivor Osama Abdel Hamid said his family was sleeping when the shaking started.
"I woke my wife and kids and ran for the door," he said. "We opened it and suddenly all the buildings collapsed."
A spokesman for Syria's civil defense said teams were rushing to rescue those trapped.
"Many buildings in different cities and villages in northwestern Syria have collapsed … Many families are still under the rubble," said Ismail Abdallah.
Washington, the European Union, and Russia immediately sent condolences and offers of assistance.
Ukrainian President Volodymyr Zelensky has offered to provide Turkey with "necessary assistance".
– "People Under the Rubble" –
Images on Turkish television show rescuers digging through rubble in the centers and residential areas of nearly every large city that runs along the border with Syria.
Some of the most severe devastation occurred near the epicenter of the earthquake between Kahramanmaras and Gaziantep.
Kahramanmaras governor Omer Faruk Coskun said it was too early to estimate the death toll because so many buildings had been destroyed.
"We cannot give an estimate of the number of dead and injured at this time because so many buildings have been destroyed," Koskun said. "The damage is severe."
In Maltaya, a famous mosque dating back to the 13th century partially collapsed, as did a 14-story building with 28 apartments that housed 92 people.
In other cities, social media posts showed a 2,200-year-old hilltop castle built by the Romans in Gaziantep in ruins with part of its walls broken into rubble.
"I hear voices here, I hear voices there," a rescue worker was heard speaking on NTV television in front of a collapsed building in Diyarbakir city.
"There may be 200 people under the rubble."
– Blackout –
The Syrian Ministry of Health reported damage in the provinces of Aleppo, Latakia, Hama and Tartus, where Russia rents naval facilities.
An AFP correspondent in northern Syria said terrified residents fled their homes after the ground shook.
Even before the tragedy, buildings in Aleppo, Syria's pre-war commercial hub, often collapsed due to dilapidated infrastructure that suffered from a lack of wartime oversight.
Naci Gorur, an earthquake expert at the Turkish Academy of Sciences, urged local authorities to immediately check for cracks in local dams to avoid catastrophic flooding.
Authorities cut off natural gas and electricity supplies throughout the region as a precautionary measure, and closed schools for two weeks.
David Rosalie, an earthquake expert at the Open University in the UK, said, "The magnitude of the aftershocks, though most of the time diminishing in energy, can last for days and damage structures already weakened by previous quakes. poses a risk of collapse.
"This jeopardizes search and rescue operations."
Turkey is one of the most active seismic zones in the world.
In 1999, a magnitude 7.4 earthquake struck Turkey's Duzce region, killing more than 17,000 people, including about 1,000 in Istanbul.
Experts have long warned that a massive earthquake could destroy Istanbul.
When the last earthquake of magnitude 7.8 struck Turkey in 1939, it killed 33,000 people in the eastern province of Erzincan.
Source: NDTV
https://timeskuwait.com/news/3-powerful-earthquake-in-turkey-in-24-hours-nearly-1800-killed/ 3 Severe earthquake hits Turkey within 24 hours, killing nearly 1,800