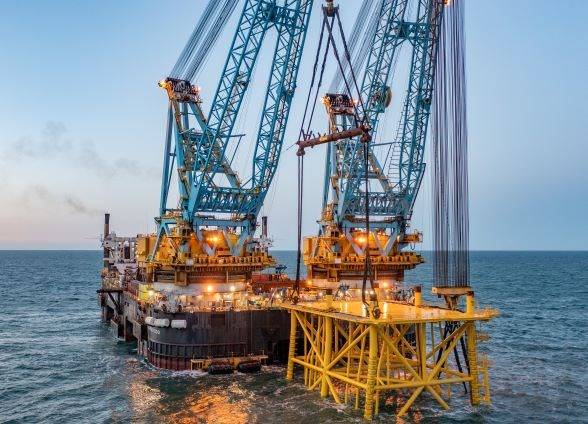 UK-based offshore wind developer SSER renewables is the world's deepest fixed-bottom offshore wind farm, with the construction of Scotland's largest Seagreen by installing a jacket on top of the project's offshore substation. , Notified that a new milestone has been reached. It will be installed in early 2022.
Manufactured by Petrofac and weighing 5,100 tonnes, the six-legged jacket was installed by Saipem 7000. Currently, semi-submersible crane vessels are fixed to the seabed at a depth of about 55 m.
The jacket's undersea footprint is 43mx 43m and incorporates tubes designed to guide the 15 array-to-array cables that carry the power generated by the turbine to the substation. In addition, the jacket also has tubes to guide the three export cables from the offshore substation to the seabed.
John Hill, Seagreen Project Director said: "As an engineering, procurement, construction and installation contractor, we are proud to be able to participate in this important project for the energy transformation of Scotland. The installation of the Seagreen jacket has been safely completed within Storm Arwen and Storm Barra. Some measures to minimize environmental impact, such as low hammer energy and acoustic deterrence. Work closely with partners to safely and successfully install a 4,800 ton top surface in early 2022. I will continue. "
Completed in late 2022 and early 2023, Seagreen will consist of 114 Vestas V164-10.0 MW turbines, the first of which was installed last week.
Approximately 27 km from the Angus coast, the £ 3 billion wind farm is a joint venture between SSE Renewables (49%) and TotalEnergies (51%).
SSE Renewables is leading the development and construction of the Seagreen project and will operate Seagreen on completion for an expected 25-year lifespan.
The first electricity is expected by early next year, and the offshore wind farm is expected to go into commercial operation in 2023.
Credit: SSERenewables
https://www.oedigital.com/news/493100-5-100-ton-substation-jacket-installed-at-scotland-s-largest-offshore-wind-farm 5,100 ton substation jacket installed in