Asia
A middleman in the issues discussed at the first inflation task force meeting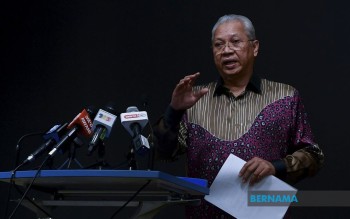 Putrajaya, June 30 (Bernama)-The issue of creating an intermediary or cartel was one of the issues discussed at the first meeting of the Jihad vs. Inflation Special Task Force, which was established yesterday.
Tan Sri Annuar Musa, Minister of Communications and Multimedia, who is also the chair of the Special Task Force, said the government could not allow market power alone to work and would take certain interventions.
"We found that production systems for chicken, eggs, cooking oil, etc. tend to create cartels to ensure a business model that maximizes profits," he told a media conference here today.
In this regard, he said each process will be studied at all levels to identify which actions deviate from the existing legal framework that may be taken to overcome the cartel problem. ..
"We know that the intermediary system has existed in this country for a long time … but it is wrong for them to start making excessive profits or to take a novel approach.
"So we need to study … As an example, farm-produced chicken is wholesaled to non-chicken-producing distributors (middlemen) and sold to retailers. According to research, distribution. The profit margins of the traders are higher than the profit margins of the retailers and the farmers themselves. "
Therefore, the situation will be investigated by a special task force, as that behavior causes high final costs that consumers have to bear.
"If the intermediary takes advantage of making excessive profits and spending time to burden consumers, this situation is unacceptable.
We cannot allow an approach to "survival of the fittest" or "anyone's freedom" situation. Certain government intervention is needed to protect the interests of consumers at the bottom of the chain, "he said.
-Bernama
---
Bernama is a reliable source of reliable, real-time, comprehensive and accurate news for both public and media professionals.Our news is published at www.bernama.com BERNAMA TV on: Astro Channel 502, unifi TV Channel 631, MYTV Channel 121 IFLIX; Bernama Radio is FM93. It is broadcast locally at 9.

Follow us on social media:
Facebook : @bernamaofficial, @bernamatv, @bernamaradio
twitter : @ bernama.com, @BernamaTV, @bernamaradio
Instagram : @bernamaofficial, @bernamatvofficial, @bernamaradioofficial
Ticktaku: @bernamaofficial
http://www.bernama.com/en/news.php?id=2096068 A middleman in the issues discussed at the first inflation task force meeting