Middle East
A photo of a 9-year-old Saudi boy carrying three school bags became an instant hit on social media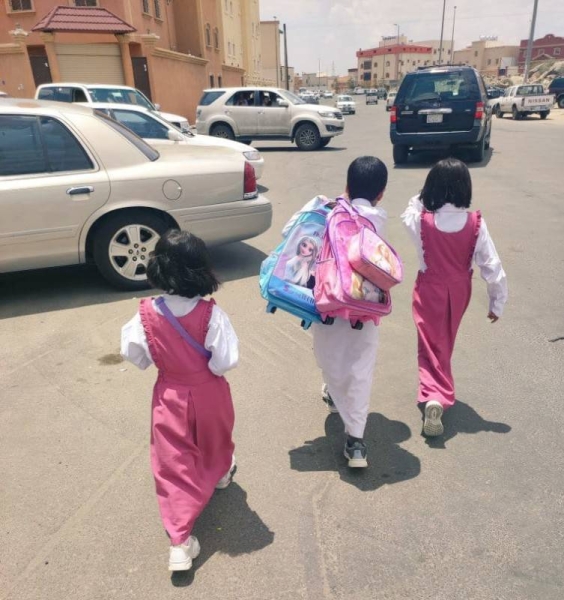 Saudi Gazette report
ABHA — A photo of a 9-year-old boy carrying three bags quickly went viral on social media.
Mishal Al-Shahrani was spotted carrying his sister Sarah and Noura's bags along with his own on the way home from school in Khamis Mushayt, south of Asir.
The amazing scene caught the attention of the father who took a picture and posted it on the family's WhatsApp group.
According to Al-Arabiya.net, the photo quickly went viral and attracted the attention of many people who liked the photo, commented on it, and shared it.
Commenting on the huge response to the photo, Mishal, a student at Ibn Nafis Primary School in Khamis Mushait, said:
"The bag wasn't heavy, but I wanted to help with the bag in the crowd and the hot weather," he said, noticing it for the first time after a photo of his father went viral on social media.
In their comments, the governor of Khamis Mushait and the head of education in the Asir region praised the boy's virtuous deeds.
"This reflects the result of raising and preparing our children to be responsible even when they are young," they commented.
Asir Education Director Dr. Ahmed Al-Omari commented:
"Everyone is a partner at home, school and society, and it's no surprise that this kid embodied such an approach."
https://saudigazette.com.sa/article/624754/SAUDI-ARABIA/Picture-of-9-year-old-Saudi-boy-with-3-school-bags-on-his-back-is-instant-hit-on-social-media?ref=rss&format=simple&link=link A photo of a 9-year-old Saudi boy carrying three school bags became an instant hit on social media