Middle East
A rare and complex IVR-based surgery for a young man with liver cancer in IMC.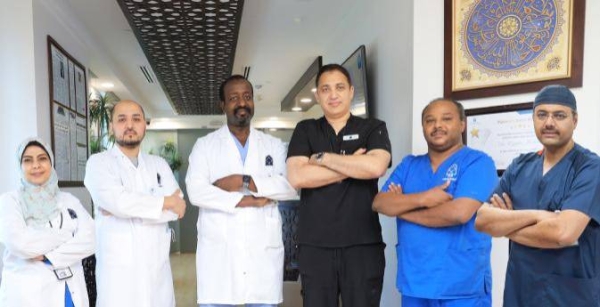 Jeddah — A 30-year-old patient with stage IV liver cancer arrived at the International Medical Center (IMC) for treatment. After performing some investigations, cancer was detected on the right side of the liver.
The treatment regimen started with chemotherapy. The cancer had not spread outside the liver and the diseased part of the liver had to be removed. The first challenge in resecting the affected area was to leave enough liver to maintain liver function. Therefore, the interventional radiology team performed right portal vein embolization on the diseased right hepatic lobe, diverting blood to the healthy left hepatic lobe and leading it to the well-served left hepatic lobe. Growth of liver lobes to maintain liver function in 3 weeks. Thanks to the presence of advanced equipment with an excellent interventional radiology team qualified to deal with such a difficult and delicate case, thank God it was completed successfully.
The initial challenge of resection was the size of the large tumor, which reached 17 cm or approximately 70% of the total liver volume. Another challenge is the connection with surrounding structures, as the liver is a highly vascular organ. The operation was very complicated.
This type of surgery usually requires centers and specialized teams that specialize in treating tumors of the liver and bile ducts. However, IMC's prowess and global diagnostic, therapeutic, and surgical expertise have made it one of the leading locations for performing these rare and complex surgeries. The operation took 6 hours. Pain was controlled by an anesthesia team using a spinal catheter. This resulted in rapid patient recovery and shortened hospital stays.
The patient was then allowed to leave the hospital one week after surgery. A team of medical experts in anesthesia, surgery, oncology, and interventional radiology attended the surgery, which was led by an experienced and qualified physician. The oncology team included Professor Ezerddin Ibrahim, Sr. His Consultant Oncologist, and Ahmad His Dr. Rifai, Consultant Oncologist. The radiology team included Dr. Turki Ahmad Alhazmi, Interventional Radiology Consultant, and Dr. Mohammad Mohiuddin Bukhari, Radiology Consultant. The surgical team included Dr. Abdulelah Alhawsawi and his Dr. Tamer Bashir. The anesthesia team included Dr. Alia Said, in addition to nursing.
https://saudigazette.com.sa/article/624596/BUSINESS/Based-on-interventional-radiology-rare-and-complex-operation-for-a-young-man-with-liver-cancer-at-IMC?ref=rss&format=simple&link=link A rare and complex IVR-based surgery for a young man with liver cancer in IMC.