Middle East
Al-Qasabi: The ability to benefit from digital trade and the integration of SMEs into global value chains is essential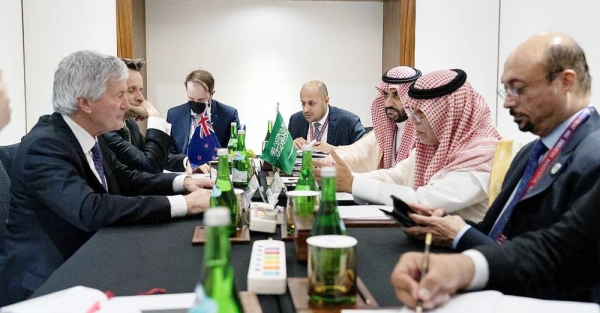 Bari – Dr. Majid bin Abdullah Al-Qasabi, Minister of Commerce and Chairman of the Board of Directors of the Directorate General of Foreign Trade, and his delegation attended a ministerial meeting of the G-20 Trade, Investment and Industry Working Group and recently said: It was held in Bali, Indonesia.
Dr Al-Qasabi said the meeting during the Indonesian presidency was a continuation of efforts to confront the global challenges in shaping the future of trade and investment, and that the world of G20 member countries by discussing solutions. He emphasized that it is a response to a global crisis. Support the necessary reforms of the World Trade Organization in the light of the results of the World Trade Organization's 12th Ministerial Conference.
He also advocates for accelerating the achievement of the Sustainable Development Goals and stimulating sustainable and inclusive investment in all clean and low-emission technologies, including renewable energy, to accelerate economic recovery. He stressed the importance of the contribution of the multilateral trading system.
The conference also discussed the role G20 countries can adopt to ensure member states' ability to benefit from digital trade and to enable the integration of SMEs into global value chains.
Member States, during their presidency of the G20, recognize the Kingdom as having contributed to addressing the impact of the coronavirus pandemic on trade and investment through short-term and long-term measures to support international trade and investment. Confirmed continued support for the achievements.
This will be done in addition to discussing opportunities to enable digital transformation for inclusive and sustainable industrialization and exploring ways to help SMEs adopt Industry 4.0 technologies.
In between meetings, Dr. Al-Qasabi held bilateral meetings with Indonesia's Minister of Commerce, Dr. Zulkifri Hassan, India's Minister of Commerce and Industry, Piyush Goyal, US Trade Representative Katherine Tai, and South Africa's Minister of Trade and Industry, Ebrahim. Patel, New Zealand Minister for Trade and Export Growth Damian O'Connor, Singapore's Trade and Industry Minister Jang Kim Yong, and South Korea's Trade Minister Ahn Deok Geun.
He also met with Bardis Dombrowski, Vice-President of the European Commission for Trade, Dr. Mustafa Tuzuk, Deputy Minister of Trade of Turkey, Vladimir Ilychev, Deputy Minister of Economic Development of Russia, and Deputy Minister of Foreign Affairs and International Trade of Argentina for International Economic Relations. Cecilia Todesca Bocco.
At these meetings, the development of relations and the strengthening of economic cooperation were discussed.
Dr Al-Qasabi emphasized the importance of the group's focus on considering the role G20 countries can adopt to ensure their ability to benefit from digital trade and the integration of SMEs into global value chains. explained.
This, in addition to the fact that the Kingdom is supporting efforts to take advantage of the opportunities that enable digital transformation, is the use of the latest technology to assist micro, small and medium enterprises in inclusive and sustainable industrialization. We support the adoption of
The Saudi-Indonesia Business Council and Business Forum featured a session in Jakarta, Indonesia's capital, attended by Saudi and Indonesian businesses. — Spa
https://saudigazette.com.sa/article/625353/SAUDI-ARABIA/Al-Qasabi-Ability-to-benefit-from-digital-trade-and-integration-of-SMEs-into-global-value-chains-vital?ref=rss&format=simple&link=link Al-Qasabi: The ability to benefit from digital trade and the integration of SMEs into global value chains is essential