Middle East
Alsharqiya Gets Creative initiative chronicles the story of talent through creativity and visualization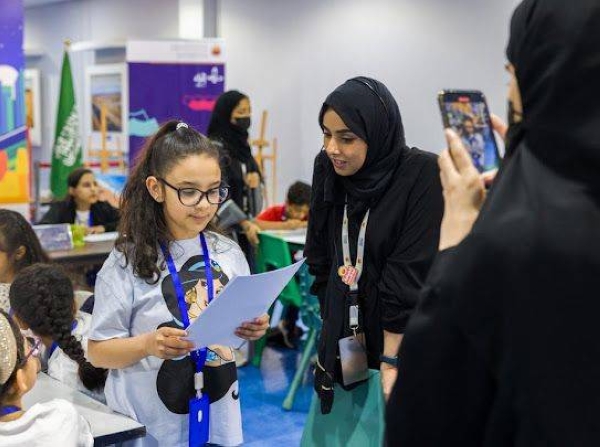 Dhahran — Many of the competent contributions from the Eastern Province to the Al-Sharqiyah Get Creative Initiative are outstanding projects in education, production, handicrafts, inscriptions and many other creative fields that radiate limitless imagination. Engage in creativity and inspiration that ignites creativity in many ways to create
From within the Al Bir Association in Al Ahsa, the Cultural Center for Deaf Girls held a workshop for female tourist guides from the Eastern Province, focusing on how to communicate with deaf people in tourist areas.
The workshop was supported by the Saudi Federation of Deaf Sports and was presented by Hessa Al-Kadhimi in the presence of the deputy director of the Al-Ahsa Deaf Girls Cultural Center of Amal Al-Issa. It included many subjects dealing with an overview of the culture of the deaf, but listed the procedures related to the acquisition of sign language, its elements, its development, training and rehabilitation, tourism, archeology and We have detailed everything related to relationships. Sites, and the most common words in the tourism sector. Her tour guide, Naima Al Khamis, describes her creative workshop as follows: These methods especially since she is an advanced training course under the umbrella of the Alsharqiya Gets Creative initiative. "
Tayf Altawahud Association Jubail has launched a three-day workshop to introduce children with autism to the Autism Spectrum through virtual reality experiences. This workshop was able to highlight the creativity and ability of children with autism to coexist with society. The workshop also included an introduction to the psychology and language and communication departments, including the presentation of a creative drawing collection by a child with autism.
In addition, Al-Ahsa's Doral Childcare Association has shed light on its own programs related to training children to conceptualize an idea, develop it and preserve it by investing in the future. . child's intelligence. Creativity is a permanent function that ensures the utilization of human capabilities. This also applies to participating students. They find their way into arts and activities that are usually unconventional, reflecting a contemporary mold that keeps pace with contemporary trends. Talented.
Many of the organizations participating in the Alsharqiya Gets Creative initiative should be noted, such as Naqsh Aldu' Foundation, Cotton for Children, Children's City Entertainment Center, Ghasaq, Eastern Province Heritage Awareness Association (Turath), and other entities. Its participation is represented by a diverse group who have been able to move beneficiaries from the world of imagination into reality, to express their creativity and turn different kinds of knowledge into talents, in order to find visions and impressions of a brighter future. it was done.
https://saudigazette.com.sa/article/627331/Life/Alsharqiya-Gets-Creative-initiative-documents-the-stories-of-talent-through-creativity-and-visualization?ref=rss&format=simple&link=link Alsharqiya Gets Creative initiative chronicles the story of talent through creativity and visualization