Asia
Angklung's performance attended by over 3,000 people sets MURI record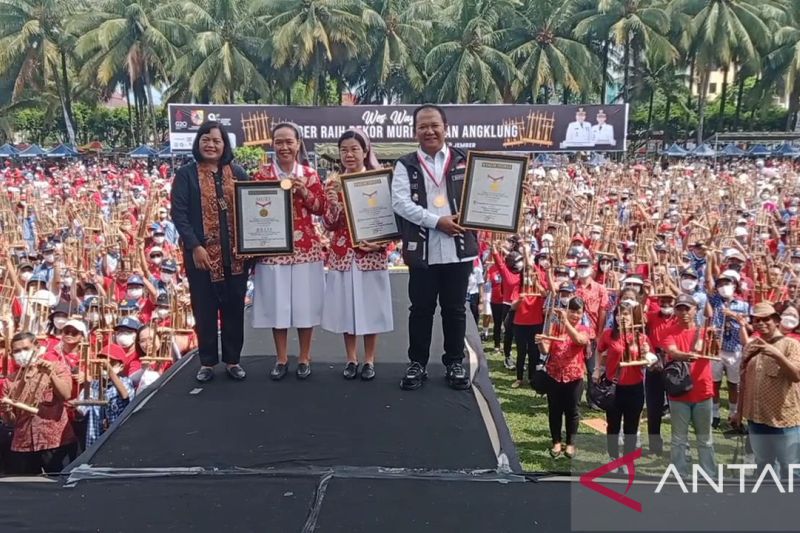 This angklung performance is different from others (performances) that achieve MURI records, as participants are pairs of children and their parents, so playing angklung fosters a harmonious bond.
Jember, East Java (ANTARA) – 3,364 students and parents have played this game. AngklungIt is an Indonesian musical instrument.
"It is extraordinary to have the MURI team back in Jember to document a spectacular event. Angklung A total of 1,682 pairs, or 3,364 participants (performances) of students and parents," said Sri Widayati, Executive Manager of MURI here.
The "Gebyar Angklung" event was organized by Maria Fatima Catholic Middle School. The event coincided with World Angklung Day on November 16th.
According to Mr. Widayati, the activity was highly appreciated by MURI, and the initiator, Maria Fatima Catholic Secondary School, and the Jember district government were awarded a certificate of merit.
related news: Summit ends, Indonesia hands over G20 presidency to India
"this Angklung It differs from other performances (performances) that achieve Muri records because the participants are pairs of children and their parents. Angklung You can develop an amazing and harmonious bond," she added.
Meanwhile, Jember District Director Hendi Siswant commended the educators, parents, children and all participants involved in the performance.
"Joint Angklung Performance is part of building an intimate relationship between parent and child in our current era of modernization," Siswant said.
Additionally, 'Gebyar Angklung' is part of the local wisdom to preserve traditional musical instruments.He said Angklung Combine differences into beautiful harmony.
related news: G20 countries ratify Bali Leaders Declaration

"Angklung, as Indonesia's unique cultural heritage, should be preserved. "This special collaboration of children, parents, teachers and principals is really cool," he said.
Meanwhile, Head of the Organizing Committee Sister Miriam Juniati said the 'Gebyar Angklung' event coincides with the World Angklung Day initiated by UNESCO on November 16, 2010.
"The purpose is to foster a close relationship between parents and children, so that children can respect and be filial to their parents, and develop affection for their parents. Angklung," she added.
related news: President introduces mangrove varieties to journalists in Bali forest
related news: G20 Summit: Indonesia Announces Adoption of Bali Leaders' Declaration
https://en.antaranews.com/news/260657/angklung-performance-with-over-3000-participants-sets-muri-record Angklung's performance attended by over 3,000 people sets MURI record