Asia
Bernama – Government supports Gazette Kampong Laut Mosque to be listed as UNESCO World Heritage Site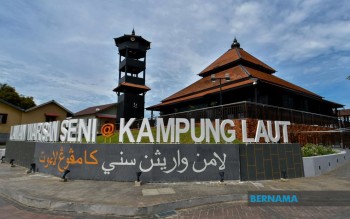 KOTA BHARU, Sept. 9 (Bernama) — The government has fully moved to announce the Kampung Laut Mosque as a national monument under the National Heritage Department and as a World Heritage Site by the United Nations Educational, Scientific and Cultural Organization (UNESCO). support to Prime Minister Datuk Seri Ismail Sabri Yacoub.
Ismail Sabri also said in a Facebook post today that the move is very important.
"After more than 50 years, I am very happy that the Kelantan people's wish to restore the old mosque of Kampong Laut has become a reality.
"The government has also spent RM40 million on the Kampung Laut redevelopment project, which consists of the transfer of the Serunding Heritage Site, the Art Heritage Site and the Old Kampung Laut Mosque," he said.
The Kampong Laut Mosque – Malaysia's oldest 400-year-old mosque – was relocated to Nilam Puri due to floods some 50 years later, with its original components such as the tower structure and pulpit returned to its original location. it was done.
Meanwhile, Ismail Sabri said the construction project of the Palekban bridge connecting Kota Bharu and Tumpat is scheduled to start later this year, which could solve the problem of traffic congestion in the region.
He added that the 4-kilometer-long bridge will not only improve the socio-economic status of local residents, but will also be the main catalyst for Kelantan as an investment and tourism destination.
"This is the federal government's ongoing effort to ensure the balanced development enjoyed by the people of Kelantan, in line with the aspirations of Kel Aruga Malaysia," he said.
— Bernama
---
Bernama is the authoritative source of reliable, real-time, comprehensive and accurate news for both the public and media professionals.Our news is published in www.bernama.com BERNAMA TV on: Astro Channel 502, unifi TV Channel 631, MYTV Channel 121 IFLIX; BERNAMA Radio on FM93.9 in Klang Valley, Johor (FM107.5), Kota Kinabalu (FM107.9) and Kuching (FM100.9) is broadcasting locally.

Follow us on social media:
Facebook : @bernamaofficial, @bernamatv, @Berna Maradio
twitter : @bernama.com, @Bernama TV, @Berna Maradio
Instagram : @bernamaofficial, @bernamatv official, @bernaradioofficial
Tick ​​tock: @bernamaofficial
http://www.bernama.com/en/news.php?id=2119225 Bernama – Government supports Gazette Kampong Laut Mosque to be listed as UNESCO World Heritage Site