Asia
Bernama-Strategic communication unit of ministries to be strengthened to support intelligence efforts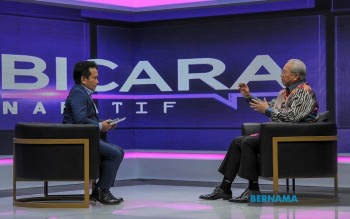 Kuala Lumpur, July 13 (Bernama)-All strategic communications units of the ministry have been strengthened to further enhance information distribution, allowing people to know the efforts being made by the government, communications and Multimedia Minister Tan Sri Anual Musa said.
He said this was determined by an additional allocation from the standard to enhance efforts to provide information and data to media practitioners and Kerarga Malaysia (Malaysia's family).
If the government does not provide true information, false details may be used, so we will strengthen information provision in each ministry and agency so that people do not partially fall into true information on social media. He said that efforts are needed to do so.
"Whatever is discussed and decided, we share it with people. I share it twice a week to inform people of the information received by the government and the actions taken. We must change the way we work by providing more information to people. We need to be transparent in communicating data, information and development.
"Not only that, I also talked to all the Secretary-Generals, the Secretary-Generals of the ministries. Work with the media, editors, and anyone who wants to get information without violating the Official Secrets Act (OSA). "He said here tonight after the RTM Vicarana Latif Program.
On the issue of domestic cooking oil supply, Anual, who is also the chair of the Jihad Against Inflation Special Task Force, emphasized that the person in charge should cooperate with the government's efforts rather than trying to hide.
"If they don't cooperate and realize that smuggling is still going on, I emphasize looking for options to change the entire system … they will lose their business. Therefore, if you want to continue your business, Do it right. Don't abuse the money of the people we provide, but the goods will not reach them
"We want them to do business the right way. We want them to do business, so we want to provide a variety of facilities, including quotas. However, the system becomes weaker and we want to do it. You can't operate the system until it fails, "he said.
-Bernama
---
Bernama is a reliable source of reliable, real-time, comprehensive and accurate news for both public and media professionals.Our news is published at www.bernama.com BERNAMA TV on: Astro Channel 502, unifi TV Channel 631, MYTV Channel 121 IFLIX; Bernama Radio is FM93. It is broadcast locally at 9.

Follow us on social media:
Facebook : @bernamaofficial, @bernamatv, @bernamaradio
twitter : @ bernama.com, @BernamaTV, @bernamaradio
Instagram : @bernamaofficial, @bernamatvofficial, @bernamaradioofficial
Ticktaku: @bernamaofficial
http://www.bernama.com/en/news.php?id=2099968 Bernama-Strategic communication unit of ministries to be strengthened to support intelligence efforts