Europe
BIG ART FESTIVAL is back in Italy!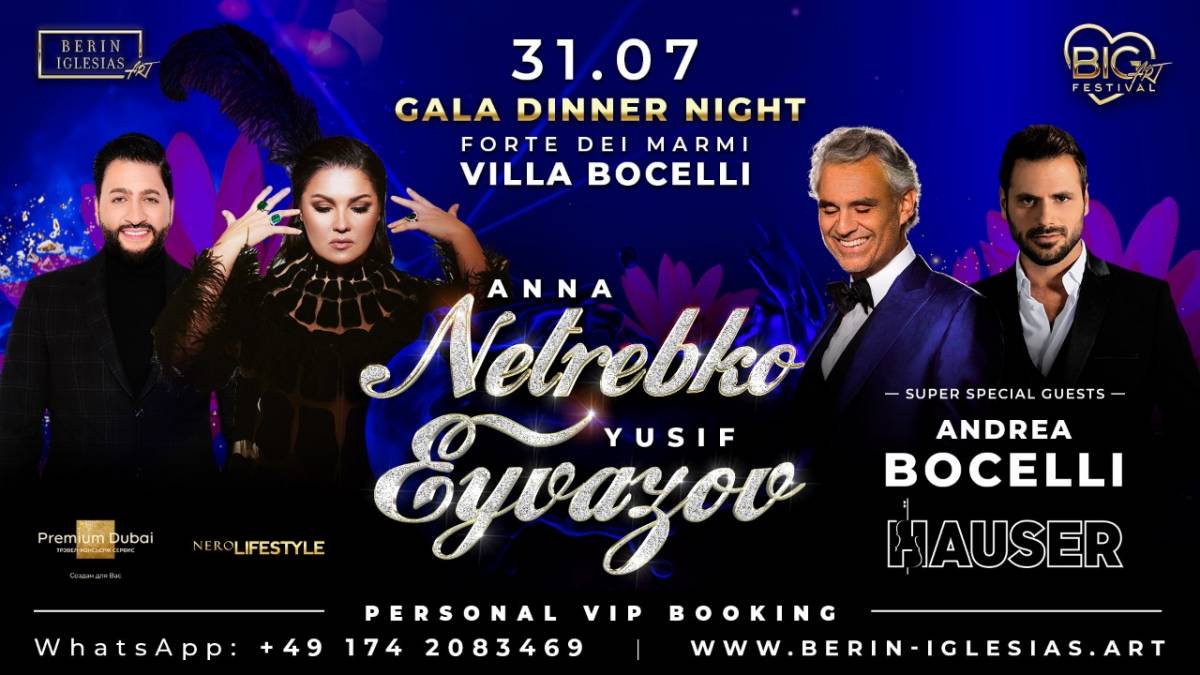 After a huge success in 2021, the festival will return to the legendary Andrea Bocelli villa Forte dei Marmi! And tonight, guests will enjoy a historic music program featuring the constellations of world-class artists.
Villa Bocelli's stunning gardens open the door to a stunning musical festival! We have prepared a wonderful music gift that collects the best music on the BIGART FESTIVAL stage exclusively for our customers!
The magnificent night star Anna Netrebko When Yusif Eyvazov – The most famous and wonderful opera couple of our time.
Not only beautiful and unique creative duets, but also real-life spouses devoted to the magnificent music of Giuseppe Verdi, Anna and Yusif will perform at the best opera venues in the world and give a loud and enthusiastic applause from the audience. receive!
And tonight, the best sopranos and magnificent tenors will play the most popular and beloved arias of Italian opera in the stunning gardens of the magnificent mansion. This will be one of the most impressive stages of this year's top event.
The program, edited exclusively for this concert, includes opera, Naples songs and operettas, and Anna and Yusif's favorite compositions from famous world hits.
The special guest of BIGART FESTIVAL on this wonderful summer night Hauser – A bright and luxurious cellist, co-founder, and member of the super popular 2CELLOS band. Charismatic, bright and magnificent, he easily conquers the hearts of the general public with endless charm and stylish "highlights" of all performances, as well as unusual performances of world hits.
Live performances by the most popular cellists on the planet will be a unique part of the exclusive program and will captivate guests with unforgettable emotional magic.
And another special music gift for night guests – special guests will be legendary Andrea BocelliNot only will you be a welcoming host, but you will also share the stage with your friends in honor of the power of music and the fascinating beauty of the Italian summer.
Villa Bocelli's impressive and beautiful gardens make it a great venue for great concerts. Guests can enjoy live music, gourmet dinners by the best chefs, enchanting landscapes and the unique atmosphere of the recurring BIGART Festival. Again, check out the titles of the most beautiful international festivals on the planet.
We look forward to a combination of great music, gourmet cuisine by a renowned chef, and a great atmosphere for an unforgettable evening.
VIP tables can be booked at berin-iglesias.art
About the Big Art Festival
BIG ART FESTIVAL is a special event that combines luxury, style and beauty, and will be held at the top venues of the world's best 5-star hotels. The program of each festival event is unique and unique, and with BIG ART FESTIVAL, the most demanding and most demanding place to spend an unforgettable gala night with friends in the most beautiful places on the planet. Developed for VIP guests.
The festival format includes a gala dinner by the best chefs, delicacies and elite drinks, and is exquisitely served on a table with specially designed decorations and decorations.
Festival programs can cover a variety of formats. For example, guests can attend a concert of a well-known pop star, a stand-up comedy show, or a unique galling with popular soloists and bands at the same time. BIG ART FESTIVAL confirms its status as an international festival every time and expands and conquers new places. Today, the festival is held in Monaco, Dubai, Courchevel, Saint-Tropez, Marbella, London, Cyprus, Porto Cervo, Forte dei Marmi and Mikonos. Dubai and other cities.
Tickets are available at www.berin-iglesias.art.
Reservation contact: ticket@berin-iglesias.art
+49 174 20 83 469 (WhatsApp)
https://www.hellomonaco.com/news/latest-news/big-art-festival-returns-to-italy/ BIG ART FESTIVAL is back in Italy!