America
BTS at the White House: K-POP boy band says at a press conference that it was "ravaged" by anti-Asian hate crimes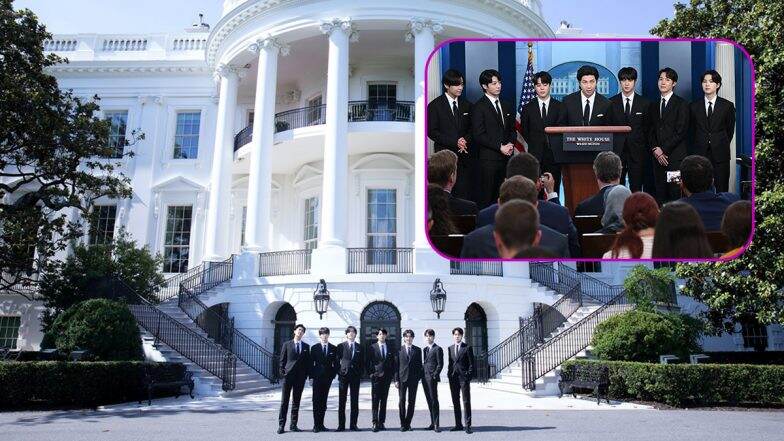 Washington, June 1: South Korea's popular Grammy-nominated band BTS visited the White House on Tuesday (local time) and said they were overwhelmed by the recent surge in hate crimes. "Equality begins when we open and accept all the differences," said Suga, one of the group's seven singing superstars, through an interpreter, Hill reported. A Korean chart topper wearing a matching black suit and tie appeared in the James S Briefing Room as part of a visit to promote "Asia's inclusion and expression." BTS meets Joe Biden: The K-POP Boygroup presents the US President and the famous finger heart in the White House's Oval Office (see photos and videos).
BTS at the White House in the United States
[PHOTO] 220601 @BTS_twt

Media Photo: BTS at the White House

🔗 (https://t.co/AdTIgplbJ3). #BTS # 방탄 소년단 pic.twitter.com/UdK0NE8hUB

— BTS Update⁷ | 06.10 "Proof" (@BTSdailyinfo) June 1, 2022
"I was overwhelmed by the recent surge in hate crimes, including Asian-American hate crimes. I would like to take this opportunity to reiterate myself to stop this and support the cause," said singer Jimin. Said. Hill reported further. Group member RM thanked him while speaking in English, and it is a "great honor" to "discuss important issues of anti-Asia hate crimes, Asian inclusion, and diversity" at the White House. Said.
The group was ready to meet with US President Joe Biden, following the appearance of the briefing room. BTS at the White House: Bantan Boys will speak at a press conference prior to the meeting with US President Joe Biden.
Biden previously talked about his commitment to combat the surge in anti-Asian hate crimes and signed the COVID-19 Hate Crimes Act in May 2021. This provides law enforcement with the resources to identify, investigate, report and ensure hate crimes. Hate crime information is more accessible to the AA and NHPI communities. Hill, a citation center for the study of hatred and radicalism, reported that crime against Asian Americans increased by more than 300 percent last year.
(This is an edited and auto-generated story from the Syndicated News Feed. LatestLY staff may not have changed or edited the content body)
function loadAPI() {
var js_fb = document.createElement('script');
js_fb.src="https://connect.facebook.net/en_US/sdk.js#xfbml=1&version=v3.3&appId=224265671451116&autoLogAppEvents=1″;
document.body.appendChild(js_fb);
}
var a_fb=1;
document.addEventListener('scroll', function(e) {
if(a_fb == 1){
a_fb=2;
loadAPI();
//vdo
(function(v,d,o,ai){ai=d.createElement('script');ai.defer=true;ai.async=true;ai.src=v.location.protocol+o;d.head.appendChild(ai);})(window, document, '//a.vdo.ai/core/latestly/vdo.ai.js');
//colombai
try{
(function() {
var cads = document.createElement("script");
cads.async = true;
cads.type = "text/javascript";
cads.src = "https://static.clmbtech.com/ase/80185/3040/c1.js";
var node = document.getElementsByTagName("script")[0];
node.parentNode.insertBefore(cads, node);
})();
}catch(e){}
}
});
https://www.latestly.com/agency-news/world-news-bts-visits-white-house-says-devastated-by-anti-asian-hate-crimes-3772501.html BTS at the White House: K-POP boy band says at a press conference that it was "ravaged" by anti-Asian hate crimes