America
Canadian Prime Minister Justin Trudeau meets with Ukrainian President Volodymyr Zelensky in Kyiv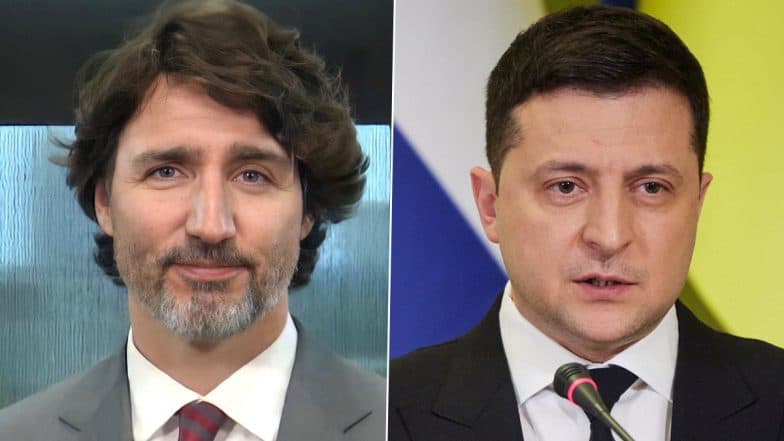 Kyiv, May 9: Canada's Prime Minister Justin Trudeau met with Ukraine's President Volodymyr Zelensky in Kyiv and announced military assistance to a war-torn country and increased sanctions on Russia. According to an official statement, Canada will provide Ukraine with additional $ 50 million worth of additional military assistance, including drone cameras, high-resolution satellite imagery, small weapons and ammunition, according to Xinhua News Agency. ..
The Prime Minister also said Canada would impose new sanctions on 40 Russian individuals and five groups in connection with the Kremlin and Russia's defense sector. Trudeau has announced the reopening of the Canadian Embassy in Kieu, which was closed on February 12. Canada's Prime Minister Justin Trudeau makes a surprise trip to Ukraine and provides support..
"Canada's defense assistance to Ukraine was discussed in detail," Zelensky said, according to the Ukrainian presidential news agency. Mr Zelensky said negotiations are underway with the Canadian side to lift trade restrictions on Ukrainian exporters and abolish the visa system for Ukrainian citizens.
(The above story was first published in Latest LY on May 9, 2022 at 1:04 pm IST. For news and updates on politics, the world, sports, entertainment and lifestyle, please visit our website. Please log on to. latestly.com).
//colombai try{ (function() { var cads = document.createElement("script"); cads.async = true; cads.type = "text/javascript"; cads.src = "https://static.clmbtech.com/ase/80185/3040/c1.js"; var node = document.getElementsByTagName("script")[0]; node.parentNode.insertBefore(cads, node); })(); }catch(e){}
} });

https://www.latestly.com/world/canadian-pm-justin-trudeau-meets-ukrainian-president-volodymyr-zelensky-in-kiev-3685407.html Canadian Prime Minister Justin Trudeau meets with Ukrainian President Volodymyr Zelensky in Kyiv