Asia
Cancer has been the leading cause of death in Taiwan for 40 years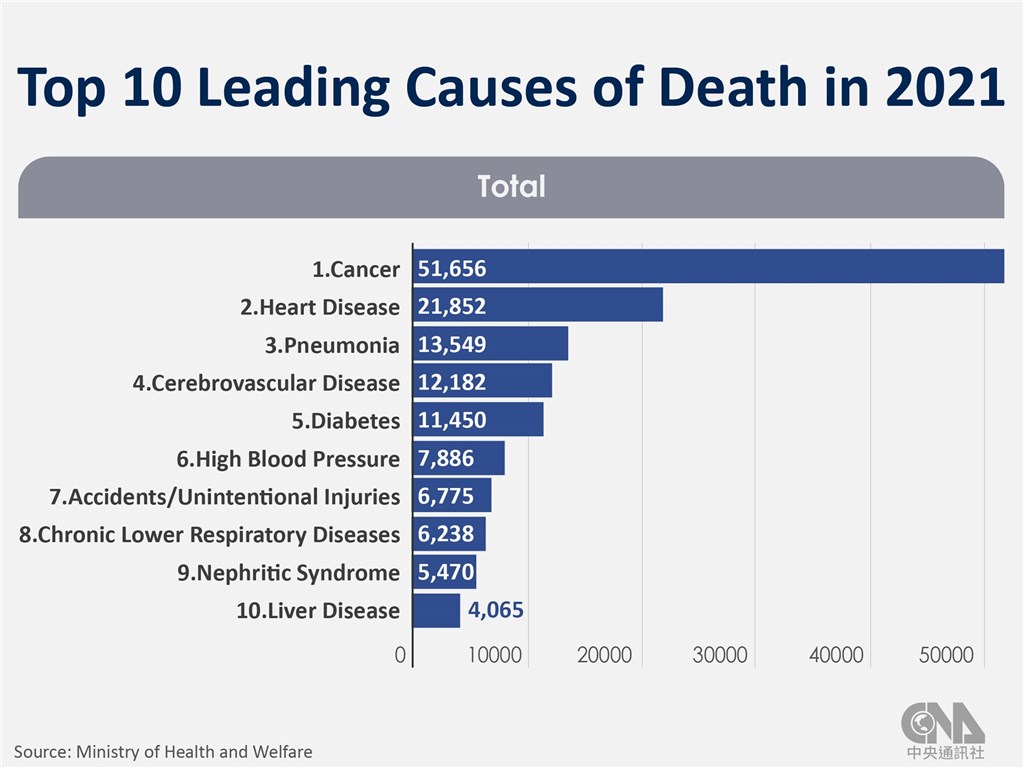 Taipei, June 30 (CNA) Cancer is Taiwan's leading cause of death in 2021 and has been prevalent in Taiwan for the past 40 years, the Ministry of Health (MOHW) reported Thursday. ..
According to the ministry's statistics, 51,656 of the 184,172 deaths in Taiwan last year, or 28%, were due to cancer, the most deadly of which were tracheal, bronchial and lung cancer.
Following cancer, the most common causes of death were heart disease, pneumonia, cerebrovascular disease, diabetes, hypertension, accidents or unintended injuries, chronic lower respiratory tract disease, nephritis syndrome, and liver disease.
Overall, according to MOHW, the mortality rate in 2021 was 784.8 per 100,000, 6.9% higher than in 2020, but still the second lowest ever, with a median age of death of 77 years.
The ministry said the increase in mortality compared to 2020 was primarily due to the aging of the population, due to the long-term coldsnap and COVID-19 in January 2021.
Compared to 2020, deaths from pneumonia decreased by 1.4% and deaths from hypertension, diabetes and chronic lower respiratory tract disease increased by 17.6%, 11.0% and 10.3%, respectively.
According to the ministry, COVID-19, which killed 896 people in 2021, was ranked as the 19th leading cause of death.
In the age group, accidents and unintentional injuries are the leading causes of death between the ages of 0 and 24, cancer and suicide are the first and second causes for people aged 25 to 44, and cancer and heart disease are the leading causes for people aged 45. It was the most common. that's all.
The ministry advised the general public to keep the recommended cancer screenings up-to-date to reduce the risk of death from the disease.
According to the ministry, women over the age of 30 are screened for cervical cancer annually, and women aged 45-69 are required to obtain a mammogram every two years.
Similarly, people between the ages of 50 and 74 should undergo a fecal occult blood test every two years to check for intestinal cancer, and current and previous smokers or betel nut users over the age of 30 have a biennial oral cavity. MOHW said it needs to be screened.
https://focustaiwan.tw/society/202206300015 Cancer has been the leading cause of death in Taiwan for 40 years