Europe
chatting while swimming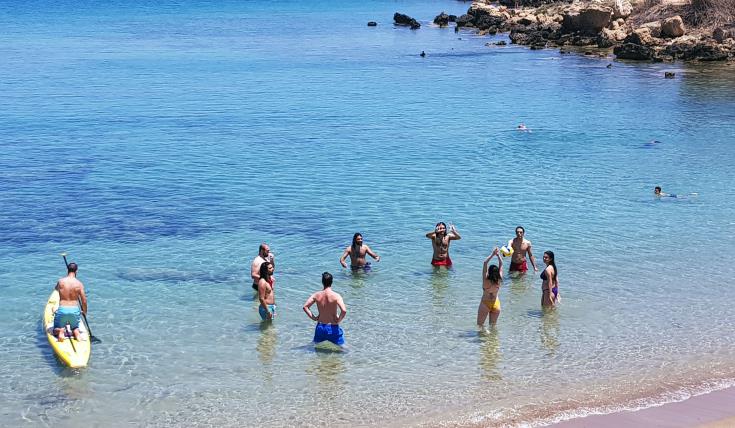 Thanks to the summer and the relaxed atmosphere, I would like to report what "stuck in my ears" while swimming every day during my vacation in the Pernera-Protaras area.
A nearby swim group was discussing selling a one-bedroom apartment on the beach for €4,000 per square metre.
One member of the group expressed serious interest, but the leader was charged about €200 per month (€2,400 per year) for utilities (including use of the spa and two pools for 12 months). said he knew
After a group discussion, the purchase proposal was rejected.
However, the sale price turned out to be reasonable, greatly disappointing my daughter (whose unit was meant to be) and her future fiancée.
Limassol (former Teodosiu warehouse) is cluttered and on top of that the restaurants are very expensive.
Members of the group advised protesters to visit northern Limassol, including Ayoos Tychonas, Moni and Yermasoyia. Here there is even a taverna serving guitar music for food prices of €30 per person.
In another discussion, some friends said they went downtown to eat, and the restaurateur offered them a "treat" with champagne.
Little did they know we were finally charged €16 a glass! Now we know that the "treat" is paid for.
I heard someone say: A bit rushed don't you think? "
A friend said he found an opportunity to buy 2,500 square meters of land for €250,000 in the Agios Ilias area. He was very reasonably priced and even gave me a down payment.
He was then charged 19% VAT.
"What am I going to do?" asked a stressed group member.
Many in his company had different views, but no one offered a solution.
Of course, swimmers near me relaxing in the waters of Protaras did not fail to discuss Cyprus' political issues.
After everyone agreed on a solution, they continued swimming carefree.
The presidential candidate of the republic did not escape controversy either.
They rejected Christodourides. They gave credit to Mavroyiannis, but did not comment on Neophytou.
In general, good comments about Achilles Dimitriades, but the opinion was expressed that he is a bit theoretical.
Back to our favorite topics.
"We were served kebabs that were grilled on an iron plate instead of charcoal.
MEPS
"I told the waiter to eat the plate himself. This is a scam," he added. puffian member of the group.
Another debate was moved to Brussels, where two of Cypriot's parliamentarians were heavily criticized. One person (Diko's Mavrides) reported about VAT on real estate that he should raise to 19% from 5% currently, and he reported Cyprus than Akel's Georgiou, an Israeli lawmaker. spy van.
So I asked the group if they didn't love their country.
I was there when a tourist boat docked in the Visakhia beach area of ​​Protaras and very loud devilish music was playing.
Groups of beachgoers menacingly moved to boats to protest. Finally, after verbal abuse, the boat left.
But is this the way to achieve common tranquility?
There have been many stories from 'strike teams' blaming local authorities (Paralimni, who else?).
And some trivia. I didn't know that his Lidl, a supermarket chain, offered packaged kebabs, nor about the "new" Tomahawk steak. you learn something new.
A trade unionist surrounded by a group of bathers explained the minimum wage.
Somewhat heated and divided, the Union Chap cautiously withdrew while the other chaps continued.
The daily Filele Lefteros was not immune to gossip.
Comments were made that the tabloid format is easier to read, which is a plus, but that the text is smaller, making newspapers harder to read, especially for older ones.
I also noticed that there are few tourists with all-inclusive bracelets.
Still, while private visitors increased, restaurant prices rose to unacceptable levels for Cypriots.
Price is €30/person Impossible for Cypriots.
During one discussion, I listened to learn how to cook a good souvlah.
The meat is tender (it's fatty, which makes it tastier), add salt before cooking, and avoid other spices as they spoil the flavor, the group's "master chef" told us.
A more progressive person would say, "Play the music of Mitropanos. Subla likes it, and it works up an appetite."
On a topic close to my heart, I also learned that house prices in the Latchi Anassa area are higher than those in Protaras.
The group's rapporteurs said the planned completion of the road between Paphos and Polis, the extension of Latchi's marina and the long-promised Akamas Park were positive factors to take into account.
The house is about €400,000 a short distance from the beach (about 500 m) and about €700,000 closer (3 bedrooms with pool, some views).
I learned that conversations at sea, friendly or not, are at least within a radius of 100 meters.
Antonis Loizou FRICS – Real Estate Appraiser, Property Seller, Development Project Manager
post chatting while swimming first appeared financial mirror.
https://www.financialmirror.com/2022/09/24/gossiping-while-swimming/ chatting while swimming