America
Chinese 'spy' balloon shot down: China expresses strong discontent after US shoots down suspected spy balloon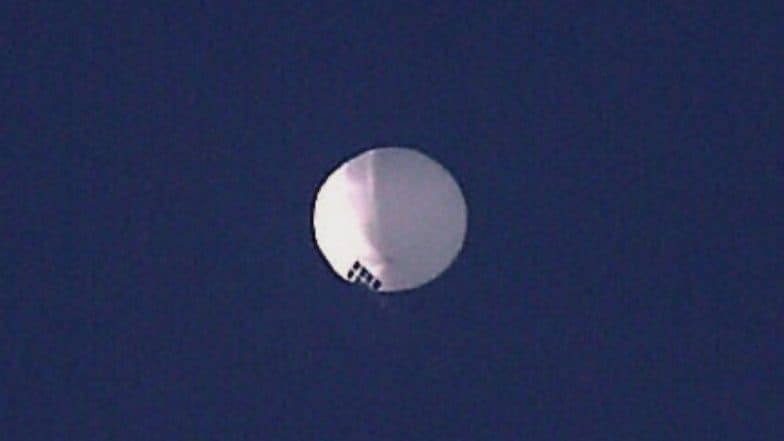 Beijing, February 5: According to the Global Times, China has expressed strong dissatisfaction and protests against the United States' use of force to shoot down the balloon. China's foreign ministry's statement came after a US military jet shot down a suspected Chinese spy balloon on Saturday.
China's foreign ministry said China is asking the United States to handle the case in a calm, professional and restrained manner, Global Times reported. China's foreign ministry said on Friday that an unmanned airship spotted in the US was a civilian airship from China that deviated significantly from its planned course. Chinese 'spy' balloon shot down: US shoots down Chinese balloon over sea, moves to retrieve debris (watch video).
US Shoots Down Chinese Balloon Over Sea:
New video of Chinese spy balloon shot down pic.twitter.com/XwRVA7s1Hu

— BNO News Live (@BNODesk) February 4, 2023
According to news reports, China's foreign ministry said Beijing will continue to maintain contact with the United States to deal with unforeseen circumstances caused by force majeure. The balloon was first spotted over Montana earlier this week, according to CNN.
US President Joe Biden says a Chinese spy balloon has been shot down. He told reporters in Maryland that he had ordered the Pentagon to launch the balloon "as soon as possible."
"When I was briefed on the balloon on Wednesday, I ordered the Pentagon to shoot it down as soon as possible on Wednesday. Within the 12 mile limit.
"They shot it down successfully. I want to give credit to the aviators who made it happen. I'll report on this a little later," he added. Meanwhile, US Defense Secretary Lloyds Austin said in a statement on the 28th (local time) that a US fighter jet belonging to the US Northern Command shot down a Chinese high-altitude patrol balloon off the coast of South Carolina. airspace. China's Spy Balloon: US National Airspace System Closes Charleston, Wilmington and Myrtle Beach International Airports.
Lloyd Austin said a balloon used by China to monitor strategic positions on the US mainland was shot down over US territorial waters. A US Air Force fighter jet safely shot down a Chinese high-altitude surveillance balloon, the Pentagon said in a statement.
"This afternoon, at the direction of President Biden, U.S. fighter jets assigned to the U.S. Northern Command launched a high-altitude surveillance balloon belonging to China launched by the People's Republic of China (PRC) over waters off the coast of South Carolina. Successfully shot down, in US airspace," Lloyd Austin said in a statement.
He added that "a balloon used by China to monitor strategic sites on the US mainland was lowered into US territorial waters." Austin said US President Joe Biden had given permission to shoot down the surveillance balloon "as soon as the mission could be accomplished without undue risk to the lives of Americans under the balloon's path." rice field.
Furthermore, he said U.S. military commanders had determined that lowering the balloons to land would pose undue danger to a wide range of people. wanted to shoot down. He said the U.S. Department of Defense closely monitored the balloon's path and intelligence-gathering efforts while creating options for safely shooting down the balloon over U.S. territorial waters.
This measure was implemented with the cooperation and full support of the Government of Canada. We also thank Canada for its contributions through NORAD to tracking and analyzing the balloon as it transits North America," said Lloyd Austin.
"Today's deliberate and lawful action will ensure that President Biden and his national security team effectively respond to China's unacceptable violation of our sovereignty while always prioritizing the safety and security of the American people. shows."
(This is an unedited article auto-generated from a syndicated news feed. LatestLY staff may not have changed or edited the content body)


https://www.latestly.com/agency-news/world-news-china-expresses-strong-dissatisfaction-after-us-shoots-down-suspected-spy-balloon-4798972.html Chinese 'spy' balloon shot down: China expresses strong discontent after US shoots down suspected spy balloon