Asia
Cianjur residents may return home as aftershocks subside: BNPB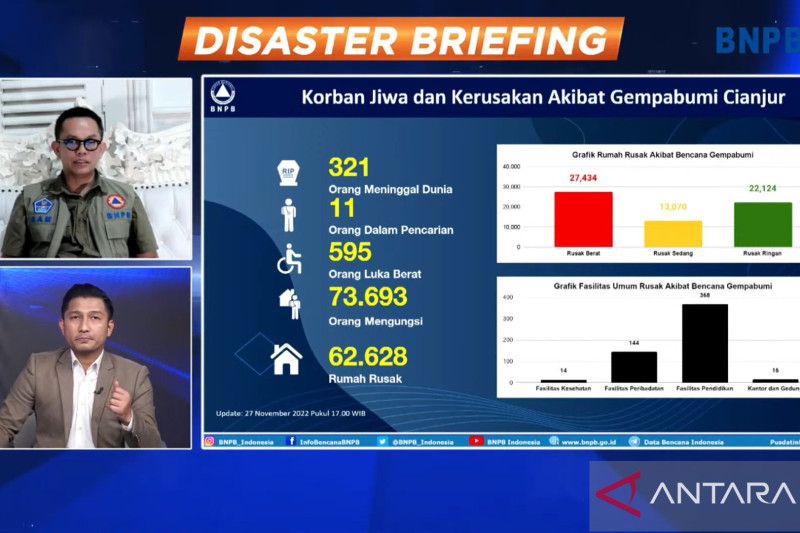 JAKARTA (ANTARA) – The National Disaster Reduction Agency (BNPB) has announced that conditions are safer for residents whose homes did not suffer major damage after a magnitude 5.6 earthquake struck Cianjur, West Java on November 21. I urged him to go home.
Abdul Muhali, BNPB's Acting Center for Disaster Data, Information and Communications, said at a disaster briefing on Monday, "If residents' homes do not have the three[damage types]I described earlier, they will go home and have their houses repaired." can be evaluated," he said. (November 28).
Following on-site assessments, authorities were able to group refugees according to damage to their homes, he said, adding that the government also recorded cases of significant damage to homes.
He stressed that only houses with broken columns, collapsed walls or displaced roofs could be classified as severely damaged, as aftershocks can cause structures to collapse.
BNPB officials have revealed that residents with only minor damage to their homes can resume activities inside their homes.
"They may sleep outside at night because they are not confident (in terms of safety), but daytime activities such as cooking can be done inside the house," Muhari said.
Officials later said economic and logistical activity could resume as shops, stalls and markets reopened. The government will also urge residents to quickly resume economic activity, he added.
The government will continue to provide residents with tarps, tents and blankets upon request, but he said he was confident the food aid was reaching all refugees.
Muhari said that the Meteorological, Climate and Geophysical Agency (BMKG) has also urged residents to resume normal activities as the aftershocks have gradually subsided.
"If we keep ourselves busy[with our daily lives]the psychological trauma will subside. This is probably the suggestion that BNPB and the main emergency posts can offer[to the residents]," he said.
related news: East Java dispatches medical team to help victims of Cianjur earthquake
related news: Cianjur earthquake death toll reaches 323: district chief
related news: 3 Relocation Destinations Prepared for Earthquake Victims: Official
https://en.antaranews.com/news/262793/cianjur-residents-may-return-home-as-aftershocks-subside-bnpb Cianjur residents may return home as aftershocks subside: BNPB