Europe
Coronavirus 12,462 cases, death 44 cases, intubation 346 cases.distribution
Greek health officials announced on Sunday 12,462 cases of coronavirus and 44 deaths in the last 24 hours. The number of intubated Covid patients has decreased to 346.
Saturday, March 19:
19,705 coronavirus cases, 46 deaths, 349 intubations
EODY data March 20
Last 24 hours test
PCR 13,092 RAPID 160,296
Positive PCR + RAPID: 7.19%
Rt: 1.04 From 0.99 last week

Greece has confirmed since the pandemic began 2,788,654 Infectious disease (daily change: + 0.4%). In confirmed cases over the last 7 days, 177 infections were associated with travel abroad and 1,685 infections were associated with other confirmed cases.
A moving average of 21,860 from 18,171 last week.
44 Due to the deaths recorded in the last 24 hours, the total number of pandemic victims has increased. 26,937.. Of these, 95.2% had an underlying condition and / or were 70 years or older.
346 The patient is using a ventilator in the hospital. Median age is 69 years, 63.3% are male, 90.8% have underlying illness, and / or are 70 years or older.
Of the total ventilated, 218 (63.01%) are unvaccinated or partially vaccinated and 128 (36.99%) are fully vaccinated.
4,396 I have been discharged from the ICU since the pandemic began.
346 Patients with Covid-19 have been hospitalized in the last 24 hours (daily change: -6.99%). The average daily hospital admission of Covid-19 patients over the last 7 days was 328.
The median age of new infections is 36 years (range: 0.2 to 106 years) and the median age of the deceased is 79 years (range: 0.2 to 106 years).
Geographical distribution March 20
Of the 12,462 new coronavirus infections twenty four Detected at the entry point, Four Among travelers who are already in the country.
The remaining cases are:
4131 Attica
1371 Thessaloniki
Aetolia-Acarnania 260
Argolis 101
Arcadia 132
Akaia 318
Boeotia 116
Evros 101
Evia 214
Ilia 139
Heraklion 546
Ioannina 190
Karditsa 108
Corfu 149
Kozani 198
Corinthians 178
Laconia 150
Larissa 347
Magnesia 259
Messenia 159
Pella 136
Rethimno 150
Rhodes 104
Ceres 127
Trikala 197
Phthiotis 235
Halkidiki 102
Chania 267
Areas with double-digit or single-digit infections: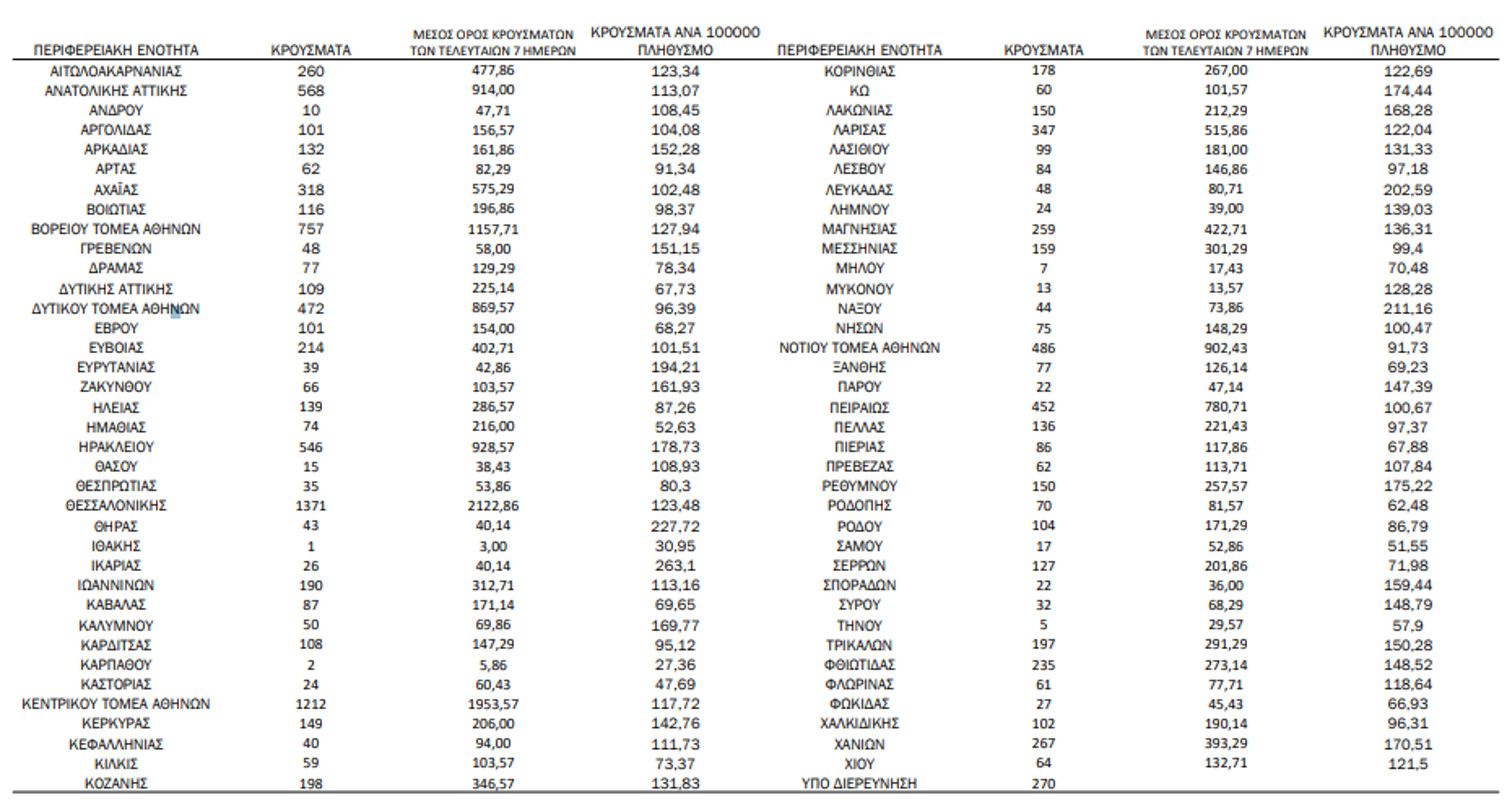 via newsit.gr
270 under investigation
map Infectious diseases in the last 14 days per 100,000 population
compare
For more information, include a geographic distribution check in the Greek EODY Daily. here..
More information about coronaviruses and restrictions Here in KTG Greece.
PS Due to the war in Ukraine, KTG is currently unable to post long coronavirus breaking news daily, as it has been since February 2020.
However, you will always be notified of changes to Covid limits and updated Covid maps.
https://www.keeptalkinggreece.com/2022/03/20/greece-coronavirus-bulletin-data-march-20/ Coronavirus 12,462 cases, death 44 cases, intubation 346 cases.distribution