Asia
COVID-19: 25% increase in new cases per day for 6 days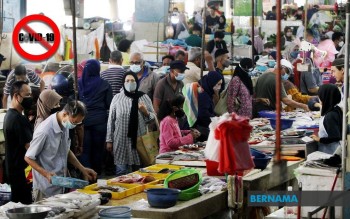 Melati Mohd Alif
this is Bernama's Weekly Roundup COVID-19 and related matters in Malaysia and around the world October 15th until noon today.
In Malaysia, the number of cases is 4.87 One million And globally, the virus 632 million man and cause 6.57 million fatalities (number. A few 610 One million The patient has so far recovered from the virus.
Now in its third year, the COVID-19 pandemic has affected 228 countries and territories.
KUALA LUMPUR (Bernama) – Daily new cases increased by 25% for a 6-day week (15-Oct to 20-Oct), 11,674 yesterday's record 2,561.
This compares with 9,330 new infections per day during the same period from October 8th to October 13th.
In the three days of the week compiled by Bernama from October 15th to October 20th, the number of new daily cases exceeded 2,000. 2,023 (October 15th), 2,295 (October 19th), 2,561 (October 20th). This week's low was his 1,210 on Oct. 17.
Prior to this, the daily number of new infections in the country exceeded 2,000 for two consecutive days, 13 October (2,090) and 14 October (2,231). The last time the daily number of new infections exceeded the 2,000 level was 2,007 on September 30.
The cumulative number of COVID-19 cases in Malaysia is now 4,875,131 casesDepartment of Health (MOH) data show that the number of ongoing COVID-19 cases is now at 11:59 p.m. 25,636 cases and out of the total 24,483 (95.5%) were quarantined at home.
of 2,561 cases yesterday, 3 digits recorded in 5 states i.e. Selangor (902), Kuala Lumpur (683), Perak (175), Sabah (121), Negeri Sembilan (111).
two digit number It was reported in Penang (98), Kedah (88), Sarawak (74), Malacca (72), Johor (55), Kelantan (53), Putrajaya (51), Pahang (48) and Terengganu (26).
Perlis report a digit (Four) Labuan while the case had zero case.
New daily COVID-19 cases Between Week edited by Bernama from October 15th to October 20th:-
October 15th (2,023), October 16th (1,712), October 17th (1,210), October 18th (1,873), October 19th (2,295) and October 20th (2,561).
Daily new COVID-19 cases from October 8th to October 14th:-
October 8 (1,627), October 9th (1,453), October 10th (1,241), October 11th (1,291), October 12th (1,628), October 13th (2,090) and October 14th (2,231).
Here are the daily new COVID-19 cases in neighboring Singapore:
October 15th (8,037), October 16th (6,181), October 17th (5,196), October 18th (11,934), October 19th (8,752) and October 20th (8,176).
Daily new COVID-19 cases in city-states across the Johor Causeway returned to five digits with 11,732 on October 11 and 11,934 on October 18.
The surge in new cases in the Republic was largely caused by another Omicron subvariant, the XBB variant.
On the other hand, a total of 1,248 recovered cases were reported yesterday, and the cumulative number up to yesterday was 4,813,058 cases.
with Cumulative illustration of 4,875,131 cases, Malaysia currently ranks 27th MeList of 228 countries/regions hit by the COVID-19 pandemic. Beyond Malaysia are Greece (5,081,981) and Ukraine (5,279,346).
Among the list of 228 countries, Germany has the most new cases per day (92,293), followed by France (56,793) and Italy (40,560), according to Worldometer.
In terms of COVID-19 deaths, the United States reported 1,092,408 COVID-19 deaths.
COVID-19 scenario in Malaysia
According to current MOHNOW data 11:59 pm yesterday, 24,483 cases (95.5%) of 25,636 active COVID-19 (new coronavirus infectious disease) The case was quarantined at home.
zero (0) case Reported at the COVID-19 Integrated Quarantine and Treatment Center (PKRC). 1,102 cases (4.3%) in a hospital. 28 cases (0.1%) Intensive Care Unit (ICU) without respiratory support (ABP) and twenty three Case (0.1%) in the ABP ICU.
For the record, there are five categories of COVID-19 infections.
Category 1 is for asymptomatic patients, according to MOH. Category 2 is for mild patients. Category 3 is for pneumonia patients. Category 4 is for patients requiring supplemental oxygen. Category 5 is for people who are critically ill and need ventilator support in the ICU.
Cases Recovered:-
October 15th (1,699), October 16th (1,699), October 17th (2,026), October 18th (1,575), October 19th (1,386) and October 20th (1,248).
* Cumulative number of recoveries as of October 20 4,813,058.
Active cases that may be infected:-
October 15th (23,881), October 16th (23,892), October 17th (23,070), October 18th (23,425), October 19th (24,331) and October 20th (25,636).
Active and probable cases (2,561 cases) :-
*By state as of 11:59pm yesterday
* (Import example)
3 digits – Selangor 902 (+0), Kuala Lumpur 683 (+0), Perak 174 (+1), Sabah 121 (+0), Negri Sembilan 109 (+2).
Double-digit – Penang 98 (+0), Kedah 87 (+1), Sarawak 74 (+0), Malacca 71 (+1), Johor 55 (+0), Kelantan 51 (+2), Putrajaya 51 (+0), Pahang 47 (+1) and Terengganu 26 (+0).
a digit – Perlis 4 (+0)
zero (0) Case – Labuan 0
Newly recorded cases, imported cases, domestic infections:
October 15th – 2,023 new cases; 4,865,480 cumulative cases; 13 imported cases
October 16th – 1,712 new cases; 4,867,192 cumulative cases; 2 imported cases
October 17th – 1,210 new cases; 4,868,402 cumulative cases; 6 imported cases
October 18th – 1,873 new cases; 4,870,275 cumulative cases; 3 imported cases
October 19th – 2,295 new cases; 4,872,570 cumulative cases; 3 imported cases
October 20th – 2,561 new cases; 4,875,131 cumulative cases; 8 imported cases
Recorded deaths include:
*BID = Brought-in-Dead are cases brought outside the hospital and cases brought into the hospital's forensic department. COVID-19-positive cases after PT PCR testing.
October 15th – 0 (bid 0), October 16th – 2 (BID 1), October 17th – 6 (BID 5), October 18th – 3 (BID 0), October 19th – 3 (BID 1) and October 20th – 8 (BID 1).
* as Malaysia's COVID-19 death toll was 3 yesterday6,437 cases.
Global COVID-19 Statistics
According to Worldometer, the global number of COVID-19 cases is 632,046,555 cases from 629,395,967 in the previous week 6,579,768 fatalities (number) (Previously 6,569,844 died). sum of 610,776,843 Recovery example was reported by Previously 608,410,340.
About 228 countries have been affected by the COVID-19 pandemic, with the top 10 countries on the list being the United States, India, France, Germany, Brazil, South Korea, United Kingdom (UK), Italy, Japan and Russia.
Here's the breakdown of the top 10 countries (+ new records per day):
USA 99,037,299 (+25,595)
India 44,638,011 (+1,494)
France 36,475,518 (+56,793)
Germany 35,005,769 (+92,293)
Brazil 34,818,774 (+5,096)
Korea 25,219,546 (+25,369)
United Kingdom 23,798,793 (+no info)
Italy 23,254,633 (+40,560)
Japan 21,894,638 (+36,110)
Russia 21,345,154 (+10,067)
Below is the breakdown of cumulative cases and (+ new daily cases) of COVID-19 in Southeast Asian countries including Malaysia.
Vietnam 13th – 11,495,772 (+541)
Indonesia 20th – 6,464,962 (+2,307)
Malaysia 27th – 4,875,131 (+2,561)
Thailand 30th – 4,687,281 (+no info)
Philippines 38th – 3,989,556 (+2,227)
Singapore 46th – 2,046,123 (+8,176)
Myanmar 83rd – 629,653 (+277)
Brunei 110th – 234,582 (+no info)
Laos 113th – 216,158 (+13)
Cambodia #125 – 137,979 (+3)
————————————————– ———————–
Background of COVID-19
The World Health Organization (WHO) China Office was notified of a case of pneumonia detected in Wuhan on 31 December 2019. human.
Coronaviruses are a large family of viruses that cause a wide range of illnesses, from the common cold to more serious illnesses such as Severe Acute Respiratory Syndrome (SARS) and Middle East Respiratory Syndrome (MERS-COV).
Studies of the virus' gene sequences have suggested similarities to those found in snakes and bats. Chinese health officials have identified the Huanan Seafood Market in Wuhan as the source of the coronavirus.
On February 11, 2020, WHO announced the official name of the virus, COVID-19. This is the acronym for coronavirus 2019. CO stands for corona, VI for virus and D for disease.
On January 30, 2020, WHO declared the coronavirus outbreak a global emergency, and on March 11 declared COVID-19 a pandemic.
The WHO has described the COVID-19 outbreak as far more dangerous than the A H1N1 flu, also known as swine flu.
Between January 2009 and August 2010, swine flu infected more than 1.6 million people and killed 18,449. First discovered in Mexico and in March 2009 in the United States.
COVID-19 was detected in Malaysia on 25 January 2020 and three Chinese nationals who entered Malaysia via Johor from Singapore on 23 January tested positive for the disease.
A new variant of the COVID-19 coronavirus then emerged in September 2020 in the UK (identified as B117), in October 2020 in South Africa (501Y.V2) and in October 2020 in India (B.1.617) Did.
Cumulatively, the number of COVID-19 cases in Malaysia surpassed 1 million as of 25 July, with 1,013,438 cases. The number of infected people in a single day reached five digits for the first time on July 13 with 11,079.
On November 26, WHO designated a new variant of COVID-19 as a variant of concern, naming it Omicron. First discovered in Gauteng, South Africa.
Scientists at the IHU detected a new variant named B.1.640.2 at the end of November last year. This variant spike protein has 46 mutations and is termed IHU.
Meanwhile, Israel has confirmed its first case of an individual infected with "flurona," a coined term for the condition of being infected with COVID-19 and seasonal flu at the same time. (January 2, 2022).
1 April 2022 – Malaysia enters the transition to the epidemic phase of COVID-19 as an exit strategy to allow Malaysians to return to normalcy after nearly two years of fighting COVID-19 .
1 May 2022 – 27 April 2022 Health Minister Kairi Jamaluddin announced the relaxation of some restrictions, including the lifting of check-in requirements on MySejahtera from 1 May.
Translated by Salvia Said
Bernama
---
Bernama is the authoritative source of reliable, real-time, comprehensive and accurate news for both the public and media professionals.Our news is published in www.bernama.com BERNAMA TV on: Astro Channel 502, unifi TV Channel 631, MYTV Channel 121 IFLIX; BERNAMA Radio on FM93.9 in Klang Valley, Johor (FM107.5), Kota Kinabalu (FM107.9) and Kuching (FM100.9) broadcast locally on

Follow us on social media:
Facebook : @bernamaofficial, @bernamatv, @Berna Maradio
twitter : @bernama.com, @Bernama TV, @Berna Maradio
Instagram : @bernamaofficial, @bernamatv official, @bernaradioofficial
Tick ​​tock: @bernamaofficial
http://www.bernama.com/en/news.php?id=2131012 COVID-19: 25% increase in new cases per day for 6 days