Europe
Daniel Mulhall looks back on his five years as Ireland's Ambassador to the United States.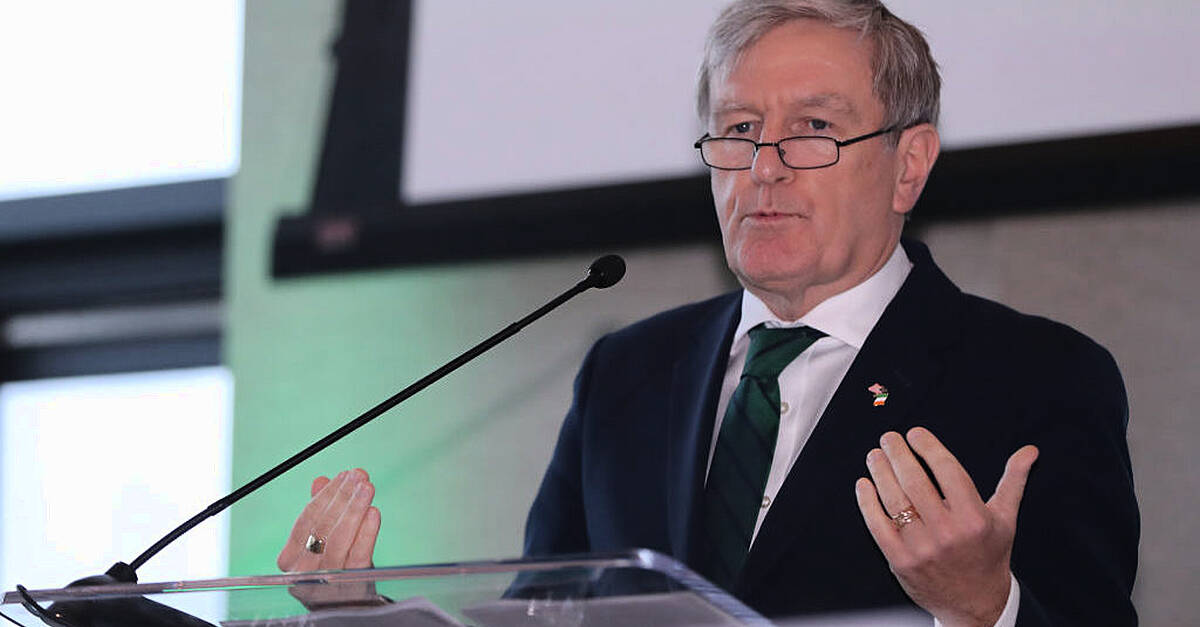 Ireland's Ambassador to the United States, Daniel Mulhall, reflected on his five-year tenure in the United States and said American support for the Good Friday Agreement remains strong.
Mr. Mulhall's last day was Friday, August 12th. Breaking News.ie On the "great privilege" of serving as Ambassador to the United States.
"Being an ambassador for Ireland anywhere in the world is a great privilege, but being an ambassador in a country like the United States is exceptional. politically, economically, people-to-people…you name it, America is one of our most important partners and perhaps the world's The most important partner of all.
"It has been an unimaginable privilege for me to serve here for the past five years."
"The job of the embassy is to explain Ireland's position to the general public through the US government, parliament and public diplomacy, etc. It's the first job to make sure we understand where we're coming from. , and we understand where they're coming from.That's the purpose of diplomacy…to create a two-way flow of understanding between the two countries.
"That's what I've been trying to do for the last five years with my embassy colleagues and our network of consular offices across the United States. We have seven consulates, and we have a big presence here. A talented team that has thrived and worked hard to ensure it continues to thrive, and they will continue to do so under my successor."
Amid the ongoing challenges posed by the Brexit and Northern Ireland Protocol, US politicians have emphasized their country's support for the Good Friday Agreement.
Mulhall said US support for the Good Friday Agreement and peace on the Irish island remained strong.
"Here in the United States we support the Good Friday Accords. Peace in Northern Ireland is a big issue for Americans. , much of which is a determination to ensure that Ireland continues to bring peace and prosperity.
"Irish Americans are very committed to supporting peace in Northern Ireland and supporting the Good Friday Accord, which is on both sides of Congress. We strongly support it."
Today I bid farewell to the Ambassador. @danmarhall With his wife, Greta, after five turbulent years.

Amb Mulhall has worked tirelessly for the Irish community of 🇺🇸 to further strengthen the unique relationship between 🇺🇸 and 🇮🇪.

We wish him and Greta all the best in their future adventures! pic.twitter.com/dWrPIDtynn

— Irish Embassy (@IrelandEmbUSA) August 12, 2022
Mulhall said attending Joe Biden's inauguration was one of his personal highlights in America.
"A president who calls himself Irish, who takes genuine pride in his Irish identity and who regularly quotes Irish poetry is something special…so it was a pleasure to witness and here One of my highlights was attending President Biden's inauguration, even though it was during the pandemic, and it was a small crowd. Watching the Irish-American president take the oath of office It was the highlight of my time in America.
When Taoiseach Micheál Martin tested positive for Covid during a St. Patrick's Day trip to Washington, Mulhall had to intervene at many events.
"It was just one of the things I had to do as an ambassador," he said.
"Obviously, I was disappointed that Taoiseth was over with Covid when he was here, so I had to step in and do some of the things he couldn't do because of it…that's All I had to do was do.
"I was not happy about it because I wished a hundred times for him to be able to do these events on his own, but unfortunately that was not the case. He was Covid free for two years so he got it to catch Covid and he got it to meet President Biden the night before he entered the White House it was epic It would have been an opportunity, for that."
House Speaker Nancy Pelosi introduces Ambassador of Ireland to Daniel Mulhall presenting the Leadership Award at the Irish Foundation's 30th Annual National Gala at the National Museum of Architecture in Washington, DC.Photo: PA image
Covid-19 also loomed large over Taoisatch's final visit when Leo Varadkar was in Washington, when the seriousness of what was being prepared became apparent.
Mr. Varadkar's speech to the nation from Washington will go down in history. Mulhall said it was also the moment he realized the impact of the pandemic on everyday life.
"So did I … After that speech, the next day the embassy was shut down and we started working remotely. It was a dramatic day … I will never forget. It went down and after some days, all of America was shut down.
"It just so happened that Taoisechi happened to be here when the pandemic suddenly became very serious.
"The pandemic has brought all sorts of horrific things to people around the world.For a year from March 2020 to the summer of 2021, I barely swayed from Washington DC. but it was frustrating.
"But I always saw it and said, 'Hey, people are getting seriously sick and dying all over the world.' Whatever the inconvenience was for the people who were there, it was something we had to deal with, and we did. "
Flexibility and adaptability are important qualities for a diplomat.
These are two examples of how "adaptability" is important for diplomats, Mulhall said.
Mr Mulhall, who has also served as Ireland's ambassador to Malaysia, Germany and the United Kingdom, cited the 2004 Indian Ocean earthquake and tsunami as outstanding examples of the need for diplomacy to respond quickly to world events. .
"Flexibility and adaptability are important qualities for a diplomat because you live in a foreign country, the culture is different, and you have to deal with things as they arise.
"The best example I can think of from my career is not the last five years, but on St. Stephen's Day 2004, I was at home having lunch with my family. He was an ambassador in Rumpur.
"I spent the next three weeks in Phuket looking for Irish people who were missing, injured or lost their lives in that terrible tragedy. Everything changes and diplomats have to meet these challenges and that's why it's a 24/7 job."
Assistance to illegal Irish nationals in the United States is an ongoing issue for the Irish Embassy, ​​and Mulhall said it remains an important issue.
"It is that the Embassy has for many years taken seriously issues such as obtaining access to visas for Irish citizens. It is one and will continue to play an important role, which is important for the future of the embassy."
Kennedy Summer School
Mulhall will speak at Neuros' Kennedy Summer School September 8-10 this year.
He plans to discuss James Joyce's Ulysses, He recently published a book called Ulysses: A Reader's Odyssey.
"Earlier this year I published a book called Ulysses: A Reader's Odyssey, an effort to create an accessible commentary on a highly complex and complex novel that celebrates its 100th anniversary this year.
"My book is not for scholars…not for professionals, but for the general reader. So I look forward to speaking with the Neuros audience about the book Ulysses and I have written."
Mulhall is from Waterford, not far from New Ross, and said he wanted to be there in person, but will be speaking remotely from New York as he assumes a new role as Ireland's Global Distinguished Professor. He studied at New York University.
"I'm looking forward to talking more about Irish culture and history and interacting with the students. I haven't thought about it for a long time and it will be a new challenge for me."
Mulhall feels that Irish literature is one of the things that has always put the country on the map of the world.
"Based on our 44 years in foreign affairs, we believe that our literature is one of our national treasures. Having a strong literary tradition is a real asset to Ireland and the world.
"We are a small country, so we don't always need to be in the spotlight of the international community, but thanks to our literature, we have a bigger and more visible profile than a nation of five million has.
"I think there are two things that brand Ireland: the more general literature and culture and the diaspora. , I think it makes a big difference for us."
For more information about Kennedy Summer School or to reserve tickets, visit kennedysummerschool.ie or call St. Michael's Theater on 051 421255.


https://www.breakingnews.ie/ireland/daniel-mulhall-reflects-on-five-years-as-irish-ambassador-to-the-united-states-1349933.html Daniel Mulhall looks back on his five years as Ireland's Ambassador to the United States.