Europe
Dhaka, Oslo, eager to strengthen economic partnerships – Norwegian News – Latest News, Latest News, Comments – Norwegian News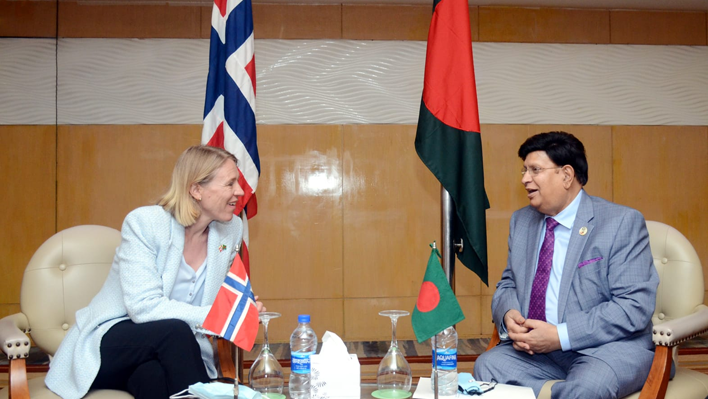 Dhaka and Oslo are keen to expand economic partnerships through cooperation in the trade, investment and maritime sectors, while Bangladesh and Norway are celebrating 50 years of bilateral relations.
According to a Bangladesh Foreign Minister's press release, the two countries expressed this interest last night at a bilateral meeting between Bangladesh Foreign Minister Dr. AK Abdulmomen and Norwegian counterpart Anekin Whitfeld in the capital.
The newly appointed Norwegian Foreign Minister will visit Bangladesh for two days this year to commemorate the 50th anniversary of diplomatic relations between the two countries.
During the meeting, the two foreign ministers discussed the possibility of investing in offshore renewable energy in particular.
Bangladesh's Foreign Minister explained to Norwegian counterparts on the safety of buildings in the RMG sector and the measures taken at green production facilities.
The Norwegian minister also expressed interest in the ship breaking industry and questioned Bangladesh's plans for ratification of the Hong Kong Convention.
Momen outlined a humanitarian crisis involving the Rohingya who were forcibly expelled from Myanmar.
Huitfeldt valued Bangladesh's hospitality for humanitarian reasons and acknowledged that the Rohingya themselves prioritized a safe and dignified repatriation to Myanmar.
Earlier that day, the Norwegian Foreign Minister visited the Rohingya camp at Cox's Bazar.
The two foreign ministers mentioned preparations for the next general election in Bangladesh.
They also emphasized the top priority of an effective ceasefire in Ukraine and expressed concern about the humanitarian situation.
The two Foreign Ministers then attended a reception hosted by the Norwegian Ambassador to Bangladesh to commemorate the 50th anniversary of diplomatic relations.
https://www.norwaynews.com/dhaka-oslo-keen-to-enhance-economic-partnership/ Dhaka, Oslo, eager to strengthen economic partnerships – Norwegian News – Latest News, Latest News, Comments – Norwegian News