Middle East
Equinor, BP hit an important milestone in New York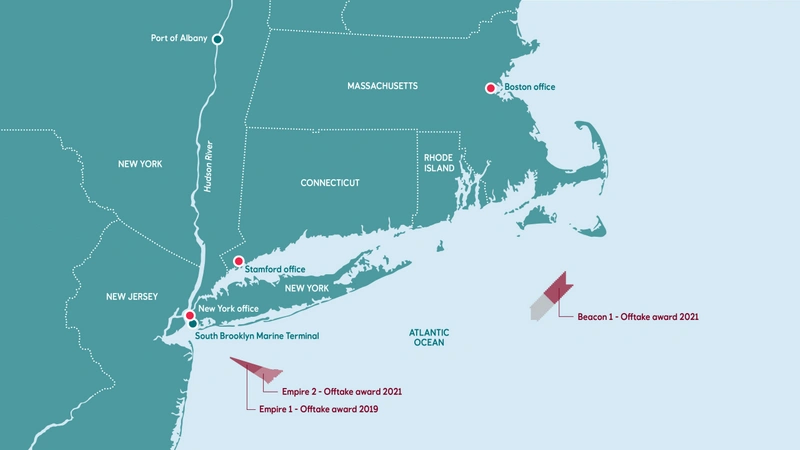 Equinor and BP announced on Friday the final decision on a sales contract (PSA) with the New York State Energy Research and Development Agency (NYSERDA) for Empire Wind 2 and Beacon Wind 1 offshore wind projects.
Empire Wind is located 15-30 miles southeast of Long Island, spans 80,000 acres and is 65-131 feet deep. The lease was acquired in 2017 and is being developed in two phases (Empire Wind 1 and 2) with a total installed capacity of over 2 GW (816 + 1,260 MW).
Beacon Wind is located more than 60 miles east of Montauk Point and 20 miles south of Nantucket, covering 128,000 acres. The lease will be acquired in 2019 and may be developed with a total capacity of over 2GW. The installed capacity of this first phase will be 1,230 MW.
PSA has set the conditions for two offshore wind projects to power New York and "inject large amounts of economic investment into the state's economy."
The PSA, agreed with the State of New York, will finalize the conditions under which Equinor and BP will provide 1,260 MW of renewable offshore wind power from Empire Wind 2 and an additional 1,230 MW of power generation capacity from Beacon Wind 1. Investing in New York infrastructure.
The project will include port upgrades to transform the South Brooklyn Marine Terminal into the industry's leading staging and assembly facility, as well as a base for project operation and maintenance. Equinor recently announced that it will open a New York project office in Sunset Park, opposite Brooklyn's South Brooklyn Marine Terminal. The partnership will also invest in the Port of Albany, making it America's first offshore wind tower and transition piece manufacturing facility.
The final decision of PSA will conclude the contract awarded in January 2021. At this time, Equinor and BP were selected to provide offshore wind to New York State, one of the largest renewable energy sources in the United States to date.Artistic rendering of Albany Harbor. (Illustration: McFarland Johnson, Inc)-Credit: Equinor
Upon completion, Equinor and BP's active offshore wind projects (Empire Wind 1, Empire Wind 2, Beacon Wind 1) portfolio will generate enough power to power approximately 2 million New York homes, According to Equinor, it helps generate more than $ 1. 1 billion economic achievements in New York, including investments in ports and infrastructure.
"The US East Coast offshore wind project is a key component in accelerating the profitable growth of renewable energy, and our commitment to install 12-16 GW of renewable energy capacity by 2030. Ambitious. Market update in June 2021. Completion of PSA represents a major milestone and enables the start of project execution of the Equinor-bp partnership, "says Equinor.
"With today's announcement, Equinor and bp are on the road to providing New York with over 3.3 gigawatts (GW) of offshore wind, and the incredible drive driven by New York's green energy transition. We will provide a large and concrete demonstration of economic activity and the potential for carbon reduction. " Siries Pedal Kindem, President of Equinor Wind US. "We are proud to be able to lead the growth of this exciting industry in New York."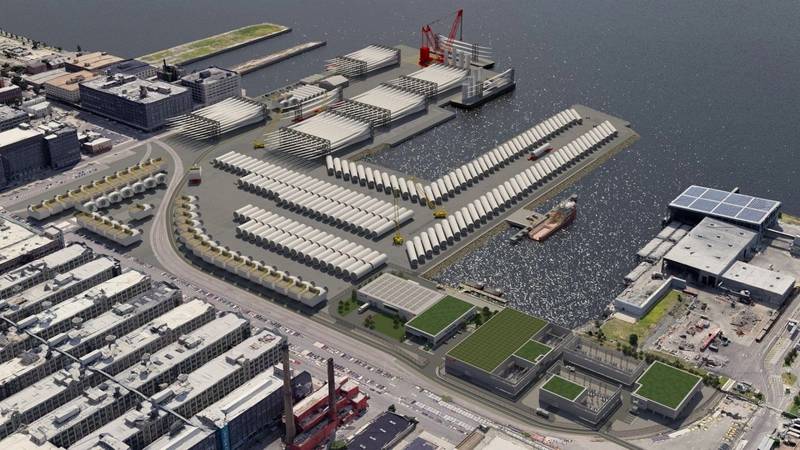 Artistic rendering of the South Brooklyn Marine Terminal site development concept (not final)-Credit: EquinorDoreen M. Harris, NYSERDA President and CEO said: Achieving the country's leading offshore wind target of 9,000 MW by 2035 will be an essential economic impetus for the state. These projects will help transform the energy system while providing jobs that support thousands of families to strengthen the growing green economy. "
Felipe Arbeláez, BP's Senior Vice President of Zero Carbon Energy said: For the surrounding community and industry. Today's milestone is an important step forward, and we will continue to work hard to realize the Empire Wind and Beacon Wind projects, providing clean energy and stable revenue over the next few decades. "
https://www.oedigital.com/news/493519-equinor-bp-hit-key-milestone-for-new-york-offshore-wind-projects Equinor, BP hit an important milestone in New York