Europe
Family says Salman Rushdie's spirited sense of humor remains intact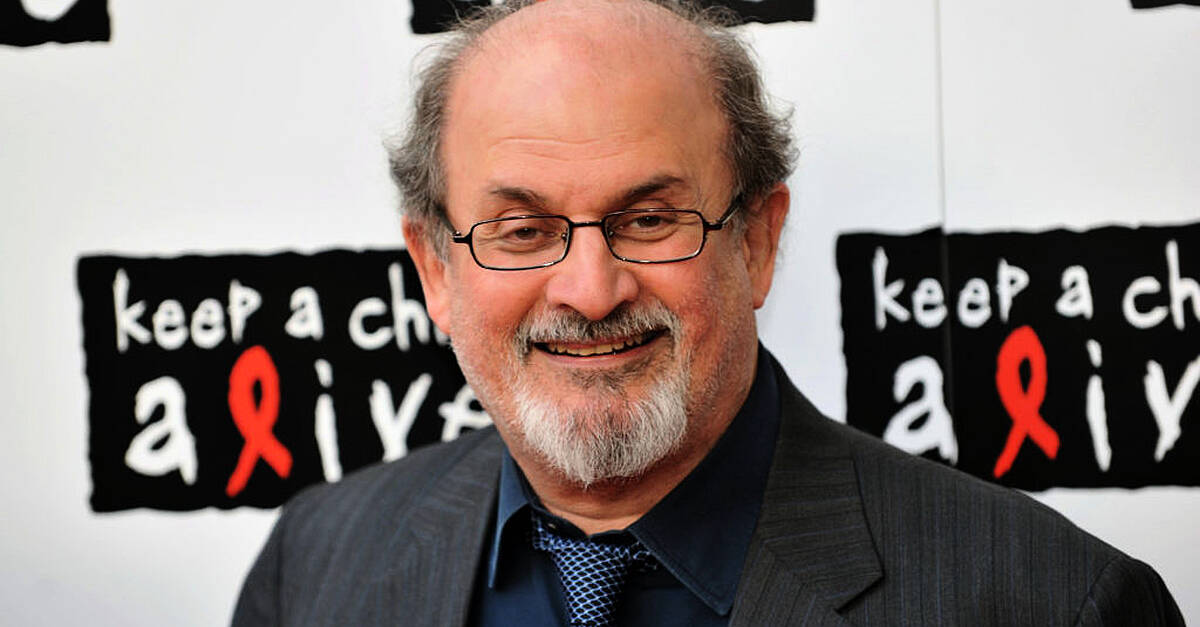 Salman Rushdie suffered life-altering injuries, but his "usually spirited and rebellious sense of humor remains intact," his family said.
The 75-year-old author suffered liver damage and severed nerves in his arm and eye after being stabbed while giving a talk in New York on Friday.
In a statement, his son Zafar said his family was "relieved" after he was taken off a ventilator on Saturday.
he said:
"We are very relieved that he was taken off the ventilator yesterday, given extra oxygen and was able to say a few words.
"His life-changing injury is devastating, but his usual spirited and rebellious sense of humor remains intact.
"Thank you to all the audience who bravely jumped to his defense, gave first aid along with the police and doctors who cared for him, and poured out their love and support around the world.
"We continue to ask for patience and privacy while family gather at his bedside to support and help him."
In an update on his condition on Sunday, his literary agent Andrew Wiley said:
"It's been long and his injuries are serious, but his condition is heading in the right direction."
The Indian-born British author of the novel The Satanic Verses, who received death threats from Iran in the 1980s, was attacked while attempting to give a talk at the Chautauqua Institute, 65 miles from Buffalo, New York. .
The man charged with stabbing him pleaded not guilty Saturday to charges of attempted murder and assault, which prosecutors called a "pre-planned" crime.
Attorneys for 24-year-old Hadi Matar filed a petition on his behalf at a formal hearing in a Western New York court.
Matar appeared in court wearing a black and white jumpsuit and a white face mask, handcuffed in front of him.
A judge ordered him to be held without bail after District Attorney Jason Schmidt told him that Mattar had deliberately taken steps to put himself in a position to harm Rushdie. fake identity.
"This was a targeted, unprovoked, pre-planned attack on Mr. Rushdie," Schmidt said.
Public defense attorney Nathaniel Barone said authorities took too long to bring Matar before a judge, leaving him "chained to a bench in the state police barracks".
"He has a constitutional right to a presumption of innocence," Barone added.
Police said Rushdie was stabbed at least once in the neck and once in the abdomen before being taken to hospital.
Rushdie's publisher, Penguin Random House, said it was "deeply shocked and appalled" by the incident.
British Prime Minister Boris Johnson said he was 'appalled that Sir Salman Rushdie was stabbed while exercising a right we must not stop defending'.
He continues: We all hope he is safe. "
UK Labor Party leader Sir Kiel Sturmer said:
"This cowardly attack on him yesterday is an attack on those values. The entire Labor Party wishes him a full recovery."
US National Security Advisor Jake Sullivan said, "Today the nation and the world witnessed a reprehensible attack on author Salman Rushdie. This act of violence is appalling.
"All of us in the Biden-Harris administration wish him a speedy recovery.
Bernardine Evaristo, president of the Royal Literary Society, said he was pleased to hear he was not on a respirator, adding: right.
"So – yes to the argument. No to violence."
Mr. Rushdie began writing in the early 1970s with two books before Midnight's Children about the birth of India, which won the Booker Prize in 1981.
After the fatwa, the author lived in hiding in London for many years under a British government protection program.
In 1998, the Iranian government withdrew its support for the death sentence, and Mr. Rushdie gradually returned to public life, even appearing as himself in the 2001 film Bridget Jones's Diary.
The Index on Censorship, an organization that promotes freedom of expression, recently said in 2016 that funds were raised to increase the reward for Rushdie's murder, underscoring that the fatwa remains in force.
He was knighted in 2008 and made a Medal of Honor member earlier this year as part of the Queen's Birthday honors.
https://www.breakingnews.ie/world/sir-salman-rushdies-feisty-sense-of-humour-remains-intact-family-says-1349951.html Family says Salman Rushdie's spirited sense of humor remains intact