Middle East
flynas wins Skytrax award for 5th time as Middle East's best low cost airline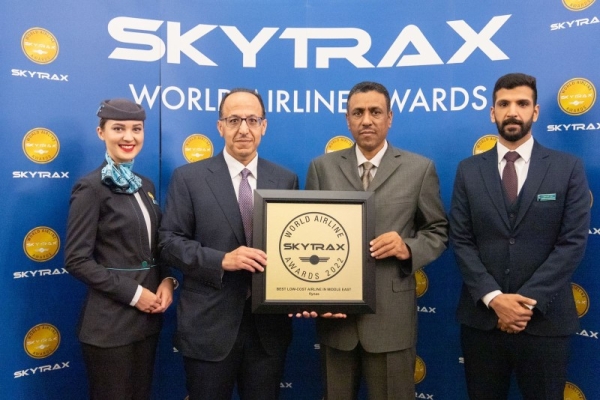 London – Flynas, the Saudi Arabian carrier and the Middle East's leading low-cost carrier, won the Skytrax award for the fifth consecutive time as the Middle East's best low-cost airline at a forum in London on Friday 23 September. Awarded. , 2022.
Established in 1999, the Skytrax Awards are the aviation industry's premier awards and the most important global standard of excellence for airlines around the world.
Flynas CEO Bander Almohanna said: It is the national airline that holds the Kingdom's name high on National Day and fulfills the goals of Saudi Vision 2030 and the strategy of his KSA's civil aviation sector.
He said the win was a testament to the achievement of its growth and expansion strategy under the title "Connecting the World to a Kingdom" which included the launch of over 16 new services, as well as Flynas' commitment to operational excellence and the emphasized that it reflects a response to the desire of Increasing destinations in 2022, bringing the number of Flynas destinations to over 70 national and international destinations.
"The flynas fleet continues to grow, reaching 38 aircraft in the first half of 2022 and growing to 52 aircraft by the end of 2023. In addition, the flynas board has placed 250 new aircraft purchase orders. Effectively participating in the achievement of Saudi Arabia's civil aviation sector's strategy to reach 300 million passengers by 2030 and connect the Kingdom to 250 international destinations It's an effort to do that," added Almohanna.
The Skytrax Awards are presented after months of evaluation in over 100 countries. Every year we conduct the largest survey of its kind measuring global passenger satisfaction. Based on the survey results, the Skytrax Awards winners will be announced.
With this year's awards, Flynas received five awards from Skytrax as the Middle East's Best Low Cost Airline in 2017, 2018, 2019, 2021 and 2022.
flynas has earned the highest rating in the Official Airline Ratings conducted by the non-profit APEX, one of the world's most important airline associations. In an evaluation of 600 companies worldwide, Flynas was ranked in the 4-star low-cost airline category, the highest category for low-cost airlines. Additionally, Flynas has been ranked the Middle East's leading low-cost airline for the seventh year in a row at the World Travel Awards.
https://saudigazette.com.sa/article/625324/BUSINESS/flynas-wins-Skytrax-award-as-best-low-cost-airline-in-Middle-East-for-5th-time?ref=rss&format=simple&link=link flynas wins Skytrax award for 5th time as Middle East's best low cost airline