Europe
Former Australian Prime Minister defends Secret Service appointment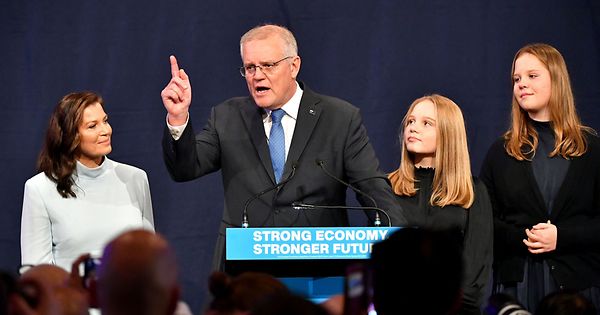 Scott Morrison was ousted as prime minister in May
Photo credit: AFP
Former Australian Prime Minister Scott Morrison on Tuesday defended his move to covertly seize power in five ministries, including the Treasury Department's portfolio, during his final term in parliament, sparking an investigation by his successor.
In a lengthy Facebook post, Morrison said he made the decision because there was a risk that ministers would become ill and incapacitated early in the 2020 Covid-19 pandemic.
He said he chose departments with specific powers that had not been subject to oversight by the cabinet for two years, including the Ministry of Health and Home Affairs.
"As Prime Minister, I will put in place safeguards, personnel reductions and contingencies to ensure the continuity and effective operation of government during this crisis for the entire duration of my term. Morrison did not explain why the deal was not disclosed at the time.
Morrison added that he sought and was granted a separate oversight overseeing the Department of Industry and Energy Resources to evaluate licenses for gas drilling projects. He said he had publicly announced the decision, adding that this was the only time he had actually exercised the powers granted to him under the law by a governor-general acting at the direction of the prime minister.
"The Minister's outline was not copied to me as Prime Minister in my capacity as Co-Minister because this is not the nature of the arrangement," Morrison said. It was there as a workaround."
Mr Morrison's actions have caused an uproar in Australia, where Prime Minister Anthony Albanese's centre-left Labor Party won a resounding victory in May's elections, taking power for the first time in nearly a decade. He accused Morrison of "deliberately" undermining Australian democracy by deciding to walk into these ministries without informing anyone.
"It is absolutely extraordinary that these appointments have been kept secret from the Australian public by the Morrison government," Albanese said at a press conference in Canberra on Tuesday.
It's not immediately clear if there was any law Morrison may have broken. Albanese said he will receive legal advice from the Attorney General on Monday about the potential consequences of Morrison's secret appointment.
Some ministers, including former Finance Minister Matthias Koemann, were unaware that Morrison was in the portfolio at the time. Morrison said he thought Corman had been told and has since apologized.Former Treasury Secretary Josh Frydenberg told the Australian on Tuesday that he had no idea Morrison had pledged to become his minister. Told.
All relevant portfolios were held by the former prime minister's party, with the exception of the Ministry of Industry and Resources, which is headed by a coalition partner. Morrison said he only exercised the powers he granted him once, but his statements are also contradictory.
Before posting on Facebook, Morrison clarified his actions as Minister of Industry and Resources when questioned during an interview with an Australian radio station. I don't remember," he said, adding that in hindsight it was "unnecessary".
The Morrison administration has been frequently criticized for its actions during the pandemic, including allegations that the administration moved too slowly to secure vaccine supplies.
"The Prime Minister's use of power to control a ministry clearly raises concerns," Morrison said in a Facebook post. "I'm sorry, but I acted in good faith in a crisis."
©2022 Bloomberg LP
---
A new article was published in the Luxembourg Times Mobile app, download here! Luxembourg Times delivered to your inbox twice a day.Sign up for our free newsletter here.
http://www.luxtimes.lu/en/world/former-australia-pm-defends-secret-ministry-appointments-62fb6591de135b92368d010e Former Australian Prime Minister defends Secret Service appointment