Middle East
Friede & Goldman WTIV Design Receives DNV Approval in Principle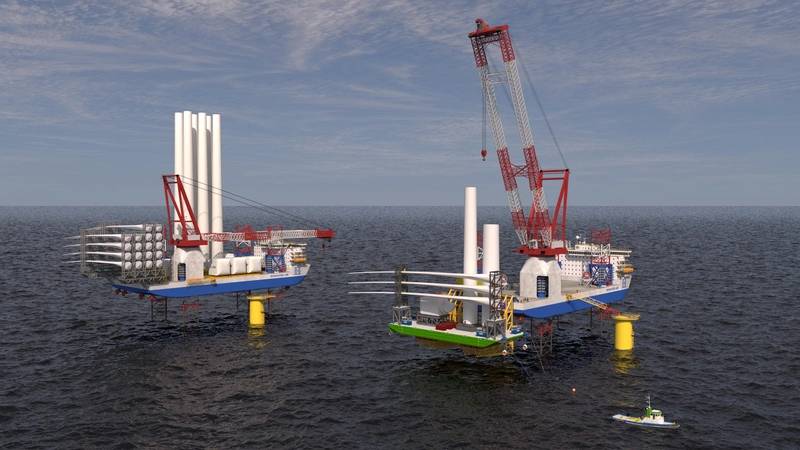 The innovative Wind Turbine Installation Vessel (WTIV) design by Friede & Goldman (F&G), a shipbuilding and marine engineering company based in Houston, has received approval in principle from the classification society DNV.
This review and AIP confirm that F&G's Windsetter 156 Class WTIV with optional BargeRack feeder barge system design complies with applicable DNV classification rules and statutory requirements.
The WTIV design is suitable for all offshore wind markets worldwide and was developed in collaboration with wind equipment vendors and feeder logistics companies with the capacity to install turbines of over 20 megawatts (MW) capacity. The design of the F&G WTIV is unique to the market and the vessel is equipped with F&G's optional BargeRack feeder barge system for Jones Act compliant operations in the United States. Vessels can undertake conventional WTIV operations in other markets around the world.
The AIP review included assessing the overall feasibility of the vessel's design given the level of detail indicated in the documents included in the review. For project stakeholders, the successful publication of an AIP provides confidence that there are no design issues that could impede future classification.
F&G Project Director Roberto Salinas said: So give the owners and operators we partner with the opportunity to maximize their investment potential. "
Truls Richardsen, DNV's Regional Offshore Manager and leader of DNV's North American Offshore Wind Initiative, said: F&'G's WTIV Feeder Barge His solution is an example of the innovation needed to drive the rapid development needed to meet the industry's goals. on the specified timeline. "
---
---
DNV's EVP and Americas Regional Manager, Antony DSouza, presents F&G's Principles Approval of the WTIV design to Shannon Gallaway, Vice President of Technical Services at F&G. From left, Truls Richardsen, Regional Offshore Manager for DNV. Geoff Murphy, Vice President of Business Development at F&G. Roberto Salinas, Project Director at F&G. Antony DSouza; Shannon Garraway; Piotr Szalewski, Principal Engineer, DNV. Gregor Madden, DNV North America West Area Manager, said:
https://www.oedigital.com/news/499567-friede-goldman-wtiv-design-gets-dnv-approval-in-principle Friede & Goldman WTIV Design Receives DNV Approval in Principle