Europe
Greek U-turn on fossil fuels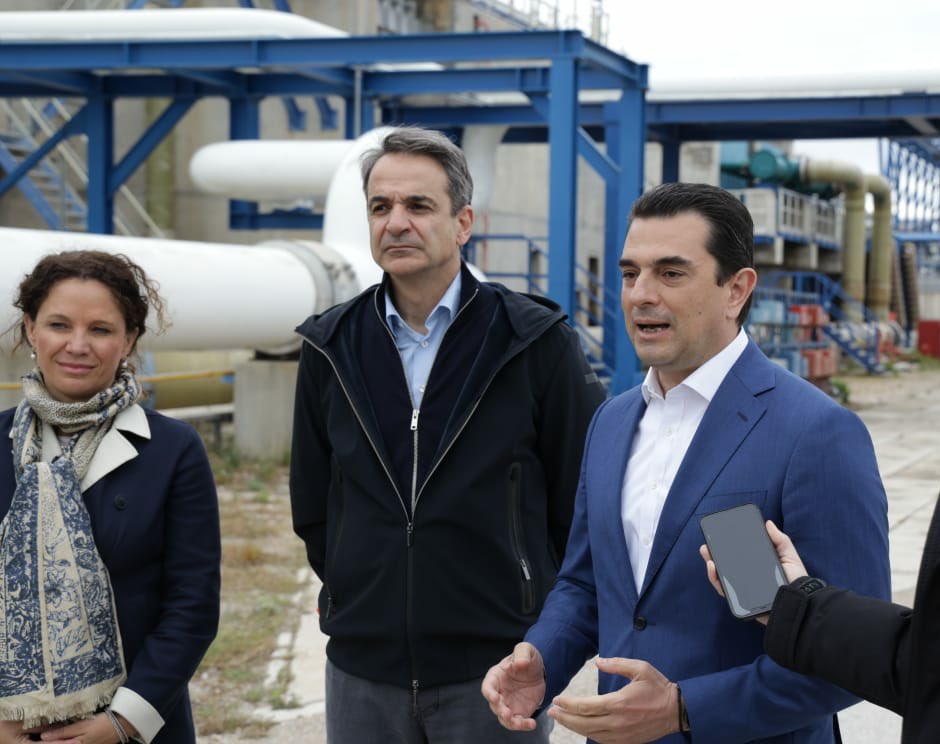 Faced with public pressure from rising electricity and gas prices, Greek Prime Minister Kiriakos Mitsutakis made a spectacular U-turn in energy policy while trying to stave off imports from Russia.
Within two weeks, he announced a stagnation of Greece's decarbonization program on April 6, activation of more lignite-fired power units, and a return to active hydrocarbon exploration on April 19. ..
Both the exploitation of the country's important lignite deposits and the search for hydrocarbons in West Macedonia and Peloponnese were considered disgusting by government energy planners.
The Prime Minister's Office has instructed us to withhold all permits for new projects and should not encourage the use of solid fuels or the exploration of hydrocarbons.
Mainly because everything seems to have changed as PM promised to double lignite production in the next 6 months. Power generation..
However, market sources say this could be a daunting task, if not impossible, given the early retirement of some major lignite producing areas in northern Greece and the closure of major power generation units. ..
The higher participation of the inherent lignite in the electricity mix hinders the use of more natural gas, which is fully imported at high cost, and is therefore considered the key to maintaining electricity prices at reasonable levels.
In a meeting with energy and hydrocarbon officials last week, Mitsutakis said, "By accelerating the development of the country's national energy resources, if we are lucky, energy independence if there is an available natural gas field, We can strengthen our energy security. "
The prime minister said the country wants a clear outlook on whether it will be by 2023. Abuseable depositsHe added, there may be something that makes the government "optimistic."
"If we have significant gas reserves, we will replace imports with national wealth," he said, Greece's ambition to become a hub for gas producers and gas storage and transportation to Europe. Was outlined.
Surveys in 6 areas
He said the survey would be conducted in six onshore and offshore areas of western Greece and western Crete.
The new goals set by Greece do not undermine the plans to support Green energy Reduce carbon emissions by 55% by 2030 for each EU climate change target.
Energy and Environment Minister Kostas Skrekas said new legislation would be introduced to enable this acceleration.
He also announced the creation of a special task force for that purpose.
According to sources, interest is strongly focused on offshore reserves, and new legislation to promote their exploitation will be designed in the same way as Egyptian regulations.
In a recent report citing a new study by the Greek Hydrocarbon Resource Management SA (HHRM) and the Athens Academy, the Non-Government Energy Institute (IENE) in Southeastern Europe is a quarter of the training planned in Ionia and the West. Only one is successful on Crete, and Greece may be considering 70-90 trillion cubic feet of natural gas deposits. It covers 15-20% of the European Union's annual consumption.
IENE also reiterated that HHRM estimates that Greece's reserves could reach as much as 250 billion euros.
Given the rise in oil and gas prices over the last 12 months, this number is higher than it is today.
Market sources take this very conservative number into account and show that numbers close to € 500 billion are more realistic.
Key component
Hydrocarbons will continue to be an important component of the energy mix at the global and European levels, including Greece, for the next few years. Special report Created by think tank IENE.
Presented at an online press conference on April 18, the report is Greek's key to the development of the Greek hydrocarbon sector and targeted research by companies involved in the discovery and development of oil and gas deposits. Emphasizes the possibilities.
Given the observed shortages of energy supplies, especially natural gas, due to the geopolitical instability caused by the current price crisis and the war in Ukraine, there is a need to take advantage of this possibility. It's getting particularly strong today.
The report states that production from indigenous energy resources needs to be increased in order to significantly reduce the high reliance on energy imports.
This is not only related to RES, but also to all domestic sources, including solid fuels and hydrocarbons, as the energy produced by RES is primarily sent to electricity.
As the report emphasizes, the goal of reducing energy dependence is combined with efforts to boost the economy and strengthen the country's geopolitical status.
Through the processing of research data obtained from previous seismic surveys, specific geological targets have already been identified.
Main conclusion
After a thorough examination of both exploration and production experience in Greece, the IENE report draws some conclusions.
Despite years of effort by the consortium of the Greek state and the Greek and foreign consortia, the Greek hydrocarbon industry has not developed to this day, except for drilling activities in Prinos.
The licensing process for granting exclusive rights to exploration and production areas remains very bureaucratic and time consuming.
Investment risks and high research costs are not slightly borne by the state budget, but exclusively by the contracting consortium.
Due to currently incomplete research data, it is not possible to accurately determine the size and economic value of potential hydrocarbon reserves. However, based on existing seismic research and analysis, gas reserves are estimated to be 2.0-2.5 trillion cubic meters.
A complementary, denser seismic network (2D and 3D) is required.
The presence of energy groups such as TotalEnergies, ExxonMobil, Hellenic Petroleum, Energean, and expressed interests by other majors increase the likelihood of having significant hydrocarbon reserves, especially in the west and southwest of the Ionian Sea and Crete. ..
The presence of the TAP pipeline, the Greek-Bulgaria (IGB) interconnector under construction, the planned EastMed, and the presence of four new FSRUs enhances geopolitical and geopolitical value in Greece and the wider Balkans and Southeastern Europe. To do.
As the pandemic gradually weakens, demand increases and hydrocarbon production increases. As long as the supply remains low, the energy costs associated with hydrocarbons will remain high.
In a complex and volatile geopolitical environment, the pursuit of energy self-sufficiency is increasingly being reaffirmed as the primary objective of the energy strategy pursued by EU countries and beyond. Therefore, the state must provide a guarantee for the prompt approval of the permits required to facilitate hydrocarbon exploration under current legislation.
Greece must transform from an exporter of petroleum products and an importer of crude oil and natural gas to a producer of hydrocarbons and an exporter of natural gas. Such prospects attract a lot of necessary private investment, create new jobs, reduce overall energy costs, strengthen energy security, while achieving supply diversification and high debt. We create business opportunities by revitalizing our economy. Increased hydrocarbon activity may increase the geopolitical and geopolitical significance of the country.
Gaseous hydrocarbons are an important bridge to the transition to green energy with the ultimate goal of achieving reduced pollutant / carbon emissions. They can and need to complement renewable energy sources (RES). Part of their income can and must be invested in green technology (development of hydrogen, carbon capture and storage, natural gas storage). Therefore, it is essential to identify and utilize domestic hydrocarbon reserves, especially gaseous hydrocarbons.
As IENE pointed out, hydrocarbon research requires significant investment, state-of-the-art technology, systematic work with a clear focus, and patience and patience.
Costis Stambolis is an Athens-based Financial Mirror correspondent.
post Greek U-turn on fossil fuels First appeared Financial mirror..
https://www.financialmirror.com/2022/04/25/greece-u-turn-on-fossil-fuels/ Greek U-turn on fossil fuels