Middle East
Greenpeace activists board heavy goods carrier carrying Shell's Penguin FPSO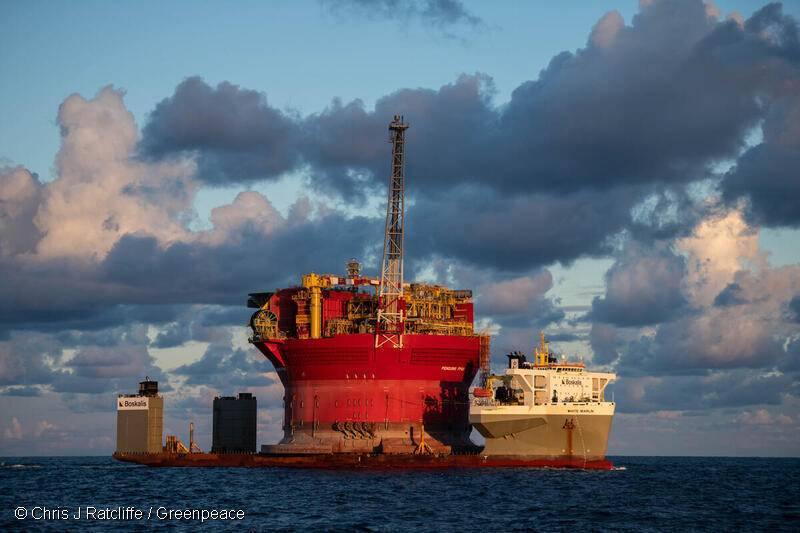 On Tuesday, four Greenpeace activists boarded a large transport vessel carrying Shell's Penguin FPSO and called on the oil majors to "stop drilling and start paying".
Six Greenpeace International activists attempted and four successfully boarded the Boscalis White Marlin ship in the Atlantic Ocean north of the Canary Islands.
The large transport vessel is carrying the recently delivered 34,000-ton Penguin FPSO, which will eventually be deployed to the northeast of the Shetland Islands in the North Sea for the Penguin Field project. An offshore engineer recently reported that the vessel will be built in China with its next destination in Norway, where it will undergo commissioning work before being deployed in the UK.
"Climate Devastation"
"8 o'clock in the morning [GMT] On Tuesday, protesters approached the 51,000-tonne heavy goods carrier in three boats from Greenpeace's Arctic Sunrise ship and climbed onto its deck using ropes," Greenpeace said.
Greenpeace said: "The peaceful protests aim to highlight the global climate destruction caused by not paying a dime for the loss and damage caused by Shell and the fossil fuel industry.
Greenpeace Southeast Asia Executive Director Yev SanyoAboard Arctic Sunrise on Tuesday said: The worst impact of the climate crisis on those least to blame.
"Shell and the wider fossil fuel industry are bringing the climate crisis to our homes, families, landscapes and oceans.
"That is why we will face them at sea, at shareholder meetings, in court, online and at headquarters.
"They must take responsibility for having benefited from decades of climate injustice and pay for the loss and damage they have caused. How to benefit communities, workers and the climate." We need a just transition to cheap, clean and renewable energy."
Offshore Engineer asked Shell for comment on Greenpeace's actions and the status of the Penguins project. I will update the article if I get an answer.


https://www.oedigital.com/news/502601-greenpeace-activists-board-heavy-lift-vessel-carrying-shell-s-penguins-fpso Greenpeace activists board heavy goods carrier carrying Shell's Penguin FPSO