Europe
Halkidiki's impressive and terrifying waterspout (pcts, vids)
On Sunday morning, a waterspout, both impressive and terrifying, formed near the coast of the first 'segment' of the Chalkidiki peninsula.
People sunbathing on the beach of Xenia, by the village of Paliuri, south of Kassandra, quickly picked up their phones and captured the spectacular phenomenon.
They have uploaded several videos and photos on social media.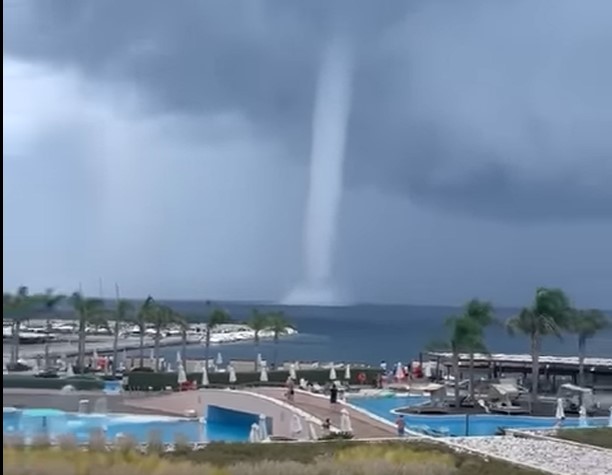 video:
Είπαμε σαν τη Χαλκιδική δεν έχει… και μας έπιασε στο στόμα του ο ακατανόμαστος! Από Παλιούρι το βίντεο μου το έστειλε παρέα φίλων και με ενημέρωσε ότι αρχίσαν τα ευχέλαια να ξορκίσουν τον υδροστρόβιλο και να τον στείλουν πουθενά που θα πιάσει τόπο! #comparison pic.twitter.com/SjOYx5bIbh

— Stefanos Damianidis (@dstefanos) August 14, 2022
#Χαλκιδικη #ΕΛΛΑΔΑ #compare #καιρος #weather #meteor #tornado pic.twitter.com/UX7YwSNXZc

— Meteo24news.gr (@Meteonews_gr) August 14, 2022
A waterspout is a vortex between a "storm cloud" and the surface of the ocean that forms on hot and humid days. The main cause of this phenomenon is the large temperature difference between the water surface and the upper atmosphere.
Although weaker than a tornado, a tornado can have wind speeds of 100 km/h or more. However, they dissipate once they reach land.
Most waterspouts are observed near the tropics and are less frequent in mid-latitudes.


https://www.keeptalkinggreece.com/2022/08/14/waterspout-halkidiki-greece-scary-impressive/ Halkidiki's impressive and terrifying waterspout (pcts, vids)