Asia
HKL now offers robotic knee and hip replacement surgery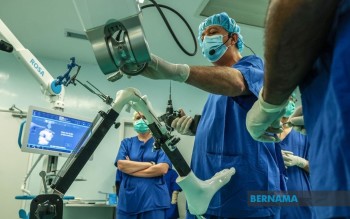 KUALA LUMPUR, Sept. 30 (Bernama) — Kuala Lumpur Hospital (HKL) has become the first government facility to offer knee replacement services for patients with osteoarthritis.
Dr. G. Cunaran, head of the Joint Replacement Unit, said the service has been available since July after one unit of Robotic Surgical Assistants (ROSA) was delivered by a US private company.
He said the ROSA unit on loan to HKL for one year has enabled him to perform a total of 21 joint replacement surgeries so far, including four complex cases requiring expertise in computer navigation systems. I was.
"With this robot, we are able to achieve up to 98% accuracy in placing implants in the correct place, compared to about 94% with traditional methods.
"In addition to the immediate reduction in pain experienced by the patient after the surgery and the longevity of the implant, this also allows the patient to recover faster," he said of the first procedure performed at the hospital today. said after a joint robotic surgery workshop.
Dr. Cunalan said robots will allow surgeons to use pre-operative data from a patient's CT scans and X-rays to plan surgeries and perform them more safely.
"Since the robots are only on loan to HKL and the cost of each robot is between RM3 million and RM6.5 million, the Ministry of Health has decided to provide these for specialist use in the four hospitals offering this subspecialty service. I hope you will consider acquiring a robot for
"The four hospitals are HKL, Sarawak General Hospital in Kuching, Raja Perempuan Zainab II Hospital (HRPZ II) in Kota Bharu (Kelantang) and Sultana Bahiya Hospital in Alor Setar (Kedah)," he said.
Meanwhile, Dr. Mohd Yusof Ibrahim, head of the joint arthroplasty subspecialty at the Ministry of Health, said advances in robotic joint replacement surgery have proven to reduce the likelihood of revisions and the use of personnel. said.
"Traditional surgical methods usually fail to precisely place the implant in the correct location, making revision surgery more likely.
"Additionally, traditional methods require at least four specialists to be involved in the surgery, whereas with the robot, we only need two or three," he said.
Dr. Mohd Yusof said an estimated 10% of Malaysia's adult population requires arthroplasty due to knee or hip injuries.
"…However, compared to Singapore and Thailand, only 1-2% are willing to undergo this surgery, so there is still a lack of awareness about this surgery in our society at the moment. think.
"In Singapore, for example, there are more than 100 such surgeries per week, but here, for example, at HRPZ II, there are only 10-12 surgeries per week. We need government support for the project, which will be a plus for MOH," he added.
— Bernama
---
Bernama is the authoritative source of reliable, real-time, comprehensive and accurate news for both the public and media professionals.Our news is published in www.bernama.com BERNAMA TV on: Astro Channel 502, unifi TV Channel 631, MYTV Channel 121 IFLIX; BERNAMA Radio on FM93.9 in Klang Valley, Johor (FM107.5), Kota Kinabalu (FM107.9) and Kuching (FM100.9) broadcast locally on

Follow us on social media:
Facebook : @bernamaofficial, @bernamatv, @Berna Maradio
twitter : @bernama.com, @Bernama TV, @Berna Maradio
Instagram : @bernamaofficial, @bernamatv official, @bernaradioofficial
Tick ​​tock: @bernamaofficial
http://www.bernama.com/en/news.php?id=2125088 HKL now offers robotic knee and hip replacement surgery