America
I went to Bitcoin Lake in Guatemala | Contribution 2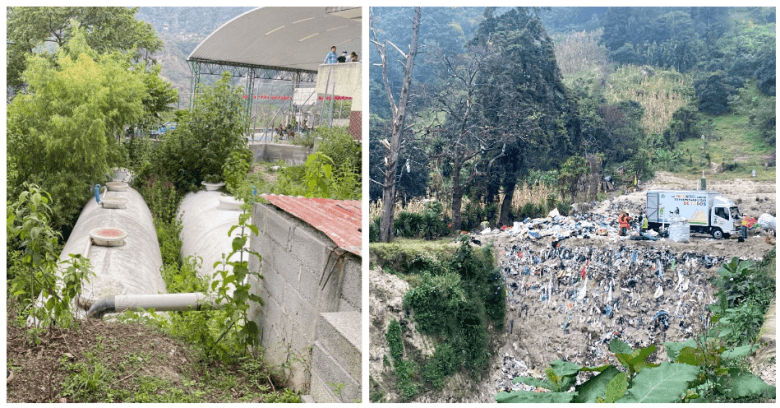 The coolest mining facility in the world
In my previous article,bitcoin lakeIt is one of the demonstration experiments of the Bitcoin circular economy that has been launched one after another around the world, inspired by El Salvador's Bitcoin Beach, and these demonstration experiments have four common goals. under.
When compared with numerous demonstration experiments,Features of Bitcoin Laketo one ofentrepreneurshipPanajachel, the activity base, has relatively low temperatures and humidity.The alpine climate of Everspring is suitable for mining.As a result, the first business venture was decided on mining.
already,Mining using wasteWe are proceeding with commercialization, and in August, as a proof-of-concept prototype,Operation of micro mining facilitiesAfter identifying issues, accumulating know-how, and assessing profitability,Modularized and expanded not only in Guatemala, but throughout Latin Americatarget is
It is also a by-product of mining.Other waste heat utilization businessConsideration has also begun, and the site is full of enthusiasm and vibrancy like a startup in the early days. Unlike Bitcoin Beach, which started with huge donations from anonymous Bitcoiners, the operators themselves invest their own money,The continuation of the project is premised on securing profitswill be
What got me interested in Bitcoin Lake in the first place was a video of this micromining facility that I happened to see on Twitter.
An antithesis to the theory that mining is bad for the environment
Before we dive into the details of Bitcoin Lake's micromining facilities, let's review mining in general.
2021, a turning point for mining
In 2021, miners moved to Texas in the United States due to the tightening of mining regulations by the Chinese government.Bitcoin mining enters a new eraThe main sources of energy consumed by the mining industry are shifting from hydropower and fossil fuels in China to solar, wind and natural gas in Texas.
Behind this was the problem of surplus electricity due to the supply-demand gap peculiar to natural energy, and the problem of natural gas, a by-product of crude oil extraction.These two problems, i.e.Mining is a solution that makes effective use of energy that is lost without being usedmorning.
The mining industry, which has been criticized for having a high environmental impact, is actually promoting the spread of renewable energy. The paradox that resources are destined to be wasted in the first place was interesting, and my interest in mining suddenly sprang up. See the comments and considerations below for more on this area.
"Bitcoin moves towards decarbonization, falling renewable energy prices are a tailwind" (Nihon Keizai Shimbun)
"Mining in the Age of Revolution" (Bitcoin Research Institute)
"The front line of Bitcoin mining as seen from data" (Bitcoin Study Group)
The next hope for renewable energy and flare gas is "garbage"
New Trends in Mining for 2022One "garbageIn August, US startup Vespene, which uses landfill-produced methane gas to mine, raised $4.3 million (for more on Vespene, see Kishin Kato's article, "Garbage in the Garbage Mountain"). Mining?"). .
Mining in Bitcoin Lake also uses "garbage" as an energy resourceI'm doing However, "garbage" was not the starting point from the beginning, and when the project was launched in January 2022, it seems that the use of natural energy was assumed. However, we were stuck with the size of the initial investment.
Bitcoin Lake "garbage" problem
At such times,Actual state of waste treatment in PanajachelIt seems that I found out by chance. A $300,000 biodigester (a facility that breaks down waste and converts it into reusable water and biogas) was abandoned near completion and recyclable waste is being collected from residents. Collected. It seems that the collected garbage was thrown away in the mountains without being recycled.
I actually accessed the site. I asked them obvious questions, such as why they didn't use the equipment that they invested 40 million yen in, even though they didn't want to recycle it.Corruption, embezzlement, and a lack of long-term perspective often derail or abandon plans… apparently …
Workers who took out the collected garbage from the truck and threw it into a large hole, grabbed the garbage with their bare hands without gloves, and worked without wearing a mask in the dust.
Toxic substances leached from garbage dumped without proper disposal contaminate the soil, mix with groundwater and flow into the "world's most beautiful lake."A city eaten by tourism is a seed of ricedestroy the value of tourism resourcesAre doing.
waste oil mining
He happened to know the actual situation of waste disposal and decided the direction of the mining business. "From Waste to Energy to Bitcoin", "Useless→energy→to bitcoinWith the theme of upcycling, we chose waste oil as the energy source for our first stage proof of concept.
especially,Used cooking oil collected from restaurantsmorning. Traditionally, used cooking oil was strewn across streets and backyards, where it ran into Lake Atitlan with rainwater.
It seems that the restaurant welcomed the offer to pick up the garbage, as it would save them the trouble of throwing it away.Securing free energy resourcesHooray.
By choosing waste as energy and other resources,Aiming for "zero waste" by maximizing the use of wasteI thought so too.
Below is a list of the main ingredients that Bitcoin Lake gathered to build its micromining facility.
Two ASICs (using S9 and S17)
Diesel engine (used for 40 years)
car battery (used)
Electric heater for heating waste oil (used)
Waste oil filtering device (rag and bucket)
Steel shelf (used)
220v power strip
Internet line
Birth of Kaboom Energy, Guatemala's first mining facility
The Bitcoin Lake mining operation thus launched was named Kaboom Energy. Kaboom is an explosive sound of boom, boom, and dong, probably attached to the sound of mining explosions.
Bitcoin Lake Community LeaderEliasarAs you can see in the demo video by , the mining procedure is very primitive, nay, simple.
Heat the waste oil for 10 minutes
Filter hot waste oil to remove impurities
Injecting filtered waste oil into a diesel engine
Drive the diesel engine to charge the car battery
Running ASICs on Car Batteries
Pour in the waste oil, turn the engine, charge the car battery, and the miner will start moving. was coming )
Through mining, Bitcoin Lake has found a solution to the environmental problem of improper waste disposal polluting the local treasure Lake Atitlan. It turned polluted waste into energy and upcycled it into a healthy currency called Bitcoin.
Although still in the proof stage,Promoting the effective use of waste and waste materials in conjunction with the economic incentives of BitcoinThis attempt can be said to be an antithesis to the theory that Bitcoin is bad for the environment, as well as the theory that Bitcoin mining will promote the spread of renewable energy, which has attracted attention in 2021 and has accumulated empirical data. .
An antithesis to the mining industry, where large-scale capital intensiveness is accelerating
Kaboom Energy tooChallenge the common sense of the conventional mining businessYou can also think of it.
A mining business that must operate 24 hours a day, 365 days a year, in an air-conditioned clean room packed with a huge number of the latest ASICs. Economies of scale are very important as margins are low and competition is fierce.
The larger the scale, the more favorable price negotiations with power companies, but the higher the initial investment for ASIC procurement and data center construction, and the higher labor costs to maintain uptime after operation. increase. Efficiency is paramount when it comes to reducing your payback period.
Mining is an unstable business that is greatly influenced by the market environment.morning.Sudden death due to improper cash managementIn 2022, Core Scientific, which boasted the largest market capitalization in the industry, was forced to file for bankruptcy, proving that it is a high-risk business.
moreover,Geographic concentration in North America, especially in Texas, concentration in large listed companiesSome see trends as a risk to the Bitcoin network.
Kaboom Energy has the potential to transform the current mining industry. Low-budget microfacilities made from scrap materials run cheap or free off-the-shelf ASICs on power generated from free energy.new choicewas shown.Low risk/low return modelIt lowers the mining entry barrier and contributes to decentralization.
Thousands of ASICs roaring in a giant data center is spectacular, but a few ASICs roaring in a mostly bare backyard is also refreshing. Unlike inorganic large-scale facilities, Kaboom's micromining facilities have a human touch.
Some people may say that such a thing is unnecessary, but I personally felt the possibility.Appearance to challenge without being bound by common senseworst mining in the world""coolest mining in the worldThere are many bitcoiners commenting. We look forward to expanding his Kaboom model to other Latin American countries as well as Guatemala.
post I went to Bitcoin Lake in Guatemala | Contribution 2 first appeared our bitcoin news.


https://bitcoinwarrior.net/2023/01/i-went-to-bitcoin-lake-in-guatemala-contribution-2/ I went to Bitcoin Lake in Guatemala | Contribution 2