Asia
IDAI calls for support for exclusive breastfeeding of babies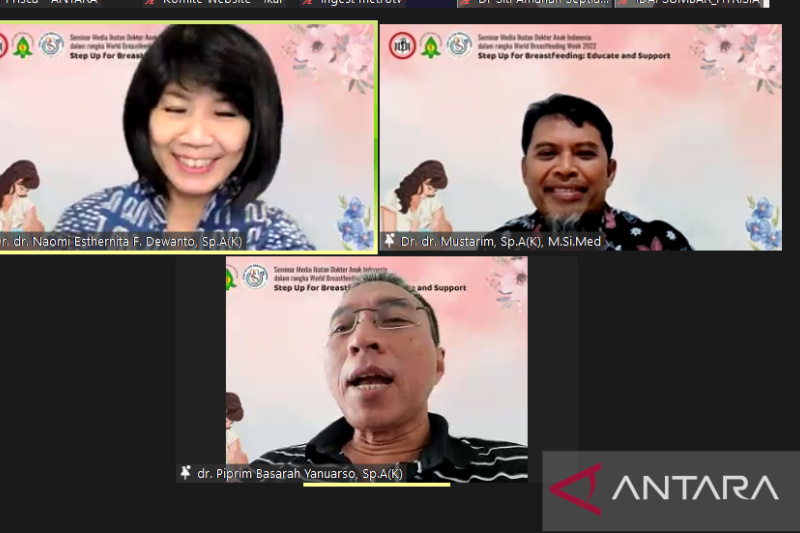 …to fully breastfeed, mothers really need support from those around them.
JAKARTA (ANTARA) – Dr. Naomi Esthernita F. Dewanto, Head of the Breastfeeding Task Force of the Indonesian Academy of Pediatrics (IDAI), called for a joint effort on Saturday to support exclusive breastfeeding of infants.
"There is still a lack of shared responsibility for low breastfeeding rates. is," she said at a virtual seminar held as part of World Breastfeeding Week and continued from here on Saturday.
That's why a campaign is underway for this year's World Breastfeeding Week to encourage the establishment of a "warm chain," she said. to form a chain to support breastfeeding mothers.
Help to encourage breastfeeding requires the involvement of a wide range of stakeholders, from doctors, counselors, policy makers, entrepreneurs, the media to families, Dewanto said.
"This counseling, education and breastfeeding support through good lactation management can increase exclusive breastfeeding by up to 50%," she emphasized.
As part of the 'warm chain', pre- and post-partum counseling can be provided, effective maternity leave policies implemented, and interventions to support exclusive breastfeeding.
"Breastfeeding is essential, especially during the first six months, as it not only plays a role in preventing stunting, but also provides antibody protection as the first vaccination your baby receives," she explained.
Meanwhile, Dr Piprim Basarah Yanuarso, Chair of the IDAI Central Committee, also emphasized the importance of family support for breastfeeding mothers, including when milk does not flow smoothly for some time after delivery.
Yanuarso also urged healthcare workers to prioritize exclusive breastfeeding.
related news: Breastfeeding is a baby's first vaccination: Pediatric Society
related news: Exclusive Breastfeeding Builds Baby's Immune System: Epidemiologist

https://en.antaranews.com/news/243213/idai-calls-for-supporting-exclusive-breastfeeding-for-babies IDAI calls for support for exclusive breastfeeding of babies