Asia
Indonesia and Canada Discuss Trade Cooperation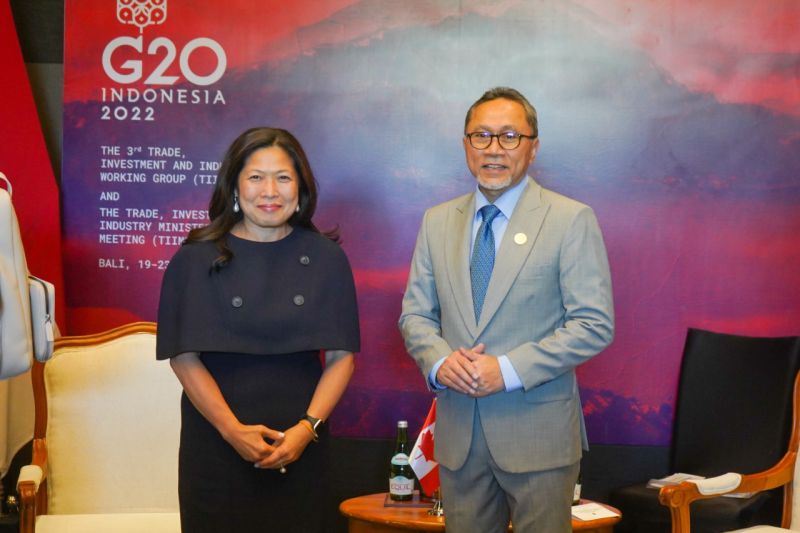 Nusa Dua, Bali (ANTARA) – Indonesia's Trade Minister Zulkifri Hasan met with Canada's Minister for Trade, SMEs, Export Promotion and International Trade in Nusa Dua, Bali to strengthen trade ties between the two countries. talked about.
The meeting was related to the framework of the Indonesia-Canada Comprehensive Economic Partnership Agreement (ICA-CEPA), where the third round of negotiations will take place virtually from 31 October to 4 November 2022.
"The meeting was productive, with both parties demonstrating flexibility in finding common ground on various issues. will be held," Hasan reported in Bali on Friday.
The meeting was held on the sidelines of the G20 Trade, Investment and Industry Ministers' Meeting (TIIMM) held in Nusa Dua, Badung, Bali from 21-23 September.
During the meeting, the two ministers discussed improving trade relations between Indonesia and Canada at bilateral, regional and multilateral fora. Canada also expressed interest in bringing beef and live cattle to Indonesia.
Hasan applauded Canada's openness and flexibility in approaching Indonesia, particularly on new issues negotiated in ICA-CEPA, such as employment, environment and inclusive trade.
"Therefore, negotiations need to continue in a cooperative spirit," he said.
The Commerce Minister welcomed Canada's interest in bringing beef and live cattle to Indonesia. But in order to supply meat, Canada must meet health regulations, product safety and halal requirements formulated by the Ministry of Agriculture and Ministry of Religious Affairs, he said.
"For this reason, Canada needs to coordinate with the Ministry of Agriculture and the Halal Product Assurance Office of the Ministry of Religious Affairs to ensure the immediate supply of meat to Indonesia," Hasan said.
For the period January to July 2022, the total trade value between Indonesia and Canada recorded USD 2.41 billion, an increase of 38.03% from the same period in 2021.
Meanwhile, in 2021, the total trade value between the two countries will reach $3.12 billion, an increase of 29.57% from $2.4 billion in the previous year.
Indonesia's main exports to Canada include natural rubber, textiles, auto parts, rubber tires and footwear. Meanwhile, Indonesia's main imports from Canada include wheat and machinery, mineral fertilizers, chemical wood flour, soybeans and iron ore.
In the investment sector, Canada ranks 17th as a source of foreign direct investment for Indonesia.
In 2021, the country recorded US$182.1 million investment in 126 projects in the major mining sector. residential, industrial and office areas. Like any other service.
From 2017 to 2021, Canada has invested a total of US$800 million in 691 projects in Indonesia.
https://en.antaranews.com/news/251389/indonesia-canada-discuss-trade-cooperation Indonesia and Canada Discuss Trade Cooperation