Middle East
Inside the Cadeler X-Class WTIV with the CEO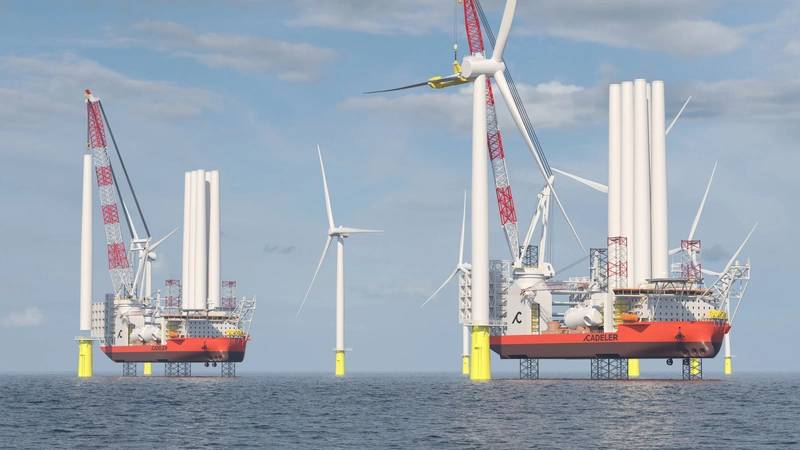 Cadeler CEO Mikkel Gleerup shares insights into Cadeler's new X-Class wind turbine installation vessels on his company's future path in the fast-growing offshore wind sector.
---
The last two years have been a big year for your company, with the name changed from Swire Blue Ocean and IPO at the end of 2020 and the brand name changed by 2021. What was the reason for these moves?
At the end of 2020, we changed the brand name from Swire Blue Ocean to Cadeler to show that this is a separation from Swire. Swire is still an integral part of us, but it was about creating an independent company with its own structure, culture and goals. In terms of transition to an initial public offering (IPO), offshore wind is growing very rapidly and is also capital intensive. We believed that going public was the best way to go.
In March 2021, we announced the largest contract ever with Siemens GAMESA. Interestingly, the contract was for an unordered vessel to install a turbine that was not yet manufactured. Can you color the negotiations before the contract is signed?
e was on the road to ordering a new ship, and we were early on interacting with Siemens and other clients to measure their interests and get technical information. To make sure that what we were building was what we needed. They knew (through these discussions and the information published during the IPO) that we had been working towards this goal for a long time. They looked the way and liked what they saw. The X-Class series has enhanced loading, transportation and installation capabilities, which has the great advantage of significantly reducing the number of transits. [Note: In the transport of 15MW turbines, Cadeler's existing O-Class vessels could transit with three turbines, whereas the new X-Class vessels will be able to transit with seven (7) turbines.]
---
The X class is special because it is more capable. For example, the X class can carry more than 70% more cargo. The crane is much larger and the overturning moment is actually a numerical value from an operational point of view, but it is quite large. Mikkel Gleerup, CEO, Cadeler / Photo courtesy of Cadeler
---
In parallel with the signing of the deal, Cadeler ordered two giant X-Class offshore WTIVs from COSCO. Please tell us a little more about the design of the ship.
They are special because they are dedicated. I designed it for the turbine installation market, but I think you've seen both the advantages and disadvantages of having too much versatility in ship design.
Looking at our O-class, they are designed to potentially support the offshore oil and gas markets. They were designed to handle the basics. They were designed for underwater work. Many of the features we didn't need or use. So the X-Class was to design something for what we believe this asset will run for the next 20-25 years.
When we talk to our clients about design, it's in conversations with various parts of the organization, from management, engineering, and also people doing real work on board to planning land teams. did. project.
The X class is special because it is more capable. For example, the X class can carry more than 70% more cargo. The crane is much larger and the overturning moment is actually a numerical value from an operational point of view, but it is quite large.
The final design will include an upgraded jack system and main crane. This is to better serve tomorrow's wind turbines, taking into account the latest information provided by our clients and partners.
[NOTE: In December 2021 Cadeler signed a contract with Huisman to design and build two >2,000 t Leg Encircling Cranes (LEC) for the two Cadeler X-class vessels scheduled to be ready by end of 2024 and beginning of 2025. These LEC cranes will have a 155 m long boom and with a reach of 180 m above deck.  In addition, the boom has the option to be upgraded from 155m to 175 m, so that lifting height can be increased to 200 m, helping to 'future safe' the new X-class vessels as turbine size and weight grows.]
While waiting for the new vessel to be delivered, the other two vessels, WindOrca and WindOsprey, were busy and reported earlier this year a 253% increase in revenue compared to the first half of 2020. Can you tell us where the duo worked this year and the visibility of the upcoming contract pipeline?
In collaboration with Osprey, we worked on Triton Knoll to help install 90 9.5 MW Vestas turbines. Orca is located in Hornsea and is laying the foundation for the Ørsted project Hornsea 2. This is a large project where about 165 foundations go underwater.
Everything seems to be growing in the offshore wind sector, and it is currently unclear whether larger turbines are driving demand for larger vessels or vice versa. What do you think?
I've been working on offshore wind for over 15 years, but I don't have to go back to where I thought the 6MW turbine was a huge turbine for years. Today, we are where most people believe that it will be at least 20 MW or larger. At the same time, there is a strong need for larger machines to support these larger turbines and larger projects. Not long ago, outstanding projects ranged from 300 to 500 MW. Now everything is over gigawatt size. As a result, not only the size of the equipment, but also the size of the project is growing very rapidly, which clearly increases the need for larger, higher performance and more efficient vessels.
Efficiency is very important for these large projects (to reduce the installation process and the time to generate initial energy and revenue). Especially as the project moves further abroad and as the United States and Asia grow, as evidenced by the global expansion. Very early.
Looking ahead, how do you think the vessels that serve this market are evolving?
There, of course, the emphasis is on vessels and their efficiency, and the number required for each class is predicted. But I think it's also important to focus on people. Investing in steel is not enough. To be successful in this industry, you also need soft skills. So with proper communication with developers and clients, I think we can continue to make the industry a success. But it must be done in a prudent way, and we must do it sustainably.
---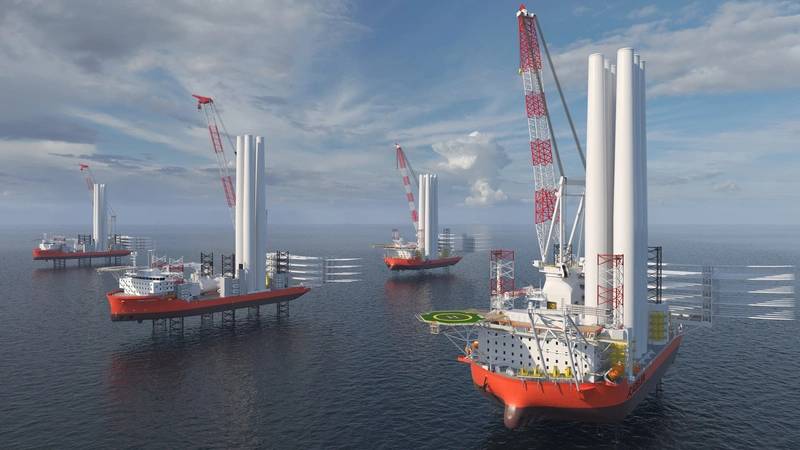 Photo courtesy of Cadeler
---
---
Main details of X class
Shipowner / Cadeller
Shipyard / COSCO Shipping Heavy Industries, Qidong
Type X class wind turbine installation ship
Price / $ 651 million
Delivery time / 3rd quarter of 2024 and 1st quarter of 2025
Crane / Huisman> 2,000 ton Legal Crane (LEC), 155 m long boom, 180 m reach on deck. In addition, the boom can be upgraded from 155m to 175m, allowing the lifting height to be increased to 200m.
Deck space / 5,600 square meters
Payload / 17,600 tons or more
Functional / X-class vessels can transport and install seven complete 15 MW turbine sets or five sets of 20 + MW turbines per load.

[NOTE: The first X-class vessel, due for delivery in Q3 2024, has already been contracted for one of the largest offshore windfarms in the world – the 1.4 GW "Sofia" offshore wind power park in the North Sea, owned by RWE. For this project, Cadeler will assist Siemens Gamesa with the transport and installation of one hundred (100) 14 MW wind turbines. The project will be located on Dogger Bank 195 km from the nearest point on the UK's North East coast. The 14 MW turbines are expected be the largest wind turbines in the world at the time of installation.]
https://www.oedigital.com/news/494442-interview-inside-cadeler-x-class-wtivs-with-ceo-mikkel-gleerup Inside the Cadeler X-Class WTIV with the CEO