Asia
Japan's dry rice fields are becoming an unforeseen national security threat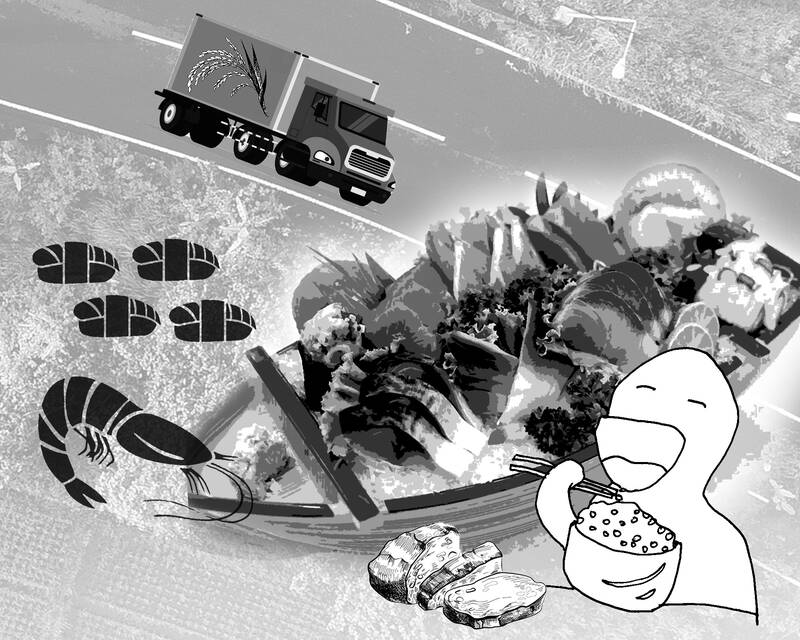 As the diet moves away from rice and fish, Japan is becoming more dependent on imports and cannot afford to lose in the crisis.
Isabel Reynolds and Grace Huang/Bloomberg
Russian missiles hitting Ukraine have surprised Japan and pushed up defense spending. Now, with the rising tensions over the Taiwan Strait, there is a growing need to address another security threat. It is a withering paddy field.
For decades, Japanese consumers have eaten less rice and fish in favor of bread, meat and cooking oil. As a result, the country's calorie-based food self-sufficiency rate has fallen from 73% in 1965 to 37% in 2020, the lowest among major economies. .
The Japanese government's abandonment of rice paddies and other agricultural land has left Japan more vulnerable than ever, said retired Vice Admiral Toshiyuki Ito of the Maritime Self-Defense Force.
Illustrated by Tania Chow
"They are not doing anything for national security," said Ito, now a professor at Kanazawa Institute of Technology, of the Japanese ministry responsible for food production. "They only think about economic efficiency."
The effects, exacerbated by rising global grain prices, fertilizer shortages, fuel inflation and a weaker yen, have also permeated Japanese consumers in the past few months, with supermarkets selling everything from instant noodles to ice cream. is raising the price.
But a massive blockade or disruption to sea lanes around China and the Taiwan Strait could have a bigger impact than just rising prices. Unlike the US and EU, Japan has little recourse if food imports run out.
In order to ensure national security, it is important for Japan to increase the amount of rice and wheat produced domestically.
"From a national security perspective, food should take precedence over weapons," he said. "You can't fight without food"
One of the reasons why Japan broke away from a rice-centered diet was the increase in personal income. Growing global trade has led to more imported foods, and travel and television exposure have encouraged more diverse eating habits. The increase in working women and singles has also brought lifestyle changes and acceptance of fast food. The country boasts her third-highest number of McDonald's outlets after the United States and China.
Annual per capita consumption of seafood has fallen from more than 40 kilograms 20 years ago to less than 25 kilograms, according to government data. There is a strong tendency to choose imported products.
Another major factor in the decline in self-sufficiency is Japan's almost complete dependence on imports for feed grains. In other words, most domestic beef is not included in self-sufficiency calculations.
dispute concerns
The growing reliance on imports worries Hiroshi Moriyama, Japan's former Minister of Agriculture and Forestry. In June, he led a group of ruling Liberal Democratic Party lawmakers to submit a report to Japanese Prime Minister Fumio Kishida calling for further government action on food security.
"Through the situation in Ukraine, we realized that we should do what we can at home," he said in an interview. "We have to produce as much as possible at home, including fertilizer and seeds."
Consumption of rice, the traditional staple food, has been sluggish for decades, and the share of wheat produced domestically has halved to about 13% over the past 50 years. Most of the wheat consumed in Japan is shipped from countries such as the United States, Canada and Australia.
"What would happen if China invaded Taiwan?" I asked Kazuhito Yamashita, a former Ministry of Agriculture, Forestry and Fisheries bureaucrat who is now a senior researcher at the Canon Institute for Global Studies.
"If Japan intervenes, it will destroy its own sea lanes. It will stop food imports from the US, Australia and the EU," he said. "The whole of Japan will lose physical access. [to imports] And it will lead to famine. "
The government is in the process of drawing up a new budget for food security as part of next year's spending, but the aging and debt-ridden country is dreading the promised radical upgrade of its military. It's not an easy task, as they are also seeking funding.
Japan's Cabinet Office recently formulated a new economic plan that will form the basis of its upcoming budget, calling for increased domestic production of livestock feed, along with wheat, rice and other foodstuffs.
Easy to say, hard to do.
One of the reasons for the decline in domestic wheat production is the decline in "double cropping," in which farmers grow and harvest wheat in their fields and then water it later in the year to grow rice. is.
Due to an aging and declining farming population and the rise of part-time farmers, most paddy fields are left unused for most of the year.
"We grow rice from May to October. We can't do anything else because it snows from November to April," said Itsuo Kenmochi, a third-generation rice farmer in Niigata Prefecture. He said he is struggling to make a living off the farm as production costs rise and rice prices can't keep up.
"I'm doing it because I have rice fields. Otherwise, I would have given up."
Government officials and the agricultural industry have spent years trying to persuade consumers to eat more rice. Nearly all of the rice eaten in Japan—mostly the translucent, short-grain variety called japonica—is grown domestically, and bureaucrats can increase food self-sufficiency by simply forcing people to eat an extra morsel at each meal. I calculate that it is possible. Sufficiency rate is 1%.
No success so far. The average Japanese now eats 53kg of rice a year, less than half what he was eating in the mid-1960s. Research shows that people are trying to avoid eating carbohydrates for health reasons, and an aging population means fewer people want to eat extra.
Many young workers also say that soaking the grains for up to an hour beforehand takes too long to properly cook Japanese rice. We often start the day with bread and yogurt.
Faced with declining rice consumption and price-supporting demand from politically powerful agricultural blocs, the government has taken various steps to reduce rice production since about 1970.
Currently, it provides subsidies to farmers who switch from table rice to low-grade feed rice or rice for milling. But demand is declining faster than production, and wholesale prices have fallen more than 20% over the past decade, according to government data.
a radical rethink
Yamashita is advocating what could be called a radical strategy. That is abandoning the policy of reducing production and allowing prices to fall.
According to Yamashita, by improving yields and expanding the area under cultivation, rice production could expand from the current 7 million tons to 16 million tons annually.
The resulting price drop will make Japanese rice more attractive as an export product. In the event of unforeseen circumstances, the government could simply suspend exports and the population could at least survive on rice for some time, he said.
According to Yamashita, there are barriers to rebuilding Japan's patchwork of small farms, for example, the average size of an agricultural enterprise is 3.3 hectares, compared to 180 hectares in the United States.
Some enterprising farmers are succeeding by incorporating neighboring fields into their holdings to make the most of an aging and declining population. Among them is Mizuho Kaido, 36, who grows rice in Toyama Prefecture, about 250 kilometers from Tokyo. She and her family rented fields from people who were no longer able to work in them, expanded the farm to almost 90 times its original size, and minimized costs by automating as much as possible. .
She too is worried about the future of rice farming.
"People are giving up their land due to old age," she said. "I'm not worried now, but I have a sense of crisis for the next generation."
Moriyama said there was little prospect of a significant increase in rice exports. Japan was able to sell only 22,833 tons of rice overseas last year, compared to Thailand's 8 million tons of exports. It remains a high-end product.
For example, a 2kg bag of Niigata rice is priced at S$23.70 (US$16.90) in cold storage supermarkets in Singapore, more than three times the price of rice from Thailand.
Moriyama wants next year's budget to include subsidies to factories that make fertilizer from fertilizer to avoid high import prices for chemical varieties.
In the long term, he said, Japan needs to reconsider its basic law on agriculture.
"Until now, we were only thinking about efficiency," says Moriyama. "Nowadays, it is hard to imagine that we can import cheap products from abroad."
Ito said the government needs to stop farmland from drying up and be prepared to buy surplus produce.
"If you're really talking about national security, you need to invest more money," he said.
Comments are moderated. Please keep your comments relevant to the article. Statements containing abusive and obscene language, personal attacks of any kind or promotions will be removed and users will be banned.The final decision is at the discretion of Taipei Times.
https://www.taipeitimes.com/News/editorials/archives/2022/09/03/2003784659 Japan's dry rice fields are becoming an unforeseen national security threat