Middle East
KFO fisherman speaking on an Irish floating offshore wind turbine project. IFSA chair blows up deals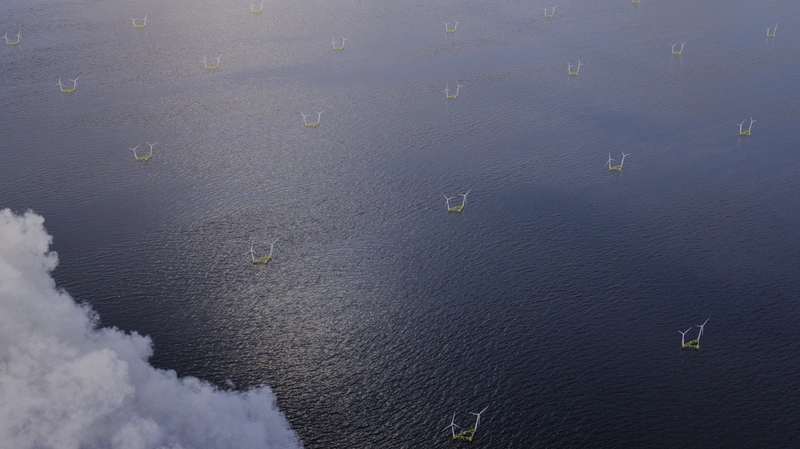 In Ireland, the local fisherman organization KFO has signed an interesting agreement to speak out about the development of an offshore wind project in Ireland, which is called one of the top five emerging markets for offshore wind. However, the move was challenged by Cormac Burke, chairman of the Irish Fisheries and Seafood Alliance. [his statement at the bottom of the article]..
So who signed what?
Ireland-based Killybegs Fishermen's Organization (KFO) and Sinbad Marine Services sign a memorandum of understanding with Swedish floating offshore wind developer and technology provider Hexicon AB as a historic partnership with a new approach. Did. 'This promises that local fishermen will be involved and influential in the offshore wind development process from the beginning.
"Important decisions such as site selection, cabling, typhoons, etc. are analyzed and agreed together. Similarly, other stakeholders, including environmental groups, have decided on the location and design of floating wind turbines. Informed in the early stages of shaping, in parallel, Sindbad Marine, a long-established port operator and marine service provider, has a floating offshore wind project that maximizes local industry engagement and local infrastructure. We guarantee that you will take advantage of it, "said a joint statement released this week.
"Floating wind energy is experiencing exponential growth worldwide, and Irish waters could ultimately rival or even replace fixed-bottom offshore wind as a major offshore wind technology. It's very well suited for new, high-quality technologies, "the statement further states.
It has also been pointed out that the global expansion of offshore wind farms is a concern for the fishing community and often causes conflict.
"In that context, to avoid potential controversy, KFO, Sinbad Marine Services, and Hexicon are working together to create a" new approach "for the development of floating offshore wind projects. Several radically opposed sectors have come together to work together on a project with a common purpose. "
"The focus of the Memorandum of Understanding is to collaborate with stakeholders to agree on mutually beneficial solutions for the development of wind farms that will not adversely affect fishing and the marine environment while contributing to regional and global transformation. Supply chain ".
Ireland: One of the Top 5 Emerging Markets for Offshore Wind
The World Wind Energy Association highlights Ireland as one of the top five emerging markets for offshore wind with the world's best wind resources at wind speeds in excess of 10 meters per second (m / s).
In addition to the vast continental shelf, Ireland also has a large area of ​​seabed with optimal seafloor topography for floating offshore wind turbines.
"These are just some of the reasons Ireland is attracting offshore wind developers from all over the world. In parallel, Ireland's fishing industry is an important economic sector, generating national income and thousands of people. The two can be successfully combined. The world will place coexistence at the heart of future offshore wind development in Ireland and elsewhere. "
2GW Floating Wind Turbine Off Donegal
The proposed new floating wind farm will be installed more than 50 km from the Donegal coast and may supply up to 2 gigawatts (GW) of energy.
According to Hexicon, which developed its own twin-turbine floating wind farm, the floating wind farm positions Killybegs as a major service hub for the emerging offshore wind industry, establishing fisheries and wider regional energy independence. May be useful for.
Seán O'Donoghue, The CEO of KFO said: "This is a unique new approach to how floating wind energy works with fishermen. We at KFO will allow future developers to draw lines on the map and respond faithfully. I wasn't interested in doing that. By signing this memorandum, we ensured that we would be at the center of a project that could revolutionize the economy. As KFO seeks a "new approach" to partner with the right developers, it has won a pole position to take advantage of historic opportunities in the northwest. "
According to Hexicon, Phase 2 Sea Area Consent (MAC) will be applied for under the new Sea Area Planning Act. The soon-to-be-established Maritime Regional Regulatory Authority (MARA) will manage permits for all offshore projects by issuing MACs for all eligible projects. The MAC award will then allow developers to apply for a building permit to AnBord Pleanála.
We hope that some of the generated energy will be used to generate green fuels such as hydrogen and ammonia, which will be used to power the fishing fleet and at the same time contribute to the energy security of ports and communities. I am aiming for it.
This initiative requires approximately 6,400 tonnes of hydrogen annually. The remaining energy will be connected to the national grid, provided that appropriate grid reinforcements are provided, and will contribute to Ireland's goal of 5 GW from offshore energy by 2030. Ireland has at least 30 GW of offshore wind.
IFSA Chairman: Fishermen have no clear interests and KFO does not represent the industry as a whole
KFO, Hexicon, and Sinbad describe the proposed projects and their agreements as mutually beneficial projects that do not adversely affect fishing or the marine environment, but not everyone is happy with them.
Cormac BurkeThe president of the Irish Fishing & Seafood Alliance condemned the move, saying that the KFO does not represent the country's entire fishing industry, but only its members. He also questioned the benefits to fishermen that would result from the agreement.
---
The following is Burke's statement released. Irish Fishing & Seafood Alliance website:
"Why is the press release that promises to benefit the fishery the same that actually leads to the least realistic benefits for fishermen? Last weekend, on behalf of the Killybegs Fisheries Organization (KFO). Sean O'Donoghue has announced a memorandum of understanding (MoU) with local shipping agency and supplier Sindbad Marine with Hexacon AB, a global floating offshore wind developer, to install in the northwestern waters. By doing so, I have raised many questions about the fishing industry nationwide.
The first of these questions is headed by the press release "Fisheries and Hexacon Announce Historical Collaboration". This is a misrepresentation, and many point out that KFO is just one of the leading groups subscribed to by the industry. [KFO] There is no right to claim that the agreement they have entered into represents the entire fishing industry.
Second, Odonohue's statement "This is a unique new approach to how floating wind energy works with fishermen, and signing this memorandum is at the heart of projects that could revolutionize the economy. I guaranteed that it would be. " For fishermen in all areas of coastal, demersal and distant seas, it is far from promising any kind of benefit.
"Important decisions such as site selection, cabling, typhoons, etc. are analyzed and agreed together. Similarly, other stakeholders, including environmental groups, have decided on the location and design of the floating wind farm. You will be informed in the early stages of shaping. " – These are all cute words to check all the boxes, but again, what are the benefits for fishermen who see more sacrifices in the fishing grounds at the end of the day?
You also need to pay attention to the suggested site "Off the northwest coast of Donegal" It is promised to be at least 50km away from the coast, but anyone who knows the geography of the Irish waters has the site located at a depth of 1,500m and is an anchor for platforms of that depth. And you can see that it means establishing a cable. A huge cost project, even for a global investment company.
opinion
There is a shortage of Irish fisheries, especially on the east and southwest coasts, when the planned influx of wind farms and closed areas is fighting to save reduced fishing opportunities at local fishing grounds. It's sad to see that the discussions with the true stakeholders, namely the fishermen themselves, and the conclusion of the agreement with the wind farm developers, have increased the sense of unity in the industry, especially in the last two years. Facing.
Does this leave only the question of who actually benefits? Once again, some people may get some great bonuses along the way, but another wealthy environmental company kills and, as always, Irish fishermen submit the bill.
By the way, it seems that what we always call this wind farm a "floating platform" is not a fixed project, but rather the smaller of the two evils in that it has less seafloor turmoil. However, the platform requires industrial-scale anchors and cables to keep it in place, and great disruptions to the undersea environment still occur.
Overall, too many questions remain unanswered in this case. If this is such a great plan and in the interests of fishermen, why weren't other trade associations invited to join the agreement?
Also, consider that this is a project in Irish waters that will definitely affect Irish fishermen, but one in five POs, and a civil servant of the Ministry of Agriculture and Fisheries, seems to be blessed. And (DAFM) must be legally involved, but the press release does not mention this involvement.
My irony is that one group is trying to "go alone" in an agreement with the group that the rest of the fishing sector is at odds with the old "divide and rule" routine Smack. But after decades of survival, and at the end of the day, do we really have to be amazed at this latest attempt at source consideration?
Finally, it's a shame that certain fisheries representatives seem to have the power to publish articles in Sunday's national newspapers, but if the industry is in desperate need of highlights, these It seems that the same contact information is not available. Of their abuse by marine civil servants or SFPA. Someone will definitely benefit from wind farms in Irish waters, but surely because hell will never be an Irish fisherman …
https://www.oedigital.com/news/497724-kfo-fishermen-to-have-a-say-in-irish-floating-wind-project-ifsa-chair-blasts-the-deal KFO fisherman speaking on an Irish floating offshore wind turbine project. IFSA chair blows up deals