Middle East
Khaled Al-Faisal: becoming the first customer of 'THE LINE'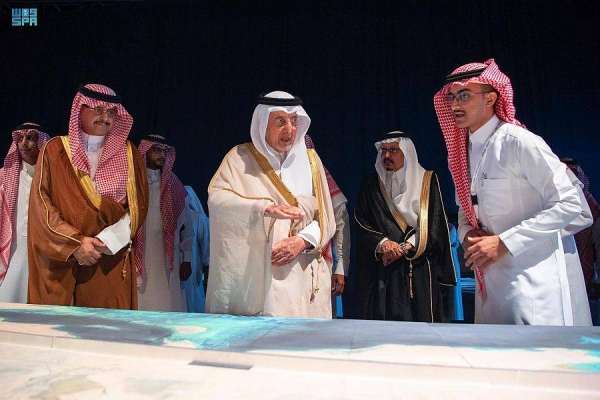 Saudi Gazette report
Jeddah — Prince Khaled Al-Faisal, Emir of Mecca and adviser to the Guardians of the Two Holy Mosques, will be the first client in the city of 'The Line', whether he owns an apartment or villa said it would. "We all live in the future," he said, expressing great admiration for the ambitious project of the future city.
Prince Khaled Al-Faisal made the remarks during a visit to an exhibition showcasing the detailed design and architectural concept of 'The Line' at the Jeddah Superdome on Wednesday. He was briefed on the most salient features and specifications of 'The Line' city, which will be built on an area not exceeding 34 square kilometers.
NEOM has launched the exhibition following the recent announcement by Crown Prince Mohammed bin Salman of the design of 'The Line'. It is a reflection of what urban communities will look like in the future. Visitors will have the rare opportunity to view detailed designs, architectural models, and an informative film that explains the project in all its glory.
Starting August 1st and running through August 14th, the exhibition is free and open to the public. After 14 August, the exhibition will move to other locations, including the Eastern Province and Riyadh.
During the exhibition, visitors can experience 'The Line' first-hand and explore the endless possibilities of future living. When completed, The Line will be 200 meters wide, 170 kilometers long and 500 meters high, built on a footprint of 34 square kilometers. Unlike conventional cities, this city will run on his 100% renewable energy, prioritizing health and well-being over transportation and infrastructure.
The total footprint is significantly smaller compared to other cities with similar capacity, helping to protect 95% of NEOM's land. The Line has no roads, cars or exhausts. In addition, the year-round ideal climate allows residents to roam and enjoy the surrounding nature. Residents can reach all The Line facilities within a 5-minute walk, along with high-speed rail with a 20-minute end-to-end transit.
https://saudigazette.com.sa/article/623855/SAUDI-ARABIA/Khaled-Al-Faisal-I-will-be-the-first-customer-in-THE-LINE?ref=rss&format=simple&link=link Khaled Al-Faisal: becoming the first customer of 'THE LINE'