Asia
KSP accepts representatives of the Sintang Indigenous Community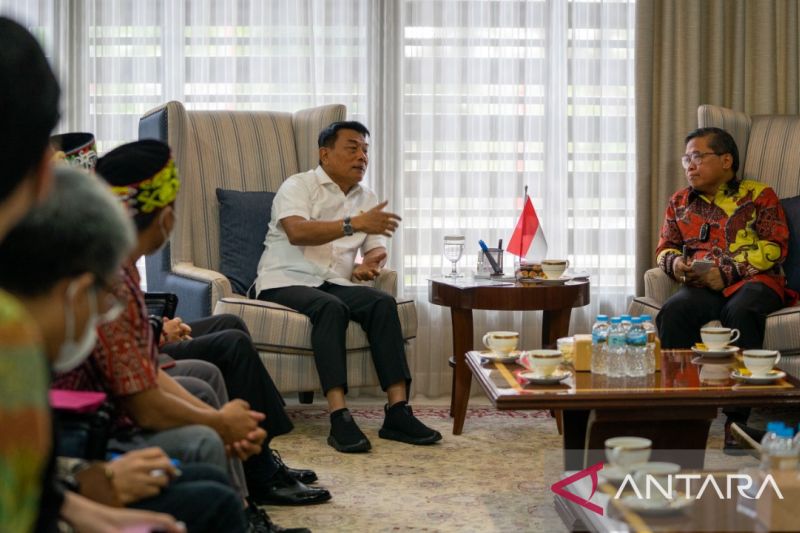 Jakarta (ANTARA)-Presidential Staff Office (KSP) Chief Moeldoko welcomed indigenous community representatives from the Sintang district of West Kalimantan on Tuesday to listen to their aspirations for human resources development in the border area.
Representatives of 15 indigenous communities living near the planned location of the Sungai Kelik Border Post urged the government to organize training for young people in border areas.
Development of posts in the Sintang area is scheduled to begin in 2023.
"The indigenous community does not oppose the development of the Sungai Kerik border crossing and its infrastructure, but hopes that (local) personnel will be prepared in line with the development. In the border areas, they Will be considered forever unqualified, "said Igas, head of the Dayak indigenous community in the Sintang district, on Tuesday.
According to Dayak representatives, local youth are not properly educated due to limited access to limited distant educational facilities and telecommunications services.
related news: Jokowi inspects construction of flood mitigation embankment in Sintang
Meanwhile, Martin Bilal, chairman of the Dayak Indigenous Parliament, thanked Moeldko for his willingness to accept the delegation and his attention to border issues.
"Thanks to the head of the Presidential Staff Office for taking the time to listen to the wishes of the people of the border area. (His) response is quick and this is the kind of kind that residents need. It's a public service, "said Bilal.
Meanwhile, Moeldoko said the government has pledged to prioritize education, health and economic services in border areas.
"Infrastructure development is certainly linked to the development of human civilization, so inhabitant education, health and economic issues will continue to be our priorities," added the KSP chief.
He also emphasized the government's attention to development programs and the quality of life of residents in borders and underdeveloped areas.
"The government has paid positive action and special attention to the indigenous peoples of the border area, but this is gradual as some projects are still underway. The government actually listens to your wishes. We hope that the indigenous community will be patient, "Moeldoko said.
related news: Understanding of Sintang flood by spatial analysis
related news: The Sintang area encourages palm oil companies to obtain ISPO certificates
https://en.antaranews.com/news/241297/ksp-receives-representatives-of-sintang-indigenous-communities KSP accepts representatives of the Sintang Indigenous Community