Europe
Love-hate relationship between Gorbachev and Putin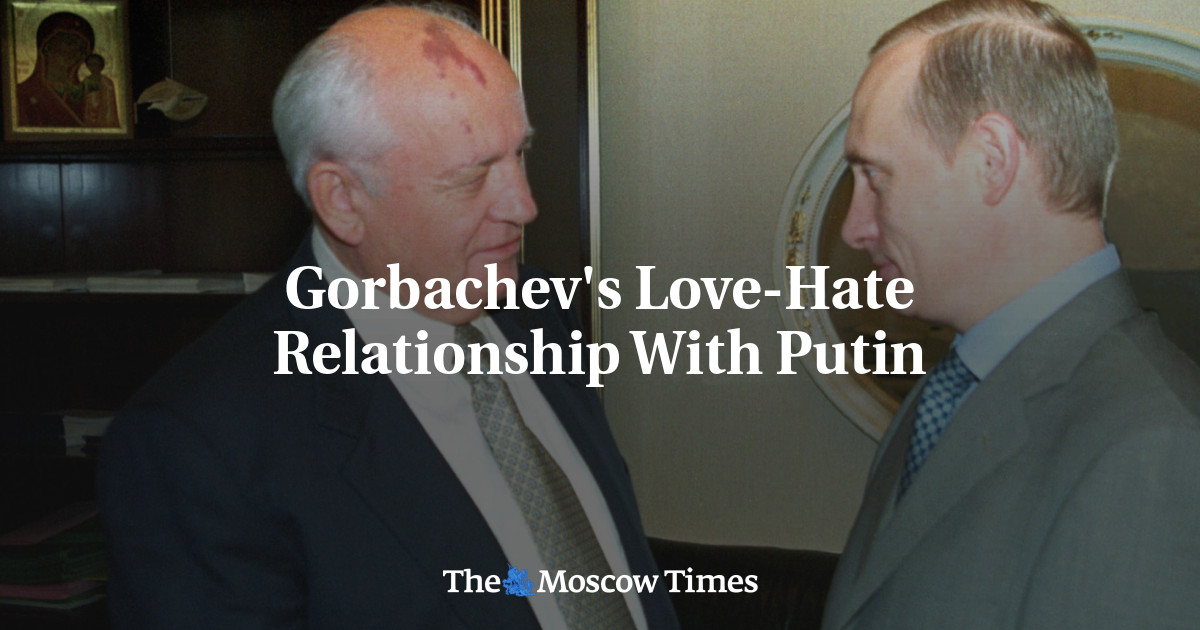 Mikhail Gorbachev had a hard time making up his mind about Vladimir Putin.
In the more than two decades since Putin came to power, former Soviet leaders have accepted, rejected and, like Gorbachev in the 1980s, who has come to represent Russia in the eyes of the West. accepted again.
"Today, Putin is a leader who deserves the support of the people," Gorbachev said ahead of Putin's fourth reelection in 2018.
After the turmoil of the 1990s and the rule of his nemesis Boris Yeltsin, Gorbachev expressed his hopes for the former KGB agent who was first elected president of Russia in 2000.
"They were smart, serious, humble and well organized. I like this kind of people," Putin said at the time.
For Gorbachev, Putin represented an opportunity for stability and economic growth while continuing the democratic transition he had set.
Even as early as 2006, when activists voiced concerns about the harsh treatment of civil society under Putin, Gorbachev was unable to declare that "those who fear Putin's authoritarian tendencies are wrong." did it.
But as the years went by and hopes for Russia's democratic development faded, Gorbachev turned to veiled criticism and then a strong-word attack.
The rigged 2011 parliamentary elections hardened his attitude towards the president, as did Putin's decision to run for an unprecedented third term.
Gorbachev backed post-election protests and viciously attacked Russia under Putin in 2013.
"Politics is turning more and more into an imitation of democracy. All power is in the hands of the authorities and the president," Gorbachev said at the time.
"The economy is monopolized. Corruption is huge."
Foreign media often took note of his comments, proudly owning part of the anti-Kremlin newspaper Novaya Gazeta, which ceased publication earlier this year after Russia launched military operations in Ukraine.
But at best Gorbachev was an irritating thorn for Putin.
The Kremlin has dismissed criticism from the man who famously allowed the collapse of the Soviet Union, which Putin called the greatest geopolitical tragedy of the 20th century.
When Gorbachev accused Putin of his decision to return to the Kremlin for a third term, Russian magnates responded by accusing the former Soviet president of "abandoning" power.
By 2014, there were signs of another change of heart, such as Gorbachev supporting Moscow's seizure of Crimea from Ukraine despite protests from the West.
"Crimea is Russia, let someone prove the opposite," Gorbachev said.
The following year, he supported Russia launching military operations in Syria to support the regime of President Bashar al-Assad.
By the time Putin ran for a historic fourth term in 2018, Gorbachev said he was the kind of leader Russia needed in a "very complicated international situation."
Ironically, in his later years, Gorbachev did not think much of himself and supported a man who deconstructed much of what Soviet leaders had tried to accomplish.
https://www.themoscowtimes.com/2022/08/31/gorbachevs-love-hate-relationship-with-putin-a78691 Love-hate relationship between Gorbachev and Putin