Asia
Malacca Hosts National Journalist Day (HAWANA)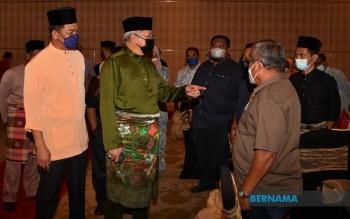 Melakha, April 17th (Bernama)-Melakha will host National Journalist Day (HAWANA) on May 29th.
Tan Sri Annuar Musa, Minister of Communications and Multimedia of Malaysia (MenKOMM), said the opportunity will be held as an annual event, with Prime Minister Datuk Seri Ismail Sabri Yaakob as the secretariat.
"Malaysia National News Agency (Bernama) will be the organizer of HAWANA with the support of the Malaysia-Indonesia Journalists Association (ISWAMI)," he told reporters here tonight after the MenKOMM Iftar Ceremony with the Malacca community. Told.
Also attended was Roslan Ariffin, Bernama's Chief Executive Officer.
He said the HAWANA event follows the National Press Day (HPN) in Indonesia, which appreciates the services of media practitioners in conducting new coverage.
He said Malacca was chosen because it is a historic city and the place where the early history of national independence began. Therefore, Malacca is a great place to organize HAWANA.
"I would like to extend the journalist day in Malaysia to thank the journalism experts through discussions with the Malaysian and Indonesian Journalists Association.
"It's also held in a more organized way each year, with event locations taking turns between states," he said.
-Bernama
---
Bernama is a reliable source of reliable, real-time, comprehensive and accurate news for both the general public and the media.Our news is published at www.bernama.com BERNAMA TV on: Astro Channel 502, unifi TV Channel 631, MYTV Channel 121 IFLIX; Bernama Radio is FM93. It is broadcast locally at 9.

Follow us on social media:
Facebook : @bernamaofficial, @bernamatv, @bernamaradio
twitter : @ bernama.com, @BernamaTV, @bernamaradio
Instagram : @bernamaofficial, @bernamatvofficial, @bernamaradioofficial
Ticktaku: @bernamaofficial
http://www.bernama.com/en/news.php?id=2073066 Malacca Hosts National Journalist Day (HAWANA)