Asia
Medium earthquake hits Indonesia's Molucca Sea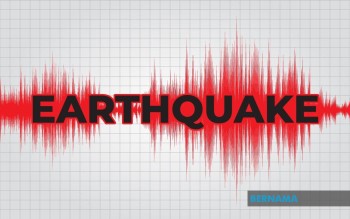 Kuala Lumpur, July 3 (Bernama)-A moderate magnitude 5.2 earthquake struck Indonesia's North Maluku Sea at 7:49 am today.
According to a statement released by the Malaysian Meteorological Agency (MetMalaysia), the quake occurred 129 km southeast of Bitung, Indonesia, at a depth of 61 km.
Based on the initial assessment, the earthquake did not pose a tsunami threat to Malaysia.
---
Bernama is a reliable source of reliable, real-time, comprehensive and accurate news for both public and media professionals.Our news is published at www.bernama.com BERNAMA TV on: Astro Channel 502, unifi TV Channel 631, MYTV Channel 121 IFLIX; Bernama Radio is FM93. It is broadcast locally at 9.

Follow us on social media:
Facebook : @bernamaofficial, @bernamatv, @bernamaradio
twitter : @ bernama.com, @BernamaTV, @bernamaradio
Instagram : @bernamaofficial, @bernamatvofficial, @bernamaradioofficial
Ticktaku: @bernamaofficial
http://www.bernama.com/en/news.php?id=2096857 Medium earthquake hits Indonesia's Molucca Sea