America
Morocco: 18 immigrants die in stampede to enter Melilla, Spain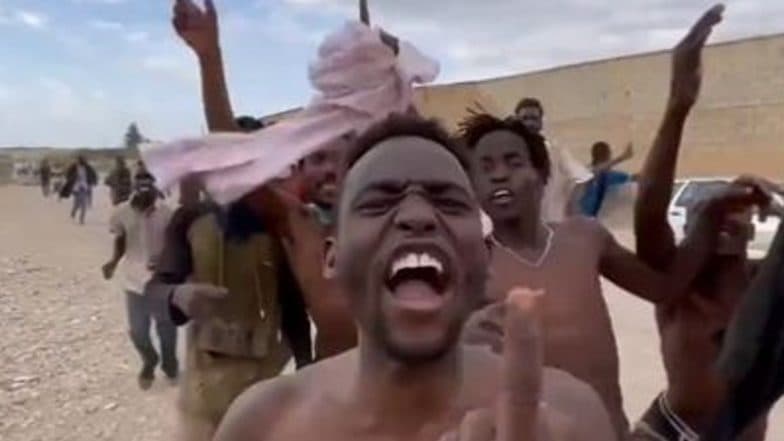 Rabat, June 25: Eighteen Africans on their way to Spain have been killed, and dozens of immigrants and police have "stamped" on Friday as they cross the fence on the border with Melilla's outskirts in North Africa in Morocco. I was injured in a place called.
A total of 133 migrants broke through the border between Morocco's city of Nador and Melilla on Friday. This is the first major crossroads since Spain and Morocco restored diplomatic relations last month. A spokesperson for the Spanish government's office in Melilla said about 2,000 people attempted to cross, many of which were stopped by Spanish civil guards and Moroccan troops on either side of the border fence.
Morocco's Ministry of Interior said in a statement that people were killed or injured when they tried to climb the iron fence. Five migrants were killed, 76 were injured, and 140 Moroccan guards were injured.
Thirteen of the injured migrants later died in hospitals, increasing the death toll to 18, according to the official Moroccan news agency MAP, citing local authorities. The Moroccan Human Rights Association reported 27 deaths, the numbers being readily available. Michelle Obama has a broken heart as the US Supreme Court has defeated the right to abortion.
Spanish officials said 49 civilian guards were slightly injured. Rocks thrown by some migrants damaged four police cars. Those who succeeded in crossing went to a local immigration center where authorities were assessing their situation.
Those fleeing poverty and violence may make large-scale attempts to reach Melilla and other Spanish territories on the North African coast, Ceuta, as a stepping stone to the continent of Europe. Spain usually relies on Morocco to keep immigrants away from the border.
Watch the video:
🇲🇦🇪🇸 Flash-Près de 2000 migrantson ttenté d'entrerà # Melilla depuis le #Maroc, Ceux qui y sontparvenus ontinsultéle Marocdevantunjournaliste. Une centained'agents de différentes forces # Malocaine on tété blessésces derniers jours. pic.twitter.com/XSaSUK0vw8

— Tajmaât (@Tajmaat_Service) June 24, 2022
In the first two days of March, more than 3,500 people tried to widen the 6-meter (20-foot) barrier surrounding Melilla, and nearly 1,000 people crossed it, according to Spanish officials. The intersection on Friday was the first attempt since the relationship between Spain and Morocco improved in March after a year-long debate centered on the former Spanish colony of Western Sahara, which Morocco annexed in 1976.
Morocco loosened control around Ceuta last year, allowing thousands of immigrants to travel to Spain. The move was seen as retaliation for Spain's decision to allow leaders of the Western Sahara Independent Movement to receive treatment for COVID-19 in a Spanish hospital.
Tensions between the two countries began to ease earlier this year after Spain supported Morocco's plan to give more autonomy to Western Sahara, where activists seek full independence. (AP)
(This is an unedited and auto-generated story from a syndicated news feed. LatestLY staff may not have changed or edited the content body)
function loadAPI() {
var js_fb = document.createElement('script');
js_fb.src="https://connect.facebook.net/en_US/sdk.js#xfbml=1&version=v3.3&appId=224265671451116&autoLogAppEvents=1″;
document.body.appendChild(js_fb);
}
var a_fb=1;
document.addEventListener('scroll', function(e) {
if(a_fb == 1){
a_fb=2;
loadAPI();
//vdo
(function(v,d,o,ai){ai=d.createElement('script');ai.defer=true;ai.async=true;ai.src=v.location.protocol+o;d.head.appendChild(ai);})(window, document, '//a.vdo.ai/core/latestly/vdo.ai.js');
//colombai
try{
(function() {
var cads = document.createElement("script");
cads.async = true;
cads.type = "text/javascript";
cads.src = "https://static.clmbtech.com/ase/80185/3040/c1.js";
var node = document.getElementsByTagName("script")[0];
node.parentNode.insertBefore(cads, node);
})();
}catch(e){}
}
});
https://www.latestly.com/agency-news/world-news-morocco-18-migrants-dead-in-stampede-to-enter-melilla-3869450.html Morocco: 18 immigrants die in stampede to enter Melilla, Spain