Middle East
NEOM invests $175 million in Volocopter to accelerate electric urban air mobility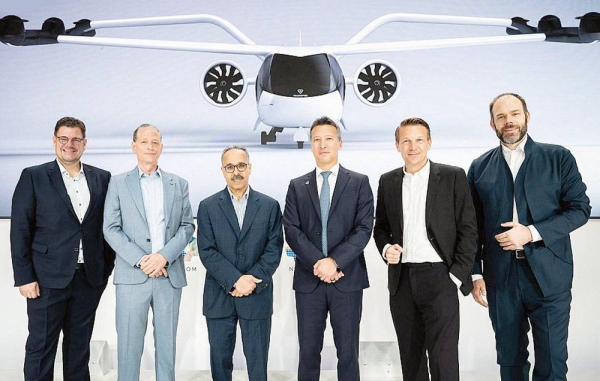 Tabuk — NEOM has announced a $175 million Series E investment in urban air mobility pioneer Volocopter. Future Gigaproject Land will acquire a significant stake in the company as part of his strategic engagement with the global eVTOL industry, positioning it as a leader in future mobility solutions.
The transaction expands NEOM's strategic partnership with Volocopter to develop Saudi Arabia's advanced air mobility industry, in line with NEOM's cutting-edge strategy for the mobility sector.
It is based on a joint venture between NEOM and Volocopter launched in December 2021 to operate electric air taxi services in NEOM and connect various regions such as THE LINE, OXAGON and TROJENA.
NEON CEO Nadhmi Al-Nasr said: .
"This will help bring humanity closer to a new era of mobility, the era defined by zero-emission electric vertical takeoff and landing aircraft. Make concepts like the familiar to residents and visitors.
"Strong partnerships such as those that NEOM is building with pioneering companies like Volocopter will help NEOM and the Kingdom, and everyone, make great strides forward."
Volocopter CEO Dirk Hoke added: Air mobility can improve the quality of life in cities.
"NEOM's investment attests to our leading position as a technology pioneer in the race to be the first to enter the emerging urban air mobility market."
NEOM's unique regional development will provide a global living lab for advancing and incorporating electric urban air mobility into multimodal and sustainable transportation systems.
Built from the ground up, NEOM provides the ideal environment for testing cutting-edge electric mobility solutions on land, air and sea. In addition to NEOM, Volocopter has launched partnerships to serve global cities such as Paris, Singapore, Rome and China.
NEOM and Volocopter are working closely with Saudi Arabia's General Authority for Civil Aviation (GACA) to implement a national testbed in Saudi Arabia to enable the integration of eVTOL with zero-emission future urban mobility.
Electric air taxis are a key component of NEOM's mission to implement a truly sustainable and seamlessly connected multimodal mobility system powered by 100% renewable energy.
Overall, NEOM invests in eVTOL fleets, operations, and infrastructure to localize industry innovation. — Spa
https://saudigazette.com.sa/article/626608/SAUDI-ARABIA/NEOM-invests-$175-million-in-Volocopter-to-accelerate-electric-urban-air-mobility?ref=rss&format=simple&link=link NEOM invests $175 million in Volocopter to accelerate electric urban air mobility