Europe
Newspaper content: Friday front page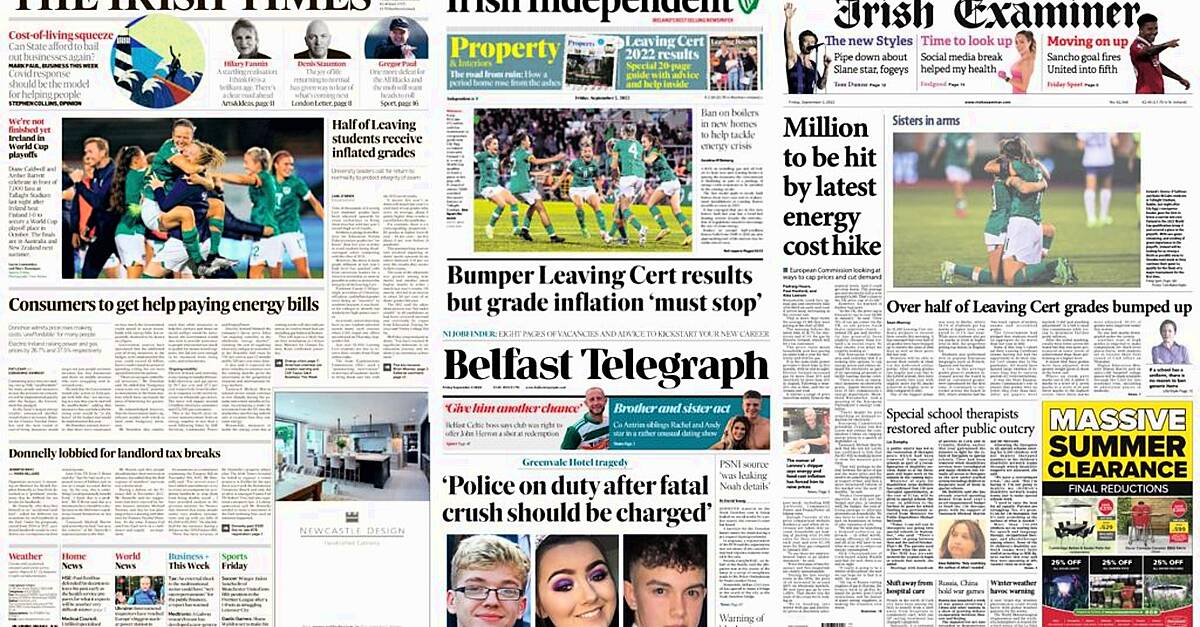 Soaring utility bills and inflated Leaving Cert scores make the front pages of Friday's newspapers.
Electric Ireland's latest price increase is Irish Times, Irish Examiner, irish daily mail When echo.
Highlighting comments made by Finance Minister Pascal Donohoe, The Times said measures to mitigate costs would be implemented immediately after the budget.
of ireland independence reports that Leaving Cert students will face stiff competition for college places next week after strong third-year results.
GAA officials launched an investigation after a referee was assaulted at a football game for minors. irish daily star report.
Irish news When Belfast Telegraph Both cover the Greenvale Hotel tragedy after it was announced that two men would be charged in the 2019 incident that killed three teenagers outside a St. Patrick's Day discotheque. .
The UK front page features a new report on Partygate and different views on how to solve the energy crisis.
of daily mail and the daily express The Partygate investigation is reportedly leading the findings of Lord Panic, who states that it "endangers democracy."
Friday @DailyMailUK #MailFrontPages pic.twitter.com/zF3HOSSjmR

— Daily Mail UK (@DailyMailUK) September 1, 2022
Top Page – Even Boris Critics Say Partygate Investigation Wrong#TomorrowsPapersToday https://t.co/hx3jL6Vs4K pic.twitter.com/rKRAwQfzlp

— Daily Express (@Daily_Express) September 1, 2022
According to the UK health service vacancies have reached a "staggering" record high. Independentin the meantime daily telegraph General practitioners report being given "record pay raises" during the pandemic.
tomorrow's top page @independence #TomorrowsPapersToday@Rebeccasmt On the NHS vacancy crisis, @samueljlovett New Hope for Skin Cancer Treatment @mjcritchley On how the rest of the Premier League is dealing with Erling Haaland pic.twitter.com/q84esQ0Lkf

— Alastair Jamieson (@alastairjam) September 1, 2022
Front page of tomorrow's Daily Telegraph:

'GPs given record raises in pandemic'#TomorrowsPapersToday

Sign up for the front page newsletterhttps://t.co/x8AV4Oomry pic.twitter.com/HnEPgBfZEa

— The Telegraph (@Telegraph) September 1, 2022
of Me Advice from energy companies on how to deal with rising bills reportedly cost "tens of billions" in taxpayer money.
Front page on Friday: Plan to address utility crisis will cost taxpayers tens of billions #TomorrowsPapersToday

Latest Poster @singharj: https://t.co/7iSrCLYT9N pic.twitter.com/S7X5fhcAiM

— My newspaper (@theipaper) September 1, 2022
Gun crime is on the rise in two-thirds of police, according to the report. Guardian.
Guardian front page, Friday Sept. 2, 2022: Revealed: 2 in 3 police officers face increased gun crime pic.twitter.com/t6q51PcEO7

— Guardian (@guardian) September 1, 2022
Sun Officials in Whitehall have reported using the British Prime Minister's official jet for "a £50,000 binge over the UK".
Tomorrow's Side 1: Giggling Whitehall Raging as a Pen Pusherhttps://t.co/Ui9TiafZaf pic.twitter.com/DhcI6UUgcQ

— The Sun (@TheSun) September 1, 2022
CCTV footage of the man who allegedly shot 9-year-old Olivia Pratt Corbell daily mirror.
Friday page 1: CCTV where the murderer escapes. https://t.co/mzazAhsszm#TomorrowsPapersToday pic.twitter.com/4VOhTnn5J3

— The Mirror (@DailyMirror) September 1, 2022
Metro The death of British broadcaster and journalist Bill Turnbull.
Tomorrow's paper today 📰

thank you bill

🔴 Thousands of lives saved thanks to Turnbull's heroic campaign #TomorrowsPapersToday pic.twitter.com/ox6DMWby6s

— Metro (@MetroUK) September 1, 2022
Vladimir Putin has extended his war score in Ukraine. financial times.
Just published: Financial Times UK Front Page (Friday) 2 September https://t.co/LLajFJb3QF pic.twitter.com/APLPctrQYF

— Financial Times (@FinancialTimes) September 1, 2022
and the daily star "Genius Bozo" says he solved the energy crisis.
Sounds like a load of hot air! #TomorrowsPapersToday https://t.co/NaYGeOBeF0 pic.twitter.com/AR7Vo2q0Vo

— Daily Star (@dailystar) September 1, 2022


https://www.breakingnews.ie/ireland/what-the-papers-say-fridays-front-pages-september-2-1358474.html Newspaper content: Friday front page