America
Pakistani government calls Imran Khan a 'traitor' and warns against attacking Islamabad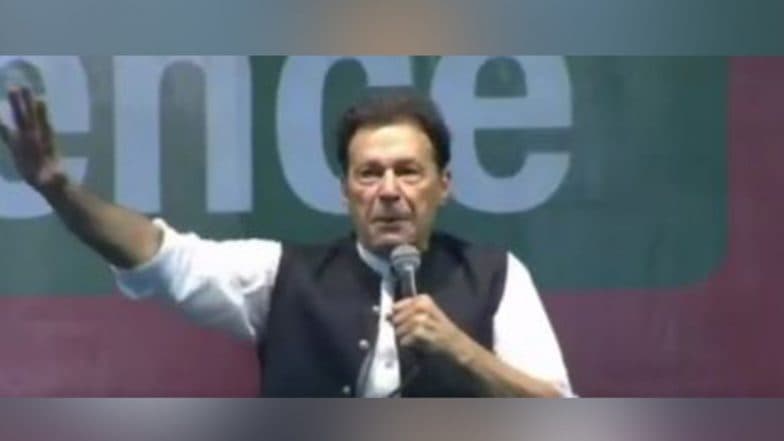 Islamabad, 6th October: Pakistan's ruling coalition has called Imran Khan, former prime minister and chairman of Pakistan Teliku Einsaf, a 'traitor' and warned against attacking Islamabad.
At a meeting at the prime minister's office chaired by Prime Minister Shebaz Sharif, the ruling coalition called on the Punjab and Khyber Pakhtunkhwa governments to refrain from becoming a "tool" to pave the way for domestic turmoil. reported Geo News. Imran Khan dodges contempt charges as Pakistani courts drop lawsuit showing cause notice related to 'blackmailing' a female judge.
In connection with Imran Khan's call for a long march to Islamabad, the conference participants decided that he would not be allowed to attack Islamabad beyond the limits of the constitution and law.
Earlier, PTI leader Imran Khan instructed his party members to prepare for the "Hakiqi Azadi March" in Islamabad, telling his party leaders and workers that the long march was considered a jihad of the country. and to take an oath to participate. Imran Khan has yet to reveal the date of the march. Pakistani Prime Minister Shebaz Sharif is likely to visit China next month.
According to Geo News, during the meeting, members of the council called Imran Khan a "traitor, co-conspirator and mob" for "inciting unconstitutional actions on state institutions."
In order to stop Imran Khan's long march, Shebaz Sharif's government has also decided to call in troops and deploy them in the capital. Citing official sources, Dawn reported that Pakistani forces were deployed in the capital's Red Zone to stop protesters from entering.
Pakistan's Home Minister Rana Sanaura said the cabinet had decided not to allow the PTI to enter Islamabad under any circumstances. Meanwhile, at the conference, participants also discussed the flood situation, the audio leak controversy, and the economic situation.
During the meeting, newly appointed Finance Minister Ishak Dar explained the country's economic situation and his talks with the International Monetary Fund (IMF).
Dahl said none of the economic indicators showed positive signs due to the previous government's disastrous four years of economic policies, Geonews reported. "The 20 trillion rupee debt taken during the previous government's term has pushed the country to the brink of default," he added.
Regarding the depreciation of the US dollar against the rupee after taking office, Mr Dar said he hopes the US dollar will depreciate below 200 rupees. The meeting expressed its satisfaction with the steps taken by Mr. Dar and appreciated his achievements.
(This is an unedited article auto-generated from a syndicated news feed. LatestLY staff may not have changed or edited the content body)


https://www.latestly.com/world/world-news-paki-govt-warns-traitor-imran-khan-against-attacking-islamabad-4293985.html Pakistani government calls Imran Khan a 'traitor' and warns against attacking Islamabad