Asia
PAP Sitoh Yih Pin & WP Leon Perera & Jamus Lim vehemently debate GST hike and NIRC ratio – Mothership.SG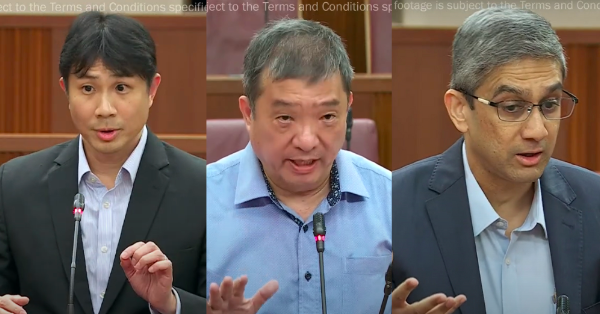 Follow us on Telegram for the latest updates: https://t.me/mothershipsg
On November 7th, debate over an amendment bill to increase the GST rate sparked fierce arguments from both sides of the House of Commons.
Members of Parliament (MPs) of the ruling People's Action Party (PAP) backed the bill, while opposition Workers' Party (WP) and Progressive Singapore Party (PSP) voiced their opposition to the issue.
In particular, there were eight minutes of intense exchanges between PAP MP, Sitoh Yih Pin, and WP MP's Leon Perera and Jamus Lim.
Twice from Shito to Perera, three times between Shito and Lim, and then back to Shito and Leon.
Cito vs Perera: No Pain No Gain?
Referring to Cito's speech describing WP's proposal as "analgesics and anesthetics," Perera wondered whether the support package was also an anesthetic and whether Cito (with increasing GST) was more likely to be in pain. I asked him if he thought it was good. No gain"?
With a lot of confidence, Sitoh replied that he didn't understand how a support package could be "painless".
"The aid package aims to help our fellow citizens get through this period," Cito added.
The government is raising the GST in this inflationary situation, but Sitoh clarified that the GST is also a consumption tax levied on consumption.
Mr. Perera stood up and understood Mr. Sitou's response, saying, "The measures to remedy the negative impact of GST on the public are in some ways like kicking the can and actually hurting the public." It is dishonest because it should feel ".
From that perspective, he added, the government is "allowing its people to experience more pain."
Perera claimed he had "uttered some very serious words," and Cito replied that what he was saying was that everyone is going through difficult times.
He added that he did not say that the assistance package would not help.
"In fact they are very helpful and the government is targeting them to those who need them most," Cito clarified, adding, "We didn't say we deserved to go through this pain. ' he repeated.
"But what I want to say is that in this turbulent time of disaster, we must stand together as a nation and we must get through this together."
Sitoh vs Lim: What is the ratio of NIRC savings to spending?
Jamus Lim, WP MP at Sengkang GRC, used to think that "only academics come up with unrealistic scenarios", but after hearing Sitoh say there is no such thing as "too much savings" "I was shocked," he said.
"If you take this argument to its logical extreme, why not simply lower the NIRC cap to 0% and not leverage NIRC at all?" Lim asked.
"In other words, if you think there is no such thing as too much savings, is he saying that the government in 2008 reduced the rate of saving when in fact it was undersaving? "
Lim then asked Sitoh to provide empirically verifiable evidence that they had done so.
"If you play the tape, I said don't talk about saving too much for a small country like Singapore," Cito replied.
"It reminded me of the Asian financial crisis of 1997. Remember? All the countries around us, their currencies, collapsed," he added.
Cito argued that for a small country like Singapore, "saving is a virtue and we should keep saving."
Lim also stressed that the government appeared to have increased the NIRC from 10% to about 50% in 2008, but that this was not recorded.
Sitoh then dismissed Lim as he said the matter was not about NIRC as he believed WP agreed with the system.
The problem is the ratio of NIRC's savings to spending, which is currently 50/50, Mr Sitoh said.
"I think our system works perfectly well because there is a mechanism for the government, together with the president, to leverage the reserves if using 50% of the NIRC is not enough," he added. rice field.
Sito vs Perera Again: Is Saving a Virtue?
Perera stood up again to clarify Citoux's position, saying: "Theoretically, by definition, saving can never be excessive for a small country like Singapore."
"I don't think you should complain about saving too much," Cito said in response to Perera.
"I was responding to Mr Jamus Lim's speech and I will say it again: Saving is a virtue for a small country like Singapore with no natural resources and a limited population," he added. .
Perera felt Cito hadn't answered a question he believed needed a yes or no answer.
He repeated his answer that for a small country like Singapore, saving must be a virtue.
"As long as we can, we can keep saving, not just for future generations, but just in case," he said, asking whether he believes saving is a virtue or should he stop saving. I returned to my question to Leon.
Related article:
Screenshot of top image on MCI/YouTube


https://mothership.sg/2022/11/sitoh-leon-perera-jamus-lim-gst/ PAP Sitoh Yih Pin & WP Leon Perera & Jamus Lim vehemently debate GST hike and NIRC ratio – Mothership.SG