America
Papua New Guinea earthquake: One dead after magnitude 7.6 quake hits Finisterre Mountains.watch video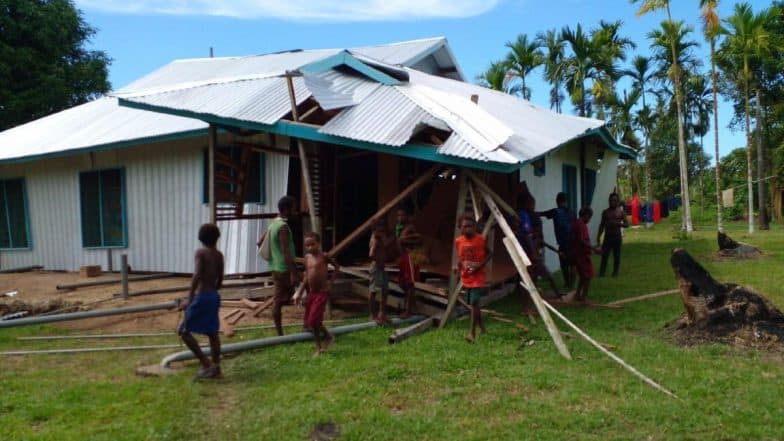 Port Moresby, September 11th: One person has died after the devastating earthquake that hit Papua New Guinea (PNG) on Sunday morning, according to media reports. China's state-run Xinhua News Agency, citing sources, reported that a magnitude 7.6 earthquake had caused extensive damage to villages in the Finisterre Mountains due to landslides, burying homes and killing one person.
A magnitude 7.6 earthquake shook the town of Kainantu in the country's eastern New Guinea region at 23:46:55 GMT on Saturday, the US Geological Survey said. The tremor was recorded 67 km east of Kainantu, Papua New Guinea. The epicenter was 61.4 kilometers deep. The latitude of the earthquake was 6.224°S and the longitude was 146.471°E.
watch video
🚨Video: Papua New Guinea earthquake kills at least 16 people pic.twitter.com/XgGntzx0zw

— Breaking news (@NewsJunkieBreak) September 11, 2022
PNG Prime Minister James Marape said he was "extremely concerned" about the impact of the quake and urged people to remain calm and exercise caution, according to media reports. Earthquake: A powerful 6.2-magnitude earthquake rocked western Indonesia, with no casualties reported.
Horrible earthquake video:
See | A magnitude 7.6 earthquake strikes # Papua New GuineaAccording to the U.S. Geological Survey, an earthquake with a depth of 90 kilometers #kainanzPower outages and building damage reported in parts of the country.#earthquake pic.twitter.com/pMo19W7PYv

— NCIB News Network (@NCIB_INDIA_NEWS) September 11, 2022
He said national and local disaster agencies, as well as leaders, have been asked to assess the scale of damage and injuries to people. It was put on alert so that it could respond to
(This is an unedited article auto-generated from a syndicated news feed. LatestLY staff may not have changed or edited the content body)


https://www.latestly.com/agency-news/world-news-one-killed-in-massive-earthquake-in-papua-new-guinea-4190988.html Papua New Guinea earthquake: One dead after magnitude 7.6 quake hits Finisterre Mountains.watch video