Middle East
Pluto gas treatment begins north of Australia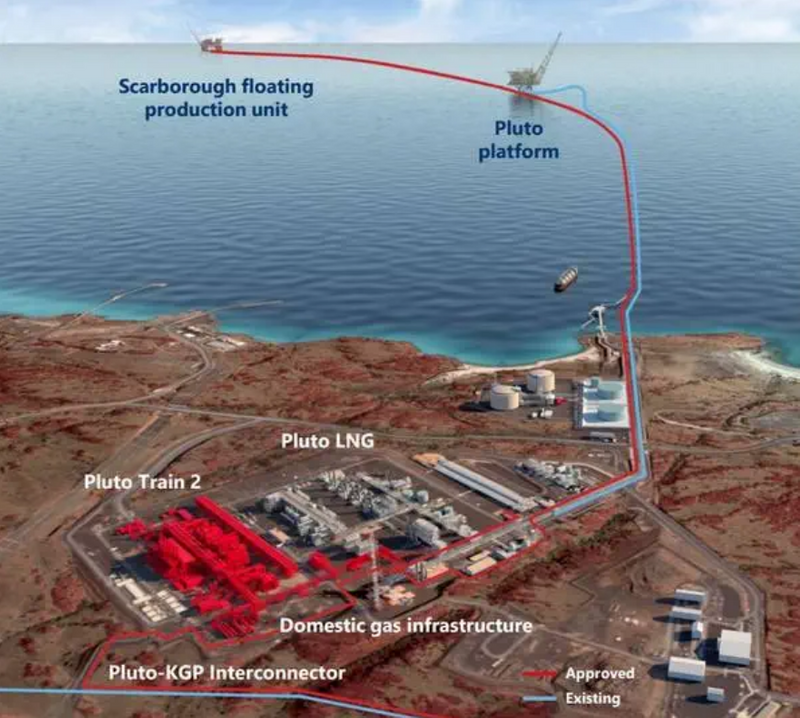 Australian oil and gas company Woodside said Wednesday that gas processing from the Pluto offshore oil field in western Australia began earlier than planned at the Karratha Gas Plant (KGP) at the North West Shelf Project (NWS).
"This accelerated production of Pluto gas was made possible by the launch of the Pluto-KGP interconnector," Woodside said.
The interconnector is a 3.2km pipeline connecting Pluto LNG and KGP, providing access to the gas of other resource owners processed by KGP.
According to Woodside, the launch of the interconnector supported the accelerated production of gas from the first stage of Pluto's Pixis Hub by enabling processing at KGP. In October 2021, the first phase of Pyxis Hub was ready for startup.
Between 2022 and 2025, KGP will process a total of approximately 2.5 million tonnes of LNG and approximately 20 petajoules of domestic gas from Pluto. This follows the exercise of contract reduction options under the gas treatment contract signed by Woodside Burrup Pty Ltd. With participants of the NWS project in December 2020.
Woodside CEO Meg O'Neill said:
"The processing of gas from offshore plume fields through the Karasa Gas Plant allows Woodside to deliver additional LNG cargo to the international gas market. The commercial agreement supporting third-party gas processing at the Northwest Shelf It reflects the Woodside and Northwest Shelf Project's commitment to maximizing value from the critical infrastructure of the Burlap Peninsula, "she said.
The NWS project partner is Woodside Energy Ltd (Operator; 16.67%). BHP Petroleum (North West Shelf) Pty Ltd (16.67%); BP Developments Australia Pty Ltd (16.67%); Chevron Australia Pty Ltd (16.67%); Japan Australia LNG (MIMI) Pty Ltd (16.67%) and Shell Australia Pty Ltd (16.67%). Woodside Burrup Pty Ltd owns a 90% stake in Pluto LNG and operates Pluto LNG facilities. Pluto-KGP Interconnector Pipeline is constructed and operated by AGI Operations Pty Limited.
https://www.oedigital.com/news/495437-pluto-gas-processing-starts-at-australia-s-north-west-shelf-woodside-says Pluto gas treatment begins north of Australia