America
Puerto Vallarta reports damage to facades and ceilings after earthquake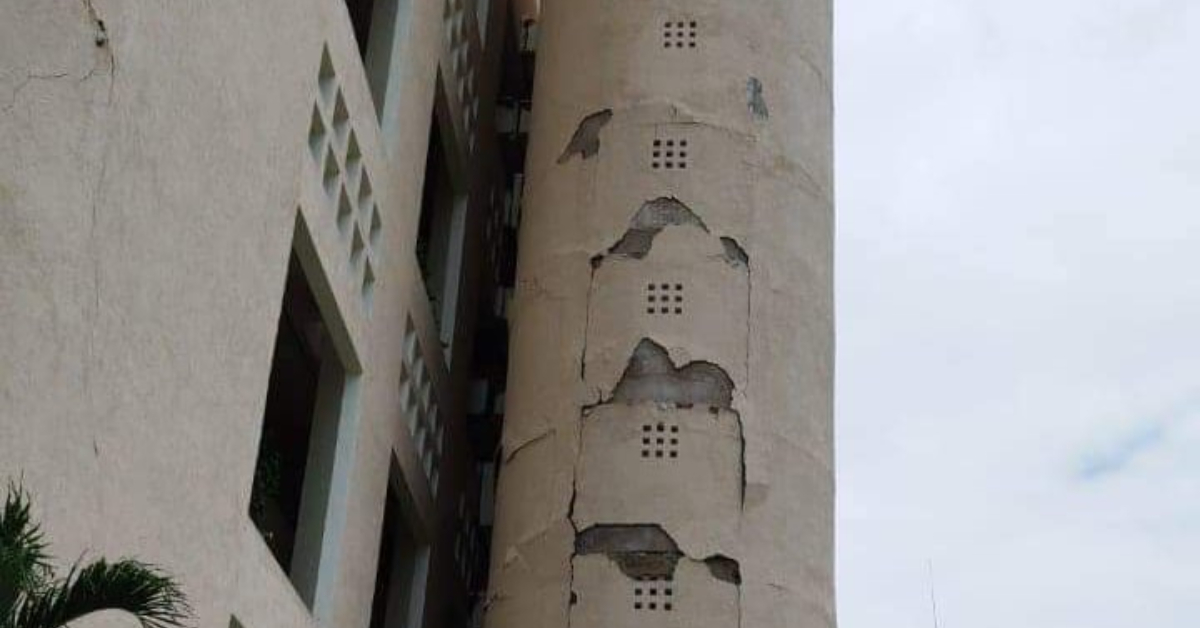 September 19th again. A new 7.7-magnitude quake centered in Colecomán, Michoacán was recorded this Monday and felt in several parts of Mexico.
The city's coordination of civil protection and firefighters in Puerto Vallarta confirmed that there was damage to several buildings, but so far only one building has reported structural damage.
For example, the ceiling and masonry cracks at the Sheraton Buganvilias Hotel were damaged, while at Hotel Mío in Los Tules the front window was damaged and staff and guests were evacuated.
The Hilton hotel also suffered frontal damage, although it was not evacuated here. Meanwhile, his 3 Mares his condo in Marina Vallarta also reported glass damage and cracks in the joints between floors.
Subscribers can get more photos and updates by: Login to PVDN DashboardIf you would like to subscribe to exclusive PVDN content and newsletters, you can subscribe here.
Earthquake cuts power to 1.2 million users: CFE
The Federal Electricity Commission (CFE) reported that an earthquake that struck on the afternoon of September 19 disrupted power supplies and affected 1.2 million users.
By 3:30 p.m., 68% of those affected had successfully reinstalled the service, according to the parastatal company.
Supply cuts due to a magnitude 7.7 earthquake occurred in the states of Mexico, Michoacan, Colima, Jalisco and Mexico City.
According to the CFE, 8% of the 14.6 million users in those five states were affected, so power supplies have been restored.
CDMX Mayor Enables Civil Protection Protocol
Various mayors have invoked civil protection protocols as Mexico City suffered extensive damage after a magnitude 7.7 earthquake centered in the state of Michoacan this Monday afternoon.
The mayor of Benito Juárez, Santiago Taboada, toured the district's neighborhoods to eliminate risks. Buildings in the area were quickly evacuated after the earthquake warning was issued.
Civil servants were evacuated from the building and Mayor Santiago Taboada initiated a proper review of the structure, determined it to be safe and, along with Benito Juárez's Civil Protection Authority, initiated the re-entry of officials.
They keep the CDMX building off-limits when they register damage or cracks.
Claudia Scheinbaum, head of the Mexico City government, said there has been no major damage to the capital so far, but five buildings have been closed to the public due to cracks and falling facades, mostly at the offices of the mayor of Cuauhtemoc. He said it was happening.
"I would like to inform you that so far no serious damage has been reported in the City. We immediately contacted the President of the Republic and informed him about the City. I'd like to report that both worked correctly, and very few didn't.
Miriam Urzua Venegas, Secretary of General Risk Management and Civil Protection, said a fence fall injured one person in Magdalena Contreras, five treatments for panic attacks, Miguel Hidalgo, Azcapotzalco and Cuauhtemoc left three unconscious. Reported missing person. Damage to buildings from fallen trees and utility poles, as well as cracks and short circuits.
Tremors stunned US ambassador to Mexico
"You don't feel a tremor in Colorado," said Ken Salazar, Mexico's ambassador to Mexico. Ricardo Monreal Avila, and heard the earthquake warning.
Both left the Reforma and Paris campuses in downtown Mexico City with the rest of the people who were in the buildings, and on their way to the streets they began to feel tellurium movements.
An American diplomat who was already on the Paseo de la Reforma traffic stream confessed that he had never felt an earthquake.
"Never, the first time," he told media outlets when asked to speak about the experience.
Michoacan no deaths after earthquake
Michoacán Governor Alfredo Ramírez Vedra reported this afternoon that there was damage in the city of Coalcomán but no reports of loss of life following the earthquake.
In a statement to news program Atando Kavos, he said a review was taking place statewide with the participation of the Army and National Guard.
I specify that damage is known to Maruata Community Hospital in Aquila Municipality where patients are evacuated.
He added that the quake was felt violently across Michoacán
After earthquake, they call vigilance on Jalisco coast
After a magnitude 7.7 Richter earthquake that was felt in our state near Coalcomán, Michoacán, the Jalisco Civil Protection and Fire Department reported that an alarm had already been raised on the coast as a precautionary measure.
The aforementioned things pointed out by the unit are carried out in order to keep the population corresponding projections in the event that the wave shows a change after a tectonic movement.
The same is shown by UEPCBJ, which can reach up to 80 centimeters in height. Upon reaching the surface, these may move a few centimeters more than normal, representing a possible tsunami or risk to population.
'I felt terrible': Guadalajaran testifies after earthquake
Jesús Lopez was on his way to the bathroom in the house where he works at Zapopan when he started shivering. He came back and watched the water come out of the pool due to his movements and warned everyone to go out into the garden and take shelter.
"I felt awful. I told everyone to stay outside, which is the safest place in the house. I felt pretty dizzy, it felt strong. Luckily, we I'm fine. There are high-rise apartment buildings around here, and quite a few scary people have come out."
One death confirmed in Manzanillo after quake, the only confirmed death in the country
A person was killed when a shopping center fence collapsed in Manzanillo, Colima, on Monday after the 7.7 Richter earthquake struck near Coalcoman, Michoacan.
This was reported by President Andrés Manuel López Obrador after confirmation by Admiral José Rafael Ojeda Durán, Secretary of the Navy.
This is the first confirmed fatality since the day's earthquake was recorded. So far, authorities have not provided detailed information about the deceased.
SUBSCRIBE HERE Receive newsletters, access exclusive content, read news ad-free, and more!

PVDN Trending News
https://www.vallartadaily.com/live-updates-puerto-vallarta-reports-damage-to-facades-and-ceilings-after-earthquake/ Puerto Vallarta reports damage to facades and ceilings after earthquake