Asia
RON95, RON97, gas oil prices unchanged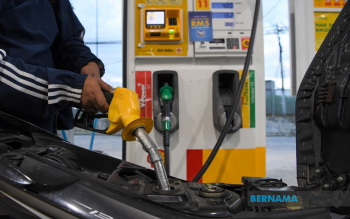 KUALA LUMPUR, Aug 31 (Bernama) — Diesel, RON95 and RON97 petrol retail prices will remain unchanged for a week from 1st September to 7th September.
In a statement today, the Ministry of Finance announced that RON95, RON97 and diesel will be priced at RM2.05 per liter, RM4.30 per liter and RM2.15 per liter respectively to protect consumers from rising global oil prices. However, the actual market has seen prices for the two products rise above their current caps.
It said prices were set based on weekly retail prices of petroleum products using the Automatic Pricing Mechanism (APM) formula.
"The government will continue to monitor global oil price developments and take appropriate measures to ensure that people's well-being and welfare continue to be protected," it said.
— Bernama
---
Bernama is the authoritative source of reliable, real-time, comprehensive and accurate news for both the public and media professionals.Our news is published in www.bernama.com BERNAMA TV on: Astro Channel 502, unifi TV Channel 631, MYTV Channel 121 IFLIX; BERNAMA Radio on FM93.9 in Klang Valley, Johor (FM107.5), Kota Kinabalu (FM107.9) and Kuching (FM100.9) broadcast locally on

Follow us on social media:
Facebook : @bernamaofficial, @bernamatv, @Berna Maradio
twitter : @bernama.com, @Bernama TV, @Berna Maradio
Instagram : @bernamaofficial, @bernamatv official, @bernaradioofficial
Tick ​​tock: @bernamaofficial
http://www.bernama.com/en/news.php?id=2116317 RON95, RON97, gas oil prices unchanged